The Tuscan culture of food and wine will blow you away
Tuscany 8 Day Guided Group Walking Tour
Tuscany Guided Walking Tour
This is a small group tour. During our Tuscany Guided Walking Tour we will show you around amazing medieval towns and stunning surrounding countryside: Siena, San Gimignano, Montalcino, Pienza, Val d'Orcia. You will travel with a small group.
Each day we walk for about 2-3 hours with lots of stops for guide commentaries, coffee, pastries, visit , lunches at small family-run farms combined with amazing wine. Dinners will be held in small trattorias.
Music is big part of this tour.
Local people are also a big part of this tour as we believe that the best memories will come from the people that you meet along this adventure.
Interested in Tuscany private tour instead?
A successful 2019 🙂 comments from Tuscany trip guests
This is Gianni, owner and guide at Walk About Italy. 2019 has been a very successful year for us!
Tuscany (139 guests travelled with us in 2019)
May-3-10 Sara was excellent. She is very knowledgeable and very personable. We would be happy to have her lead another tour for us (Susan, Canada)
May-15-22 I will highly recommend your tour to my friends and family (Jacqui, South Africa)
June 9-16 This was an amazing experience. Life changing & much more than I expected. From the guides, hotels, food & walking can be recommended (Leola, South Africa)
June 11-18  (Inez and I are so grateful to you for organizing such a lovely trip for us, Russel, USA)
Jun 16-23 Gianni, Sara and Daniele,  thank you for a trip of a lifetime and one that I will never forget.  You do not realize how fortunate you are to live in such a beautiful place.  I envy you !! Thank you for sharing it with us, and being so passionate about what you do.  It surely shines through !! (Anton & Helena, South Africa)
June 17-20 Gianni is a brilliant host (Michelle, South Africa)
August 30-Sept 6  Food Food Food, Italians can eat LOL!!! The food was incredible (Chantal, South Africa)
Sept 2-9 the trip for me exceeded all my expectations and I can highly recommend your business to anyone (Sarah, South Africa)
Sept 8-15 I cannot give enough praise for this tour.  Gianni and his staff were wonderful and everything was arranged with such professionalism but at the same time so friendly and informative (Pauline, South Africa)
Sept 16-20  Thank you for an amazing trip!! (Luelle, South Africa)
Sept 23-30 The visits at the family farms were amazing (Desny, South Africa)
Sept 30-Oct7-2019 such an enjoyable trip (Cara, Canada)
Sept 30 – Oct 7 Best trip ever (Dale, Canada)
Thank you so much to all our guests that we call now friends (Gianni, owner and guide at Walk About Italy)
2020 Tuscany trip dates
May 3 – 10, 2020 (available places) – 

you can book this trip only if you are minimum 4 guests 

May 17 – 24, 2020 (available places)

June 7-14, 2020 (available places)

September 6-13, 2020 (available places)

September 20-27, 2020 (available places)

September 27 – October 4, 2020 (this tour is full)

October 18 -25, 2020 (available places)
Tour beginning: Siena at 4.00pm of day 1. You can comfortably check-in at your hotel starting at 2pm. Very convenient if you are travelling from other cities like Florence or Rome.
Tour end: 10am of day 8 by the train station of Chiusi-Chianciano Terme on the main railway to Florence (North) and Rome (South)
Day 1 – Meeting in Siena and visit of Siena (Night at hotel in Siena)
We will meet the group at hotel's lobby at 4.00pm. After a brief introduction about the tour we join an art guide to explore the city jewels (Piazza del Campo, streets and alleys and last but not least the museum of one of the districts of the Palio horse race). After the tour we will enjoy a pleasant restaurant called Babazuf. The restaurant is family owned: Marco and Giovanni (the chef) will host us with an interesting combination of traditional and modern Italian cooking style.
Day 2 – Chianti walk, winery experience. Cooking class in the evening (Overnight in Siena)
Today we set off to Chianti, one of the most well known area for wines. The walk will take us through olive groves and vineyards. We then stop at a boutique family run winery where you will meet Dario Castagno, NYTimes Bestselling author. Dario will guide you through the grounds and cellars of Fattoria Tregole, an organic farm perched in the heart of the Chianti Classico region already mentioned in a document date as far back as 1003 (!) While introducing you with fervor to all the products produced on its premises, at the same time he shall entertain you with plenty of fitting historical information and accounts regarding the home of the Chianti Classico. A that will explain to us how they make their wine so special. Lunch will follow at the nice restaurant owned by the Fattoria. A short transfer back to Siena. After a good rest we will enjoy a complete cooking class at Dante Alighieri cooking school.
Day 3 – San Gimignano walk – Opera Singing show in the evening (Night at hotel in Siena)
Today we will explore the area of San Gimignano. The transfer from the hotel takes about 45 minutes. The town still has 14 high medieval towers. The 7 miles walk in the countryside, with some elevation gain, goes through olive groves and vineyards of Vernaccia di Sangimginano, the most famous white wine in Tuscany. We will finish our morning walk at a vegetable garden farmhouse run by the Ganozzi family. They will serve us lunch based only on their production. It will be so delightful to sneak-in into their grounds and see which vegetables they are producing. We then drive back to the hotel. Dinner tonight is on your own.
Day 4 – Sant'Angelo in Colle loop walk with gigantic oaks and the flavors of Valdorcia 
(Overnight at hotel in Sant'Angelo in Colle or Montalcino)
It's transfer day! We drive for 50 minutes to Sant'Angelo in Colle. We take a look walk in the countryside of the Brunello wine! At lunch we taste delicious food at a small restaurant in Sant'Angelo, called "il Pozzo". After some rest we reconvene, and we drive for 10 minutes to the restaurant owned by two brothers, Alessandro and Giacomo the chef will delight you with fresh food served in a very cozy country style restaurant.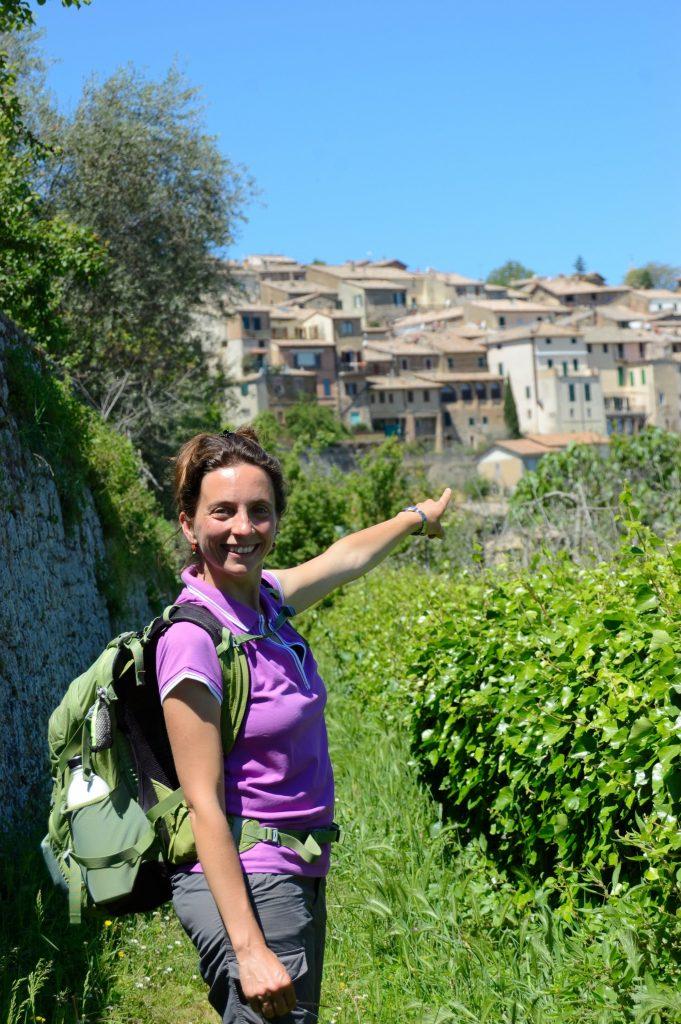 Day 5 – Montalcino and Brunello Il Cocco winery experience (Overnight at hotel in Sant'Angelo in Colle or Montalcino)
This morning we drive to Montalcino and visit the streets and alleys. The we start our country walk. The path takes you through thick natural forest and panoramic views over the Monte Amiata (an extinct volcano). After 6 miles of walk we will reach the "Il Cocco", farm run by 3 young brothers (Giacomo, Stefano e Ettore). Giacomo, the elder brother, will capture our attention with his deep knowledge about wine making. It will be so nice to walk through his vineyard with a glass of Brunello. Lunch at the farm small restaurant will follow. After lunch we  drive back to our hotel. Tonight dinner is at another delicious restaurant in Sant'Angelo called "il Leccio".
Day 6 – Bagno Vignoni and San Quirico. Visit of an olive oil mill  (Night at hotel in Pienza)
A 30 minutes transfer will take us today to Bagno Vignoni; we get off here. Luggage will continue to Pienza Hotel. We visit Bagno Vignoni. Then we start our walk from here and after 4 miles we will reach San Quirico d'Orcia, a hidden and less frequented town. The family Simonelli owns an olive mill from generations. We will visit the mill with Laura, learn about the olive oil making and taste the olive oil. We then walk to the restaurant Osenna. The chef makes hand-made pici pasta. You don't want to miss this pasta with fresh truffles. After lunch we explore San Quirico and it's beautiful gardens. A short drive back to Pienza will take us back to the hotel. Dinner tonight is at the hotel's restaurant.
Day 7 – Views on Monticchiello and saffron making farm  (Overnight at hotel in Pienza)
After a generous breakfast we start our walk directly from the hotel towards the town of Monticchiello. We pass through wheat fields. After a couple of hours walking we will reach the Santa Maria Farmhouse that is specialized in the production of saffron. A nice lunch based on pappardelle with pecorino sheep cheese and cherry tomatoes, sausage and saffron and bread crumbs, 2 kinds of pecorino cheese and ricotta with honey and jam that is produced in the farm, white chocolate dessert with saffron and fruit and sangiovese wine from their production. After lunch you can decide to be driven back to the hotel or walk back to Pienza. Tonight the farewell dinner is at a posh international/Tuscany style restaurant.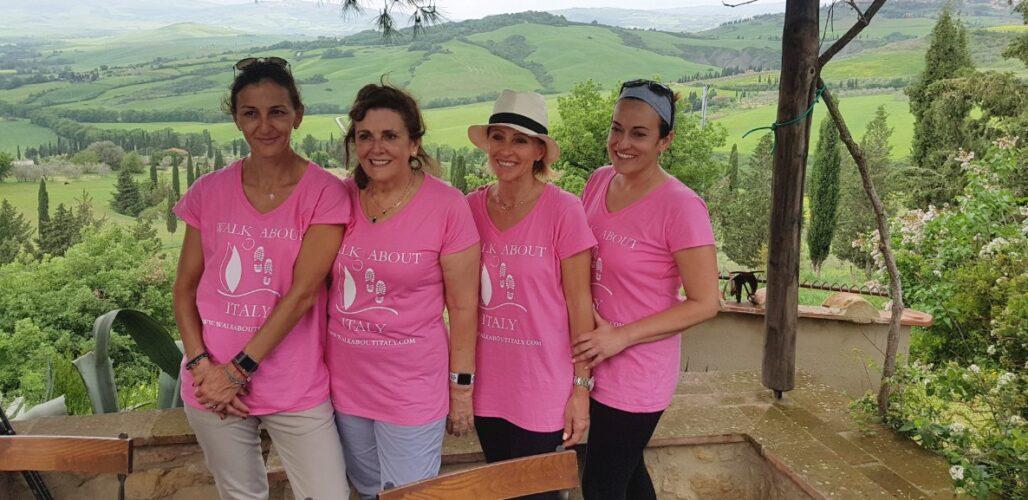 Day 8 – Departure day
At 9.00am a drive of 45 minutes will take you to the train station of Chiusi-Chianciano Terme. This train station is conveniently located on the main railway and in about two hours by train you will arrive to Florence (North) or Rome (South).
Lots of activities!
In the Tuscany Guided Walking Tour we explore many medieval towns: Siena, San Gimignano, Montalcino, Pienza, Vald'Orcia.
We taste oil, wine and vegetables at family-run farms…
…and we walk the many paths that connect the villages with memorable panoramas.
Music will accompany the tour from time to time.
Guaranteed departure
Even if we have just you on tour we are committed to operate the tour. Book soon with us and book your flight to Italy!
We are locals
We have been born and raised in Tuscany. We know how to stay away from the crazy crowds. We know the little secrets that will make your stay unforgettable. A couple of examples: 1) San Gimignano, the town with 14 towers, needs to be visited before 10.30am; later that that it will be crowded with tourists. 2) Pici thick spaghetti handmade pasta is available everywhere in this region but only few restaurants provide the true hand-made…and we know where this is 
It is a small group tour
The group is not larger than 18
Relaxed pace
5 to 7 miles (3-4 hours average) walks on each day. WALK RATING: 2+ on a base of 1=easy to 5=strenuous
Local guides
1 walking guide for groups of 9 guests or smaller. Groups of 10 guests or larger will be guided by 2 guides
Every day a special activity
Italian Opera show or music happening, hands-on cooking class, olive oil farm visit, wine family-run farms experience and a lot more.
It's a responsible way of traveling
We employ all local small businesses; small farms, local guides, family run hotels and restaurants. If you book our tours you will give back a lot to the area, contributing to maintain the economy of this region. Thanks a lot for doing this!
Tuscany Guided Walking Tour includes:
– 7 night stay at small hotels (3 and 4 stars). All the hotels are conveniently located in the town historical centers. Book early and we will try to accommodate you in a room with a view.
– All breakfasts, 6 lunches, 5 dinners. Local wine is always included with lunches and dinners. Vegetarian? Vegan? No problem!
– Transportation along the tour
– 1 local guide for groups smaller than 10. Groups larger than 10 people will be guided by 2 local guides
– Entrance tickets for all the special events
– One Chianti and one Brunello wine tasting and winery visit: you will talk to the owners!
– Olive oil press visit, introduction from the owner and tasting.
– Learn about saffron making at a small farmhouse in Pienza followed by a nice lunch based on saffron
– Full cooking class in an ancient building. A lot of fun!
– All taxes
La Villa Hotel – Siena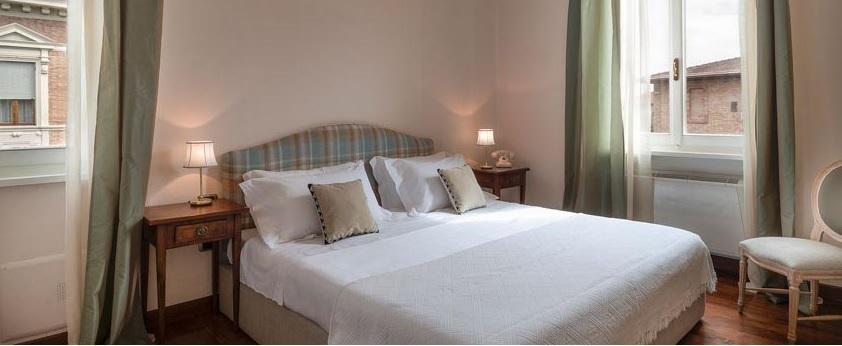 The group of Tuscany guided walking tour meets on day 1 at this cozy property. Located just outside the old city walls of Siena, The Villa is a charming "art nuveau" residence dating from the early years of the twentieth century and within easy walking distance from the historic centre of Siena. All our rooms are tastefully decorated with respect for the aesthetic and historical origins of the building. A great base from which to explore the medieval town of Siena.
The staff is very friendly and they will be able to make you feel at home. 
Castel Brunello – Sant'Angelo in Colle *
 
In five buildings there are differently sized apartments, with interiors that reflect the classic Tuscan lifestyle. Rustic beamed ceilings and Tuscan floors confer the units an incomparable atmosphere. All buildings feature a traditional stone masonry façade. A heated pool is so relaxing after our walks. super friendly staff will make your stay a memorable experience. 
* According to seasonal availability some groups will stay at this property
Le Ragnaie – Montalcino *
At the Agriturismo Le Ragnaie our guests can find themselves in an atmosphere of total relax and natural beauty. It is a place where all one has to do is open a window and in front of you a picture of perfect colors and smells cultivated by man and colored by nature. 
The Ragnaie farmhouse produces fine wines.  The complex is surrounded by woods, olive groves and vines which, together with an enchanting garden and an ample saltwater swimming pool, create a liberating and healthy sensation inn the middle of the Tuscan countryside.
* According to seasonal availability some groups will stay at this property

Corsignano Hotel – Pienza

Beautiful & functional. It is completely newly renovated  4-star hotel, set in the frame of Tuscany's most beautiful and unspoiled area. The staff is great, breakfast amazingly yummy. It will leave you a good memory of Tuscany.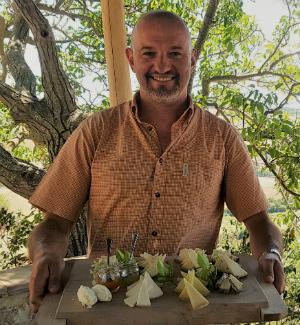 Gianni – Owner, trip organizer and guide at Walk About Italy (with a degree in geology)
I am 49 years old.  Geology is my background (Ph.D.) but to me life is about more than an academic degree. Music and walking are my passions. I have been a certified guide for nature walks since 1999. After working many years as a guide and also in the back stage of the travel industry for foreign walking tour companies, I earned my Tour Organizer business license, valid in Italy and the rest of the world. Let me organize your vacation to Tuscany and other parts of Italy.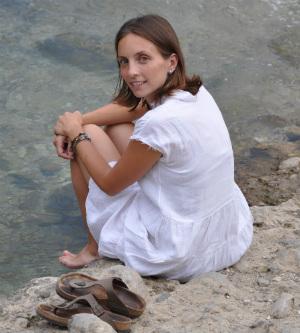 Sara – A true passion for life (with a degree in ethnology)
Sara is a fully licensed guide, both for nature trails and for the city of Siena. Sara was born in a small village in Chianti area. When I first met her few years ago I was struck by her great personality, enthusiasm and kindness. Her background is in Anthropology.
Lorenzo – Travelling is my life (with a degree in creative writing)
Lorenzo has been guiding tours since 1999. He then earned his master degree in foreign languages and literature.He is fondly in love with Tuscany. However he also enjoys exploring the rest of the world and that's what he does in his spare time, together with studying, reading and writing. He just accomplished his first historical novel and he is now pursuing a master degree in Cultural Anthropology. His favourite Tuscan food? Ribollita soup.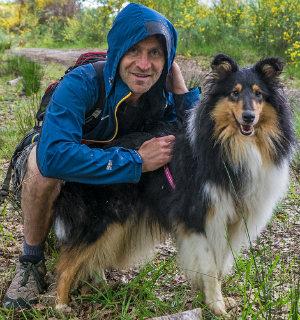 Rudy – Photographing Tuscany (with a degree in yoga teaching)
Rudy was born in Colle Val d'Elsa, a town between Siena and Florence. He began working as a cycling guide and then as a professional nature guide. He is a Yoga teacher and passionate about natural medicine. He studied kinesiology, shiatsu, craniosacral therapy and has completed a master's degree in osteopathy. Now he is studying photojournalism and nature photography because he wants to combine four great passions: photography, travel, people, animals.
Rudy is a vegetarian. "In Tuscany you can eat well without meat too … especially if you like good red wine."
Roberto – Climbing is my passion (with a degree in biology)
Roberto was born and raised in a small village on Amiata mountain, 50 miles south of Siena. Although his background is in biology he is very keen on traditions and history of Tuscany.
His passion is climbing. He is a climbing instructor and rescuer. Do not worry! He is happy to walk with you on flat terrain 

Roberto is definitely a people-person. He took several courses at "The Academy of Experiential Education" about "group dynamics".

Daniele – Making pecorino sheep cheese an art (with a degree in natural sciences)
Daniele was born and raised in a farmhouse in the Tuscan countryside. Ever since he helped his dad to make an amazing
pecorino
sheep cheese.
He's got a Master's Degree in Natural Sciences in 2009 and started working as a nature guide around the Indian Ocean and Africa, before coming back to his beloved homeland.
As a passionate birdwatcher, he always keep an eye on the sky during his walks, sharing the pleasure of exploration and the discovery of new places.
Chiara – Farming vegetables, olives, chickens, ducks and pigs (with a degree in natural sciences)
Chiara was born in Volterra, a charming Etruscan town nearby Pisa. After graduating in Natural Sciences in 2001 she has become a nature hiking guide, accompanying guests in Tuscany and pleasing them with lovely pic-nics. In 2015 she decided to start her own farm with a vegetable garden, olive trees, aromatic plants, chickens, ducks and pigs. Now she is a tour leader and a farmer. She will take you around with dirty hands for a good reason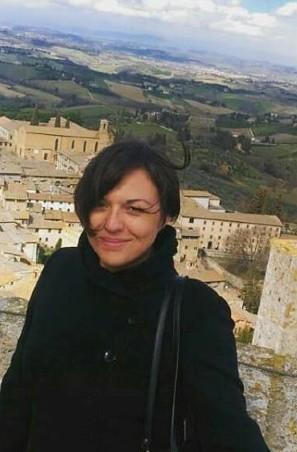 Erica – Walking changed my life!
Erica was born in San Gimignano from Italian dad and Scottish mum.
Her background is as Sales Executive in an export company but after 10 years she decided to leave the office, change her life and make a job out of her passions: walking, nature, art, living outdoor and meeting new people and cultures. Now Erica is a licensed hiking and city guide and her aim is to let you love Tuscany as much as she does!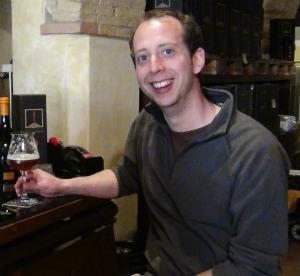 Tommaso – When wine meets the trail (with a degree in biology)
Tommaso was born in Pistoia, a town near Florence. He is a professional nature guide. He earned his degree in biology at the University of Pisa. He loves walking and biking and to be surrounded by countryside and nature. Travelling, reading, cooking and wine are his interests. Tommaso is a professional sommelier and would love to share his passion for wine with you. He is also an authorized city guide for Florence, Siena, Pisa and Volterra. How about a glass of Chianti wine to start off on the right foot?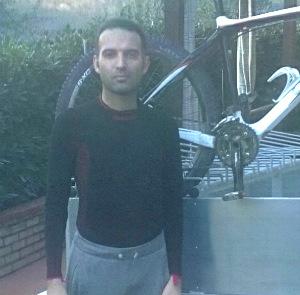 Domenico – A passion for history and books (with a degree in archaeology)
Born and raised in Northern Italy between misty hills and the Po river. Soon he fell in love with Siena and Chianti area. After graduating in Archaeology he decided to combine his passion for history, art and environment becoming a professional fully licensed guide. Beyond being a licensed nature guide he is also a city guide for Siena and the surroundings. Recently his interest has moved to ancient books. Archaeology and ancient books are not so boring if you know how manage them. He will capture your interest with stories on wine & Etruscans or trails & Roman roads. When he is not touring he enjoys free climbing.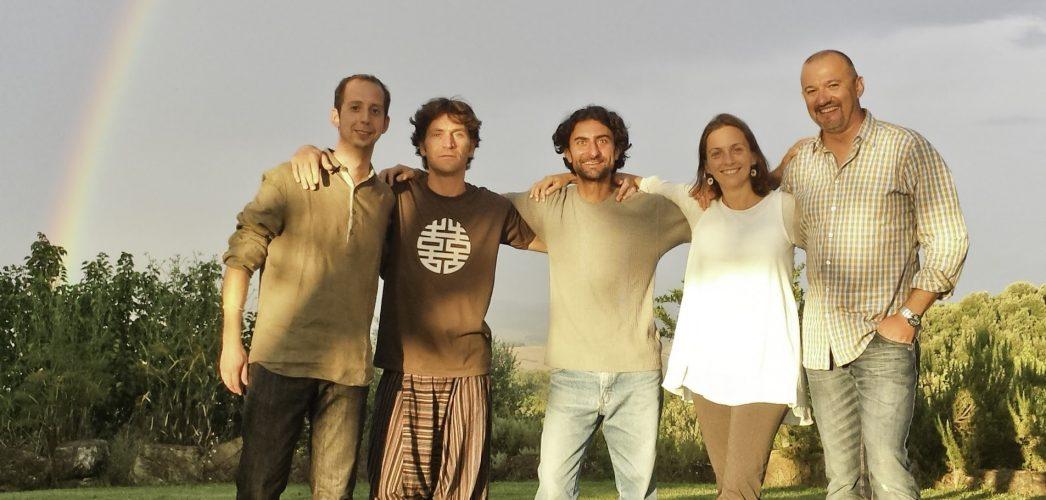 Walk about Tuscany (Monica, South Africa) Loved this tour and would highly encourage others to go. Our guides Gianni and Sara were great, everything ran smoothly from day one. Excellent choices of hotels, restaurants and walking trails. The perfect size group, lots of laughs and good memories. Looking forward to the next one. Grazie, Monica
The Only Way to Experience the Hilltop Towns of Tuscany! (Joe and Mila, USA)
My husband and I spent 7 days in September walking the Tuscan Hills with Gianni and Rudy. Truly one of our best and most memorable travel experiences. If you want to see a beautiful country from off the beaten path with a guide that shares his vast knowledge of the food, wine, history, and geology of the Tuscan Hills – go on this trip! Gianni's love of his country is so strong – that you cannot help leaving this country sharing his love. His choice of lodging, restaurants, and walking trails were just perfect. As I read my journal from our trip almost 3 months ago it brings a smile to my face as I relive those treasured moments of hiking beautiful vineyard hillsides, making pasta at a local restaurant, listening to arias from well known Italian operas, drinking glorious wines with local wine makers, eating fabulous foods, learning about making cheese, doing yoga in a beautiful vineyard and listening to Gianni play his flute. I could go on, however my strong advice is to experience this yourself – it is truly the only way to visit the hills of Tuscany and its beautiful historic towns. Gianni is not only a true professional but also a charismatic, intelligent man who has an incredible understanding of the culture of his country. Gianni's organizational skills and ability to relate to all his guests was a large part in making this trip so memorable and enjoyable.
Under the Tuscan Sun…and a big black cloud but only once (Linda M., Canada)
I have just returned from 8 fabulous days with Walk About Tuscany hosted by Gianni and Rudy and helped by their hard working transportation crew who ensured we were picked up on time, we traveled safely and no luggage was lost. Congrats to them. I was in a group of 16, coming from many parts of the world and put together by chance. We were treated to a Tuscan experience which will, for me, remain a memory for years to come. We saw everything; from the hill top towns to the wheat fields, from the vineyards to the olive groves, from the churches to the abbeys to the quaint shops and cobblestone streets and each day was a different adventure. We got up close and personal with the Tuscan people, sharing their food, their wines, and learning about their way of life. This was also a walking tour and, boy, did we walk (so sturdy shoes are recommended). It is estimated we covered close to 100 miles, some easy trails, some more challenging climbs. If anyone in the group fell behind or needed time to catch a breath, there was always someone available for company. We were never rushed but there were times we had to be gently reminded that we have a date for lunch or for a wine tasting and we should try not to keep our hosts waiting. We learned so much during each walk; Gianni and Rudy switching back and forth to cover the plantlife and the wildlife not to mention the history of each place we visited. I often wondered…how do these guys know all this stuff!! And in case you think it was all serious business, nothing could be farther from the truth. We had many moments of fun and laughter and even a couple of flute recitals just for a change of pace!! In the end, I have Gianni to thank for this experience. His thoughtful organization and attention to detail were key in delivering a superb product, a memorable adventure and a trip of a lifetime. Walk About Tuscany is highly recommended! Grazie, Gianni
The Best Way to See Italy (Paula M., Oregon, USA)
Forget Rick Steves and sign on with Gianni for a wonderful exploration of some of the best Italy has to offer–countryside, history, food, and people. Gianni's deep knowledge of all these adds so much richness to the experience of walking through picturesque medieval towns and gorgeous rolling hillsides of vineyards, fields and orchards. The accommodations were comfortable and centralized, often with wonderful views. Some of the food will absolutely spoil you for ever eating "Italian" food at home again. And the people we met through farm, winery and other small business visits were perhaps the best of all–passionate about the food they grow and so willing to share their experience. Although this was a tour through the areas surrounding Siena, Montalcino and Pienza, Gianni offers tours in other areas and I would expect the same high level of engagement and effort to provide unique experiences. Truly exceeded my expectations!
The unforgetable Tuscany (Paul L., Jakarta, Indonesia)
I am so amazed with Gianni who operated our tour with his in-depth knowledge of every single steps and buildings around Tuscany. Not to mention his creativeness in every moments of our walks. You will have great lunches and dinners with lots of special-2-thumbs-up wines. We also visit Olive Oil producer and given sampler at which is the best (and fresh) olive oil that I had ever tasted ! The scenery view is very awesome, just like the post card. Highly recommended and wouldn't mind to do this tour again.
Simply the Best! (Susan, Oakville, Canada)
What an amazing and unforgettable experience! Our 8 day walk about Tuscany was like a walk through wonderland. Gianni somehow made each day better than the last. The scenery was magical, the food was incredible and the wine beyond words… Gianni's vast knowledge and passion is undeniable. He is truly one of a kind as were the places we had the pleasure to visit (wineries, olive oil producer, cheese farm etc.). This is without a doubt the best way to see Italy. We had so much fun!
Group Tour of Tuscany Hill Towns with Walk About Tuscany Tours (Anne from Evanston, Illinois, USA)
I had a marvelous time on this trip. Our guide, Gianni, provided gorgeous walks and unique experiences with local organic producers of wine, produce, cheese, and olive oil. Definitely experiences I couldn't have had without his guidance and that helped me to appreciate what makes this region unique. Gianni is knowledgeable and expended every effort to ensure that our trip was memorable and unique. We walked, ate very well, drank wonderful wines and learned a great deal about this region of Tuscany and why it is among the most delightful of all Italy.
Read our reviews on TripAdvisor
2020 tours by date
April 12-18, 2020 SICILY & AEOLIAN ISLANDS
April 16 – 22, 2020  AMALFI
May 1 – 7, 2020 UMBRIA, ASSISI & LE MARCHE
May 3-10, 2020 TUSCANY

May 10 – 16, 2020 AMALFI
May 28 – June 3, 2020 SICILY & AEOLIAN ISLANDS
June 7-14, 2020 TUSCANY
June 14 – 20, 2020  AMALFI
September 6-13, 2020 TUSCANY
September 14 – 20, 2020 AMALFI
September 23-29, 2020 SICILY & AEOLIAN ISLANDS
September 27 – October 4, 2020 TUSCANY
September 28 – October 4, 2020 UMBRIA, ASSISI & LE MARCHE
October 5 – 11, 2020 AMALFI
October 10 – 16, 2020 UMBRIA, ASSISI & LE MARCHE
2020 tours by date
April 12-18, 2020 SICILY & AEOLIAN ISLANDS
April 16 – 22, 2020  AMALFI
May 1 – 7, 2020 UMBRIA, ASSISI & LE MARCHE
May 3-10, 2020 TUSCANY

May 10 – 16, 2020 AMALFI
May 28 – June 3, 2020 SICILY & AEOLIAN ISLANDS
June 7-14, 2020 TUSCANY
June 14 – 20, 2020  AMALFI
September 6-13, 2020 TUSCANY
September 14 – 20, 2020 AMALFI
September 23-29, 2020 SICILY & AEOLIAN ISLANDS
September 27 – October 4, 2020 TUSCANY
September 28 – October 4, 2020 UMBRIA, ASSISI & LE MARCHE
October 5 – 11, 2020 AMALFI
October 10 – 16, 2020 UMBRIA, ASSISI & LE MARCHE
2019 & 2020 sharing double room price
what's included 7 night stay at small hotels (3 and 4 stars) – All breakfasts, 6 lunches, 5 dinners – Transportation along the tour – 1 local guide for groups smaller than 10. Groups larger than 10 people will be guided by 2 local guides – Entrance tickets for all the special events – One Chianti and two Brunello wine tastings and winery visit – Learn about saffron making at a small farmhouse – Full cooking class in an ancient building – Opera singing night special show or other music event – All taxes
2019 & 2020 single supplement surcharge