Amalfi Coast wonders gateway 2023
Amalfi Coast Wonders Gateway – only private
 5 day trip
It's a gateway! In one of the most beautiful areas in the world. Our choice of places, restaurants, events will give you a quick but complete taste of the area. Discover Naples for a day with a professional walking tour guide and then go straight onto the coast, where the blue see makes such a dramatic contrast with the green vegetation.
Each day we walk for about 2-3 hours with lots of stops for guide commentaries, coffee, pastries, visit family-run farms, lunches at small trattorias.
Music is big part of this tour.
Local people are also a big part of this tour as we believe that the best memories will come from the people that you meet along this adventure.
You can travel with a small group or privately. You choose!

ONLY PRIVATE
DURATION:
5 Days & 4 Nights
WALK RATING:
2+ on a base of 1=easy to 5=strenuous
  HOTEL STYLE:
very comfortable to stylish
CLOSEST AIRPORTS:
Naples (NAP)
OPTION TO COMBINE THIS TRIP WITH OTHER TRIPS
yes: Tuscany, Sicily, Umbria & Le Marche, cinque Terre
Day 1 – Arrival and visit of Naples (Night at hotel in Naples)
Welcome to Naples! After meeting your fellow travelers and guides your tour commences with the discovery of this unique city, its culture and traditions with the help of an art guide.  You walk, with comfortable shoes, in the historic center of an amazing city full of art, restaurants, piazzas and small alleys. Beyond visiting churches and monuments our visit is focused on the Neapolitan lifestyle. For example, we explore Via San Gregorio Armeno with its endless shops dedicated to the Christmas Nativity. The shops, run by artisans, are open all through the year, not only at Christmas! Do not forget that in a recent past Italians used to celebrate this festivity with nativity statues and not with the fir tree as we all do in these days. After having explored pretty much of the old center we sit at dinner. Tonight, we enjoy the Neapolitan pizza. The "margherita" and the "marinara" are considered the original pizza: tomatoes sauce, basil, mozzarella, olive oil… simple but tasty!
2 km = 1,2 miles
****L Costantinopoli 104 – Naples
dinner
Day 2 – Ravello and Amalfi (night at hotel in Amalfi)
This morning we drive to Ravello. This posh town was during the middle ages the hometown of the richest families of Amalfi. This is the reason why there are so many villas. We visit Villa Cimbrone, its beautiful gardens and the "Infinity terrace" facing the sea from the height of 400 meters. We visit the Cathedral with its mosaic of "Giona and the whale", sign of the Moorish influence.
Lunch today is based on pizza in a garden. We walk to Amalfi through a downhill path. We pass the town of Atrani that looks like a nativity scene and then we reach our hotel in Amalfi on foot.
You can discover the town of Amalfi on your own during free time. Visit the Cathedral and enjoy an Aperol spritz in the square: it's the best way to enjoy this magical town.
Dinner tonight is very special; we take a private boat that brings us in a restaurant on a private beach. The restaurant called 
Da Teresa
 serves seafood or vegetables. We come back by boat at dark with the view of the lights on the coats.

6 km = 3,5 miles

Amalfi Residence Hotel – Amalfi

breakfast, lunch, dinner
Day 3 – The path of the lemons, Tramonti mozzarella farm (optional excursions to Positano and Capri Island) - night at hotel in Amalfi
Today we have prepared for you a great off-the-beaten-path day. We walk the "lemon path" between the two villages Minori and Maiori, along lemon terraces with spectacular views of the cost. In Minori we visit the Maritime Roman villa, an archaeological excavation.  We then venture to the small town of Tramonti (the name means 
in between the mountains).
Raffaella and
 her husband 
Aniello
 own an organic farm called 
Il Tintore
. Raffaella shows us how to make mozzarella cheese. Lunch, also based on mozzarella, follows in between the vineyards.
Our driver takes us back to our hotel. Dinner tonight is on your own.
(Capri optional excursion) 3 months before the tour starts we ask you to choose between Tramonti or Capri options since we need to organize that day in advance.  In case you decide to go to Capri you need to pay for your boat ride (about 55€ total – 1 hour boat each ride). You will be on your own to the island. No worry. You cannot get lost. Your guide will give you all the information on places to visit, what to eat and what to do. You then take the boat back to Amalfi and meet the group for dinner (on your own). Please notice that if you are going to Capri for the day you also can stop in Positano for a visit but you must hire a driver to go back to the hotel.

3 km = 1,8 miles

Amalfi Residence Hotel – Amalfi

breakfast, lunch (dinner on own)
Day 4 – The Mill's Valley (night in Amalfi)
You begin your day with a short drive that delivers you to the hamlet of Pontone. Today we walk in the Mill's valley, along the river Canneto and the ruins of the paper mill's where once in the 13th/14th centuries the special paper of Amalfi was produced.
After 1 hour and half walk we get to a natural reserve. The park protects the beautiful waterfalls and a pre-historic fern. We walk in a chestnut forest; the scenery is calm and the atmosphere is very relaxing.
On our way we reach a family farm where we enjoy lunch on a terrace looking at the valley from the lemon terrace.
After lunch we continue our downhill walk to Amalfi. As we get to the town we visit the paper museum that once was a factory: a guide shows us the process of making paper using linen and cotton, the old machinery and the water channel system.
Free time for shopping before enjoying a farewell dinner with the group.

5 km = 3 miles

Amalfi Residence Hotel – Amalfi

breakfast, lunch, dinner
Day 5 – Transfer to Naples
Your driver will take you back to Naples train station or Naples airport with a bus
breakfast
note on the itinerary
Please bear in mind that this is a typical itinerary, and the actual walks and sites may vary due to season, special events, or weather. We reserve the right to alter the itinerary since tour arrangements are made up to a year in advance, and in unforeseen circumstances that mandate changes may arise. Itinerary changes are made to improve the tour and your experience.
  4 night stay at hotels (one 4 starred hotel and one 4 star luxury). All the hotels are conveniently located in the town historical centers. One hotel has a swimming pool. Book early and we will try to accommodate you in a room with a view.
  All breakfasts, 3 lunches, 4 dinners. Local wine is always included with lunches and dinners. Vegetarian? Vegan? No problem!
  Transportation along the tour
  local guide 
  Entrance tickets for all the special events
 Learn about mozzarella cheese making at a small farmhouse followed by a nice lunch based on cheese and pizza
 All taxes
Lots of activities!
So many things we do and see along the Amalfi Coast Wonder walking tour. It's not only about the walking but merging with the culture: a mozzarella cheese making visit, small family local restaurants. All these activities are so peculiar for a real Amalfi inhabitant.
Guaranteed departure
Even if we have just you on tour we are committed to operate the tour. Book soon with us and book your flight to Italy!
Relaxed pace
5 to 7 miles (3-4 hours average) walks on each day. WALK RATING: 2+ on a base of 1=easy to 5=strenuous
Local guides
It's a responsible way of traveling
We employ all local small businesses; small farms, local guides, family run hotels and restaurants. If you book our tours you will give back a lot to the area, contributing to maintain the economy of this region. Thanks a lot for doing this!
Costantinopoli 104 – Naples
Costantinopoli104 is not a hotel, we love to call it charming refuge, a corner of peace and quiet in the heart of Naples. Via Constantinopoli is the street of the antiquarians and restorers. The villa, on two floors with a terrace, was the property of the MarcheseSpinelli, who had it built on a site of a huge monastic complex. The piperno stone entrance of the garden, the crests of the Marchese on the facade and the marblework balustrades are still t a testimony of the antique splendour of the house. A beautiful stained-glass window to lead Art Nouveau resplendent with its beautiful colors welcoming in this charming home that preserves in every room and in every environment authentic "pieces of history" with marbles, decorations and ornaments of the past.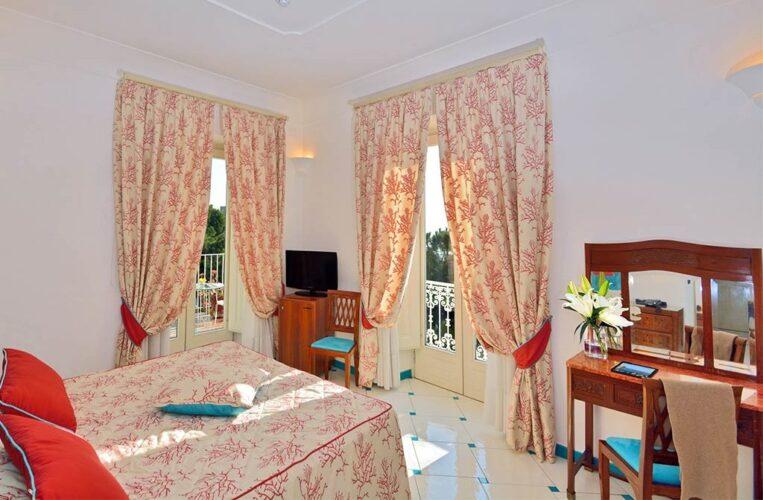 Amalfi Residence Hotel- amalfi
The Hotel Residence is situated in a beautiful seafront location in Amalfi. It was an aristocratic palace of the eighteenth century.
Converted into a hotel in the 50s and completely renovated in 2010, it has 27 different rooms that offer splendid views of the sea or on the famous Piazza Duomo with its Cathedral dedicated to the Apostle Andrew.
The elegant and historic medieval structure known as the Arsenali della Repubblica, which bear witness to the maritime power the Amalfi Republic wielded in its heyday, is just a short walk from the hotel.
https://www.residencehotel-amalfi.it/en/index
REVIEWS
(110 guests traveled with us in 2019)
This tour was more than I expected and absolute with every cent! (Adele, South Africa)
Amalfi Coast, off the beaten path and among friends (David Minneapolis, Minnesota)
Travel to the real Italy, away from the hustle and hurry of being a 'tourist' and take a stroll with some of the most friendly and welcoming people in the world. Learn about the history of the area and walk through the streets and trails nestled alongside the splendor of the coast. Amazing food, wine.
Every day was a chance to see and experience something different, and the entire tour was very well organized.
Amazing Amalfi Tour (Karrie Waterford, Connecticut)
My husband and I just returned from our walking tour of the Amalfi coast. To say we enjoyed the trip would be a huge understatement. The walks we were guided through were so varied in their challenges and and experiences it's hard to pick a favorite. The tour of Mt Vesuvius was a once in a lifetime experience. Pompeii was a living history lesson. We spent a morning touring a monastery that originated in the 14th century. All were so different and fascinating. We visited Vietri Sul Mare for a fantastic seafood lunch and shopping for beautiful ceramics. The gardens of Ravello are the most beautiful I've had the privilege to visit. The farm to table meals we had along our way will be forever in our fond memories.
The Only Way to Experience the Hills of the Amalfi Coast !!! (Samson Wolcott)
In 2016 my husband and I walked the Tuscan Hills with Gianni owner of Walk About Italy – my review was titled "The Only Way to Experience the Hilltop Towns of Tuscany!!" – well, we just returned from a 7 day walking tour of the Amalfi Coast and I have to say – the only way to experience the hills of the Amalfi Coast is with Walk About Italy!!! If you love history, fabulous foods, excellent wines, homemade lemoncello and a desire to hike the steep hillsides of this beautiful region that juts into the Mediterranean then this is a trip for you. Our adventure started with a hike to Vesuvius and then to Pompei where we walked chariot rutted streets! We then started our journey to the Amalfi Coast – and then I woke to a very peaceful colorful sunrise. The hiking adventures included views of terrace lemon groves, stunning almost jaw dropping views of the Mediterranean, clusters of colorful buildings hanging onto the hillsides, hiking through a lush "rain forest" like environment in the Mill's Valley and walking through ancient paper mill ruins. I could go on about the cheesemaking, drinking the most fabulous lemoncello and wines, fresh produce, homemade pastas and hikes that I will forever remember but instead I would strongly suggest you take this trip and experience it for yourself.
Mila
Walking the Amalfi Coast
This was my first organized tour and it turned out to be a truly immersive experience. "Walking tour" means doing it the local way – walking up, down, and all around – the only way to see the coast of Amalfi. Bring good solid walking shoes and beware the weather. Gianni organized everything – from shuttles and transfers to good quality hotels and fantastic lunch and dinner venues. We were well taken care of there was no doubt – and we earned it with every step 🙂 Thank you Gianni #walkaboutitaly for a most wonderful experience.
Second tour with Walk About Italy, to Amalfi Coast (Shelli Whistler, BC, Canada)
I just completed my second tour with Walk About Italy, to Naples and the Amalfi Coast. My first tour through Tuscany was a wonderful experience, free from worry, every day planned and executed to give us an authentic look and taste of Tuscany. The trip to Amalfi did not disappoint. Ours guides had us on lovely trails outside villages into the countryside and down to the ocean. We saw many lovely villages and ate only in authentic farmhouses and cafes. There was much diversity and every day was planned to the minute. Many wonderful fresh meals, lovely people wherever we went. Our hotels were small and personal, every amenity you might need met. It is because of this second successful vacation that my friends and I have already booked our third tour with this company, to Sicily. It is a treat for me to tour away from home, see so much, and feel so catered to. Well done Gianni and company!!
Price per person changes depending on the occupancy number of your private group. Valid 2023
| | | |
| --- | --- | --- |
| Number of guests | price in double room (euros) | single supplement (euros) |
| 1 | contact us | |
| 2 or 3 | 3680 | 400 |
| 4 or 5 | 2930 | 400 |
| 6 or 7 | 2820 | 400 |
| 8 or 9 | 2700 | 400 |
| 10 or 11 | 2590 | 400 |
| 12 or more | 2470 | 400 |
More guests? Please ask us a quote. We can also tailor the tour to your needs.
deposit* 300 EURO
balance is due 95 days ahead of trip beginning date
you can pay in instalments
* Please notice that we sell in EURO. The price in other currency is purely indicative and may fluctuate according to exchange rate.


Interested in combining two trips together? Check the combo trips. Click on this link
group meets here:
Naples – Costantinopoli Hotel 104
Via S. M. di Costantinopoli, 104
80134 – Naples
trip ends here:
Naples train station and Naples airport
useful information on the tour
How to prepare for this trip
Walking or jogging for 60 minutes 3 times a week for 5 weeks ahead of trip will make your experience more enjoyable. In case you live in a flat area you might also incorporate some steps in your physical activity.
What to bring:
Walking shoes with good traction (sometimes we might have mud on the trail)
Hat, Swimming suit, sun cream, water bottle to refill with tap water
Dinners at Italian restaurants do not require any special dress code.
Wear shoes with good traction
An average day of the trip
On a typical day you hike/walk with your guide in the morning for 3 hours, then we stop at a restaurant or farmhouse for lunch (lunch can last 1hour and half). We serve local food and wines as we believe that food plays an important role in the enjoyment of the trip.
In the afternoon there might be some more walking or town stroll. Around 4.30 or 5pm your guide will take you back to the hotel.
Before dinner you will be able to rest a couple of hours.
Dinner will be served in a restaurant in town that you will be able to easily reach on foot.
Local wine is always included for lunch or dinner. We serve vino della casa (house wine).
Weather
In general, the climate in Amalfi is very mild. Usually summers in Amalfi are hot with little or no rain. July and August are the hottest months (but still nice for walking as there is always a breeze blowing up on the hills). Spring (April and May) and Autumn (October and November) are milder. You can have some drops of rain but not too many. Winter is colder but you still can count on many sunny days.
Month   avg. High     avg. Low
Apr   66 °F (19 °C)    46 °F (8 °C)
May  73 °F (23 °C)   54 °F (12 °C)
Jun     81 °F (27 °C)   59 °F (15 °C)
Sep    81 °F (27 °C)   59 °F (15 °C)
Oct     72 °F (22 °C)  52 °F (11 °C)
Nov    61 °F (16 °C)  45 °F (7 °C)
Tipping your guides
Should you wish to tip your guides, the gratuity is entirely at your discretion. The standard in the industry ranges from 5€ to 10€ per person, per guide, per day. Tipping is not due to Gianni Stanghellini as he owns the company.
Tipping your drivers
Should you wish to tip your drivers, the gratuity is entirely at your discretion. The standard in the industry ranges from 1€ to 3€ per person, per driver, per day.
Extra expenses

Plan to have extra cash or money in your credit card enough to buy a couple of coffee or tea every day (5 euros average) . Two nights out of seven you are on your own for dinner (20-25 euros per meal per person, average)