CINQUE TERRE off-the-beaten-path experience
CINQUE TERRE off-the-beaten-path experience
SCHEDULED GROUP SIZE: min 1 – max 18 guests
PRIVATE GROUP SIZE: min 1 – no limit
DURATION: 7 Days & 6 Nights
  WALK RATING: 2+
  HOTEL STYLE: very comfortable to stylish
CLOSEST AIRPORTS: Pisa (PSA) or Genoa (GOA)
OPTION TO COMBINE THIS TRIP WITH OTHER TRIPS
Scheduled tours
price p/p: starting from 2350 euros
2022 dates
Sept 17-23, 2022 -available places
Oct 17-23, 2022 -available places
Private tours
price p/p: varies according to group size. Check Price below here
Departures: anytime
Overview
Cinque Terre is one of the most well known, picturesque places in Italy. At the same time it can be one of the busiest place in Italy as well.
We have designed the tour in order to provide the best experience of the area without being overwhelmed by crowds.  We have chosen secret trails where you won't see almost anybody.
Tour highlights? We walk in the vineyards of Manarola, we visit the monastery of Monterosso (private invitation!) and meet the friar, we take you to the Valle Sturla to discover the production of special cheeses, meet the artisans of Chiavari that make wooden chairs from generations, enjoy an aperitif on a private boat in Camogli, walk the amazing path of Santa Margherita to Portofino and take a private boat to San Fruttuoso, stay at very nice hotels in Levanto, Chiavari and Sestri Levante.
Inclusions
  6 night stay at very nice hotels. Book early and we will try to accommodate you in a room with a view.
  All breakfasts, 4 lunches, 4 dinners. Local wine is always included with lunches and dinners. Vegetarian? Vegan? No problem!
  Transportation along the tour
1 local guide for groups smaller than 10. Groups larger than 10 people will be guided by 2 local guides.
  meet the artisans of Chiavari that make wooden chairs from generations
  wine tasting and lunch at the farm
aperitif on a private boat in Camogli
 Learn about Pesto making in Sestri Levante
 Olive oil press visit, introduction from the owner and tasting
  Local traditional music show
 All taxes
Hotel Oasi – Levanto
Top Location: away from hustle and bustle, but close to the medieval walking streets, the beach and the train station
Rooms are all warm and bright, custom furnished, with high quality woods and finishes.
Obviously, they all have a private bathroom with shower and comfortable new beds: our mattresses are made to measure by the Centro of the Mattress in Massa and almost at every check-out we are asked where to buy them.
However, if you find it too stiff, you can always ask us for a soft topper and it will be given to you!
Albergo Monte Rosa – Chiavari
The Hotel Monte Rosa is the "Secret Dream", the fruit of love and constant dedication of two young newlyweds, grandparents of the present proprietors, who in 1909, with passion and sacrifice gave life to this establishment. Following the family tradition the Bacigalupo family has transformed this once small restaurant into the present day 4 star Hotel with 62 rooms, Restaurant, Banqueting Halls and Swimming Pool. It's located in the beautiful historical porticoed town centre of Chiavari, immersed in the heart of this vibrant small medieval city, and only a few minutes from the promenade.
http://www.hotelmonterosa.it/en/home.html
Grande Albergo Hotel – Sestri Levante
It was at the end of the 1800s when Mr. Federico Jensch decided to convert the beautiful Palazzo Giustiniani, bishop's seat, located on the left side at the mouth of the Gromolo, into a wonderful hotel, the current 4-star Hotel Grande Albergo in Sestri Levante.
The Hotel Grande Albergo, after having belonged to the Westermann family for thirty years, passed to its current ownership in the 90s and in July 2003, after a complete renovation, it returned to shine and to welcome customers of great value.
https://www.hotelgrandealbergo.it/index.asp
Day 1 – Meeting in Levanto (Night at hotel in Levanto)
The tour starts in Levanto, very convenient location to get by train from main airports.
Levanto is a quite small town just north of Monterosso.
We visit the town with it's beautiful small alleys. We then take the train to go to Vernazza. The small fishing village Vernazza is probably the most characteristic of the Cinque Terre and is classified as one of the most beautiful villages in Italy. We then stop at a small trattoria for a nice dinner.
2 km = 1,2 miles
 Hotel Oasi – Levanto
dinner
Day 2 – Moneglia and vineyard visit with a panoramic family owned restaurant (Overnight in Levanto)
Today we set off to Moneglia, a cute little off the beaten track town. Here we meet Letizia, a guide that lives in Moneglia. With Letizia we stroll around the streets and alleys of Moneglia and then continue to the panoramic path that takes to his family's restaurant. We go through vineyards until we reach the restaurant perched on a great spot with a view above the sea. The restaurant serves seafood specialties and great Ligurian wines. In the afternoon we enjoy some rest at the hotel. dinner is on your own in Levanto with many options.
5 km = 3 miles
 Hotel Oasi – Levanto
breakfast, lunch
SHOW DAY 3, 4, 5, 6, 7
Day 3 – walk in the Manarola vineyards and the Monastery of Monterosso (Overnight in Chiavari or Levanto – according to dates)
Today the views from the vineyards of Manarola above the sea are spectacular. A short walk takes us to the church of Montenero. From here you can see all the villages of Cinque Terre. we descend to Monterosso and we then visit the monastery of Monterosso with the company of the friar that inhabit it. Lunch is in the refectory of the monastery, just like the friars!
4 km = 2 miles
 Hotel Oasi – Levanto (for the September departure) or Monterosa Hotel in Chiavari (for the October departure)
breakfast, lunch, dinner
Day 4 – Valle Sturla, Abbazia of Bordone, lunch at agriturismo (night in Chiavari or Sestri Levante – according to dates)
Today we go to the inland, adding a different point of view on the area. we visit the Valle Sturla, an area that produces all the the good food that we have tasted until now, except for fish. Lovely paths and an Abbey in the middle of the woods. we visit the abbey and then we go to lunch in an agriturismo for an al-fresco lunch. Dinner tonight is on your own in the beautiful town of Sestri Levante.
8 km = 5 miles
 Monterosa Hotel in Chiavari  or Grande Albergo – Sestri Levante
breakfast and lunch
Day 5 – Artisans' shops in Chiavari. Aperitif on a private boat in Camogli (Overnight in Sestri Levante)
The area produces the most refined (and expensive) wood chairs that you can find in Italy. They are quite recognizable as the Chiavari chairs with its thin wood pieces and straw. We then visit a wood carver's shop. He is so much fun! In the afternoon we transfer to Camogli and we walk to Punta Chiappa, a very panoramic path. We go back to Camogli on a boat where the sailor will offer us a nice and rich aperitif on the sea.
8 km = 5 miles
 Grande Albergo – Sestri Levante
breakfast, dinner
Day 6 – Walk from Santa Margherita to Portofino – boat ride to San Fruttuoso (Overnight in Sestri Levante)
We have saved the best for last. In the morning we visit santa Margherita and it's harbor. walking on an path surrounded of olive trees we arrive to the famous and posh Portofino. Before getting to Portofino we stop for lunch at a hut in the woods that serves a very nice pesto pasta. did you know that pesto is original to this area? we can't miss it. Today it seems like it's the pesto day. In the evening we will have our farewell dinner at a restaurant where the owner will teach us how to make pesto! Yummy!
8 km = 5 miles
 Grande Albergo – Sestri Levante
breakfast, lunch, dinner
Day 7 – Departure day
This morning we leave the Cinque Terre from the train station of Sestri Levante. This station is well served by fast trains.
breakfast
note on the itinerary
Please bear in mind that this is a typical itinerary, and the actual walks and sites may vary due to season, special events, or weather. We reserve the right to alter the itinerary since tour arrangements are made up to a year in advance, and in unforeseen circumstances that mandate changes may arise. Itinerary changes are made to improve the tour and your experience.
deposit 150 EURO
balance is due 95 days ahead of trip beginning date
you can pay in

 

instalments
The deposit is fully transferable to any 7 or 8 day Walk About Italy tour within 2 years if you cancel 65 days ahead of tour beginning.
| | |
| --- | --- |
| NUMBER OF GUESTS OF YOUR PRIVATE GROUP | |
| | |
| | |
| | |
| | |
| | |
| | |
| | |
deposit 150 EURO
balance is due 95 days ahead of trip beginning date
you can pay in

 

instalments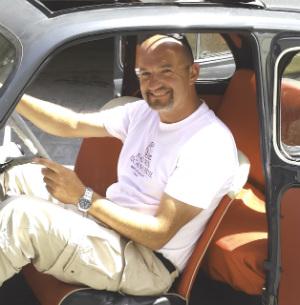 Gianni
Founder, trip organizer and guide at Walk About Italy (with a degree in Geology)
I am 51 years old.  Geology is my background (Ph.D.) but to me life is about more than an academic degree. Music and walking are my passions. I have been a certified guide for nature walks since 1999. After working many years as a guide and also in the back stage of the travel industry for foreign walking tour companies, I earned my Tour Organizer business license, valid in Italy and the rest of the world. Let me organize your vacation to Tuscany and other parts of Italy.
Tours he guides: Tuscany, Amalfi, Sicily, Umbria – Assisi & Le Marche
group meets here:
Levanto – Hotel Oasi
Via Terraro
19015 Levanto
trip ends here:
Sestri Levante train station
Useful information on the tour
How to prepare for this trip
Walking or jogging for 60 minutes 3 times a week for 5 weeks ahead of trip will make your experience more enjoyable. In case you live in a flat area you might also incorporate some steps in your physical activity.
What to bring:
Walking shoes with good traction (sometimes we might have mud on the trail)
Hat, Swimming suit, sun cream, water bottle to refill with tap water
Dinners at Italian restaurants do not require any special dress code.
Wear shoes with good traction
An average day of the trip
On a typical day you hike/walk with your guide in the morning for 3 hours, then we stop at a restaurant or farmhouse for lunch (lunch can last 1hour and half). We serve local food and wines as we believe that food plays an important role in the enjoyment of Cinque Terre.
In the afternoon there might be some more walking or town stroll. Around 4.30 or 5pm your guide will take you back to the hotel.
Your guides are available from 9am to 5pm on each day.
Before dinner you will be able to rest a couple of hours.
Dinner will be served in a restaurant in town.
Local wine is always included for lunch or dinner. We serve vino della casa (house wine) as the quality of local house wines is very high.
Weather
In general, the climate Cinque Terre is very mild. That's why it's called "the Italian Florida". Usually summers in Cinque Terre are hot with little or no rain. July and August are the hottest months (but still nice for walking as there is always a breeze blowing up on the hills). Spring (April and May) and Autumn (October and November) are milder. You can have some drops of rain but not too many. Winter is colder but you still can count on many sunny days.
Month   avg. High     avg. Low
Apr   66 °F (19 °C)    46 °F (8 °C)
May  73 °F (23 °C)   54 °F (12 °C)
Jun     81 °F (27 °C)   59 °F (15 °C)
Sep    81 °F (27 °C)   59 °F (15 °C)
Oct     72 °F (22 °C)  52 °F (11 °C)
Nov    61 °F (16 °C)  45 °F (7 °C)
Tipping your guides
Should you wish to tip your guides, the gratuity is entirely at your discretion. The standard in the industry ranges from 5€ to 10€ per person, per guide, per day. Tipping is not due to Gianni Stanghellini as he owns the company.
Tipping your drivers
Should you wish to tip your drivers, the gratuity is entirely at your discretion. The standard in the industry ranges from 1€ to 3€ per person, per driver, per day.
Extra expenses

Plan to have extra cash or money in your credit card enough to buy a couple of coffee or tea every day (5 euros average) . Two nights out of seven you are on your own for dinner (20-25 euros per meal per person, average)
Subscribe to our newsletter