Walk from village to village in sight of the sea
Sicily Group Walking Tour
Sicily is an amazing place. It varies from the beautiful cristal clear sea water of Cefalù to the high mountains in le Madonie.
The trip presents the best of Sicily. We will stroll through the Greek Temples of Selinunte, we will eat street-food in Palermo, hike in le Madonie Mountains, admire the artisans make pottery in Sciacca.
Just like all of our tours this one is a very nice combination of relaxed walks, fresh food, fine wines, interesting encounters with local artisans.
– Discover Palermo, the intriguing melting pot of history, culture, architecture and traditions.
– Enjoy the timeless atmosphere of the charming boutique hotel, in the heart of the town.
– Admire the huge mosaic representing Christ Pantocrator in fortress-Cathedral in Cefalù
– Hike across the monumental oak and holly trees of the Madonie mountains and look for some of the 200 species of wild orchids
– Taste Cannoli patries in Palermo
– Walk in the woods of Ficuzza nature preserve and find the King's Ferdinand favourite hunting place
– Meet an artisan and learn how to transform olive branches into baskets
– How can mud become a piece of art? Find it out in a ceramic workshop in Sciacca
– Fall in love with the Busiate pasta in Trapani
– Relax in the garden and pool of Baglio San Vincenzo, a country home turned into a 4star hotel, surrounded by vineyards and trees
– Experience a full immersion in a noisy fish market, when hundreds of fishing boats dock in the port of Sciacca
– Jump back to prehistoric time while walking in the stunning Caltabellotta
– Explore Selinunte, the biggest archaeological park in Europe, and learn about the ancient Greek
– Walk along the coast in the nature reserve Monte Cofano, learn about watchtowers and mediterranean maquis, in one of the most beautiful rocky landscapes of Sicily
– Find the whitewashed barock style in the town of Trapani
Tour beginning
: Palermo at 4PM of day 1. You can comfortably check in your hotel from 2PM
Tour End
: Transfer and drop off in Palermo airport. You will be back at the airport at 10.45pm
Day 1 – Meeting in Palermo (night at hotel in Palermo) with your guide(s) and time to discover this unique "city of contrasts". You will be guided along the arabic-norman style momunents, crossing the colorful market and tasting world wide famous street food. A light dinner introduces us to Sicilians delicacies
Day 2 –Palermo –Cefalù (night at hotel in Cefalù)
Today we transfer to Cefalù, a little, charming seaside medieval town, where we spend the next two nights.
On the way to Cefalù, a short diversion  takes us to Himera to stretch out for a 2hour walk in the countryside…
Dinner tonight is at a seafood restaurant overlooking the sea
Day 3 – Madonie (night in Cefalù)
Today we explore the Madonie Mountains, that host hundreds of varieties of plants and animals. The walk will take us through giant holly trees and 400year old oak trees; we might meet cows and wild boars. Our simple lunch is in a mountain hut.
Dinner tonight is on your own
Day 4 – King Ferdinand's hunting lodge and Ficuzza woods (night in Menfi)
On our transfer to the south coast, we stop for a 5 mile walk in Ficuzza. Our trail head is an old train station now turned into a restaurant, where we will have lunch later. Across the woods we will discover Ferdinand's the bourbon favorite hunting spot. The trail end is in front of his Majestic residence.
A 1h30 long drive will take us to our next hotel: Baglio San Vincenzo, a "masseria", a fortified farmhouse surrounded by a spectacular country side. Traditional Sicilian food served in the hotel's restaurant, accompaniedby vine from local important vineries.
In the afternoon we reach our hotel in the countryside of Menfi. Later today we meet an artisan in his workshop, who will show us the basic techniques of basket making, and his artifacts.
Dinner at the hotel.
Day 5 – Caltabellotta – Sciacca (night in Menfi)
Driving eastwards and up to a hilltop, today we reach Caltabellotta, Qal'at – al Ballut, as the Arabs liked to call it. A walk through the town and around it will lead us back to the time when the Arabs and the Normans ruled here, but also to a much earlier period, when people used to live in caves and buried their deaths in grottoes.
After lunch we drive down to Sciacca, where the tradition of pottery making learnt from the Arabs makes it one of the most important pottery towns in Sicily. Let's meet an artisan and learn more about it!
A full immersion in the colorful, noisy fish market completes the day.
Dinner tonight is on your own in Menfi
Day 6 – Selinunte – Trapani (night in Trapani)
A short drive takes us to Selinunte. A Greek colony from Megara Hyblea decided to settle here in the VII century BC, and found Selinus, that pretty soon became one of the most important State towns of the Magna Graecia. A 2hour hike in the biggest archaeological park in Europe will lead us through temples, fortifications and industrial areas of the past.
Lunch in a seaside restaurant where you can enjoy seafood of the day.
Our next destination is Trapani, where we spend the next two nights. The landscape changes dramatically, when we spot the windmills once used to drain water from the basins of the salt marches.
Your 4star hotel in the city center gives us an opportunity to admire monuments and churches in the baroque style.
Not to miss a couscous and other traditional dishes that can only be found in this area of Sicily
Day 7 – Monte Cofano – Erice (night in Trapani)
After breakfast, a short drive will take us back to the medieval time, when we stop in the charming town of Erice.
Our 3 hour walk today is in a natural reserve  along the coast, where we can experience the beauty of the sea, the history of the tuna factory and the dramatic rocky landscape, in one of the most beautiful environments in Sicily.
After lunch in a local "trattoria" and on our way back to Trapani
Farewell dinner is in a local restaurant
Day 8 – Departure
After breakfast, a 1 hour drive will take you to the Palermo airport.
– 7 night stay at fine hotels.
– All breakfasts. 6 lunches. 5 dinners.
– Transportation along the tour
– 1 local guide for groups smaller than 10. Groups larger than 10 people will be guided by 2 local guides
– Entrance tickets for all the special events
– Tourist tax (it's a payment made to the local authority of the area in which a tourist buys accommodation)
– All taxes
Palazzo Brunaccini (Palermo)
Refined Boutique Hotel of 18 rooms in the heart of the old town of Palermo, Palazzo Brunaccini is a building where the charm of its history and the elegance of its design have a perfect balance.
The ancient historic maison, originally owned by the princess Lucrezia Brunaccini, after an accurate restoration, today is a modern hotel which combines the fascination of the past with a contemporary and charming style. Soft neutral tones, paired with warm light play and stylish decorations, create a unique and exclusive retreat.
The hotel has 18 rooms on different levels, all created with the focus on our guests' demands: marvelous wooden beam ceilings, romantic poster beds, furnished patios, lofts and precious pieces of antique period furniture.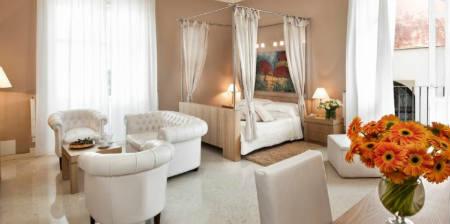 Hotel Riva del Sole Cefalù
The hotel enjoys an exceptional sea view. It is located on the seafront of Cefalù, few steps away from the historic center. Blue and gold are the colors of the furnitures and fabrics used, enhanced by large windows and balconies. The majority  of the rooms overlooks the sea, where you can admire the beauty of the historic center of Cefalù and its Norman cathedral, while others are facing the inner garden.
Baglio San Vincenzo (Menfi)
Baglio is a very common type of architecture in Sicily. It describes a walled country estate. Its walls are shaped like a horse shoe. Baglio San Vincenzo is also a winery. The hotel has 12 rooms only.


Central Gallery Hotel (Trapani)
The hotel is in the very center of the posh town of Trapany. The rooms are modern style, very spacious. The hotel is family owned. Just the perfect location to enjoy life of the locals in Trapani.
– Guaranteed departure Even if we have just you on tour we are committed to operate the tour. Book soon with us and book your flight to Italy!
– We are locals. We have been born and raised in Tuscany. We know how to stay away from the crazy crowds. We know the little secrets that will make your stay unforgettable
– It is a small group tour (group is not larger than 18)
– Relaxed pace: 5 to 7 miles (3-4 hours average) walks on each day. WALK RATING: 2+ on a base of 1=easy to 5=strenuous
– Local guides: 1 walking guide for groups of 9 guests or smaller. Groups of 10 guests or larger will be guided by 2 guides
– Every day a special activity: Italian Opera show, hands-on cooking class, olive oil farm visit, family-run farms experience and a lot more.
– It's a responsible way of traveling: We employ all local small businesses; small farms, local guides, family run hotels and restaurants. If you buy our tours you will give back a lot to the area, contributing to mantain the economy of this region. Thanks a lot for doing this!
2018 Sicily 8 day TOUR dates and availability
October 10 – 17 (should get full in about 20 days)

66%
SHARING DOUBLE ROOM
WHAT'S INCLUDED

7 night stay at fine hotels. All breakfasts. 6 lunches. 5 dinners.Transportation along the tour. 1 local guide for groups smaller than 10. Groups larger than 10 people will be guided by 2 local guides. Entrance tickets for all the special events. All taxes
SINGLE SUPPLEMENT SURCHARGE