Walk from village to village in sight of the sea
Aeolian Islands are full of natural beauty
Sicily & Aeolian Islands Group Walking Tour
Sicily & Aeolian Islands Guided Walking Tour
This is a small group tour. In this tour we cover the eastern side of the island. From the charming islet of Ortigia to the Vendicari natural reserve. From the baroque pearl of Noto to the Byzantine of Pantalica. Then we transfer to the Aeolian Island of Lipari with its stunning panoramas on the archipelagos. The Aeolian islands are still inhabited by the small local communities that preserve their fishing and agricultural economy. We will visit the Island of Vulcano, walking up to the top of the mouth of the volcano (don't worry, it's very safe). The last day it's the day of the Island of Salina, probably the most authentic of all the islands; the view from the trail in the forest is amazing.
Sicily & Aeolian Islands Guided Walking Tour is a gourmet tour as well: cannoli, pasta with sardines and raisins, fried calamari, lots of vegetables combined with local Catarratto and Insolia wines  will be a nice reward, at lunch and dinner.
Sicilian music will accompany the tour, as well as the encounter of local artisans.
See you in Sicily!
A successful 2019 🙂 comments from Sicily & Aeolian Islands tour guests
This is Gianni, owner and guide at Walk About Italy. 2019 has been a very successful year for us!
Sicily (30 guests traveled with us in 2019)
May 7-13 We loved both Gianni and Orietta! (Charles, USA)
Sept 1-7 We had a fantastic group and the trip was more than we could have wished for.  Thank you Orietta (Klive, South Africa)
Sept 22-28 The best way to get to know a country, is to walk with the locals! This week in Sicily with Gianni and Ermes was an intimate experience of the hospitality, the food, the geology and the life of the Sicilians. Highly recommended! (Eras, South Africa)
Thank you so much to all our guests that we call now friends (Gianni, owner and guide at Walk About Italy)
2020 Sicily trip dates
May 28 – June 3, 2020 (the tour is going to be full in 20 days)

Linda Kriel's walking & fitness tour September 1-7, 2020 (one lady wants to share room. Interested?)

September 23-29, 2020 (the tour is going to be full in 20 days)

October 13-19, 2020 (the tour is going to be full in 15 days)
Discover Ortigia, the charming islet where art, history and people make the hearth of a town and fill yours with joy.
Enjoy the sea-food delicacies in a traditional Sicilian restaurant.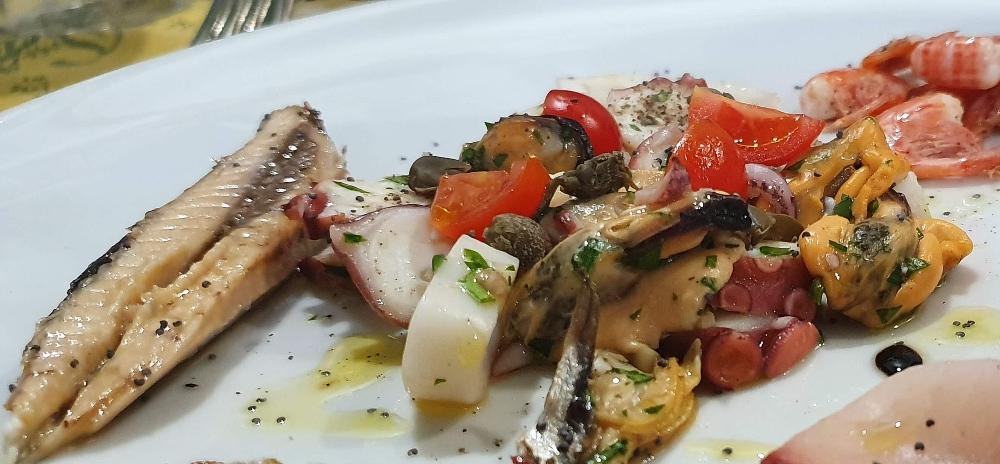 Walk in Vendicari natural reserve, where about 200 species of migrating birds take a rest and find out why turtles decide to nest here. Flora, fauna and archaeology make your walk in Vendicari a unique experience

Learn how our ancestors caught the tuna in Vendicari Tuna old factory

Explore the "stone garden" Noto, a baroque pearl that proves that sometimes a tragedy can be an opportunity to rebirth.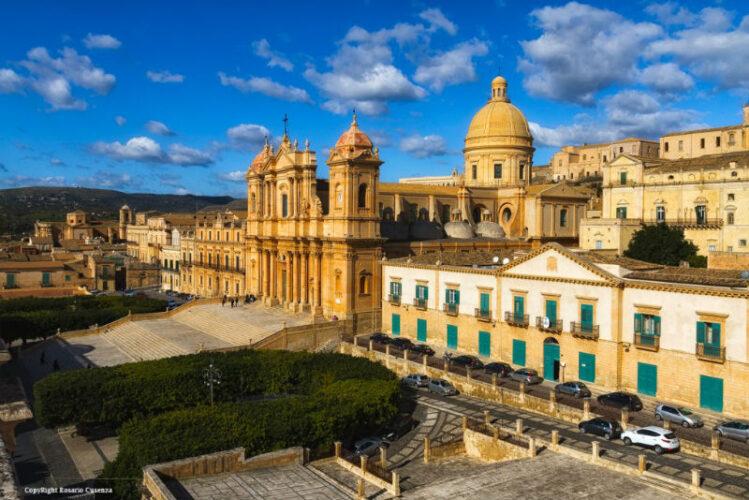 Jump back to the XIII century B.C., while walking in the gorge once inhabited by the Siculians, who left behind 5000 thumbs carved in the rock, and have a look at the Byzantine village above the river in Pantalica

A hydrofoil takes you to Lipari, one of the seven volcanic sisters in front of the northern coast of Sicily
Walk in Punta Cappero in Lipari with amazing sea view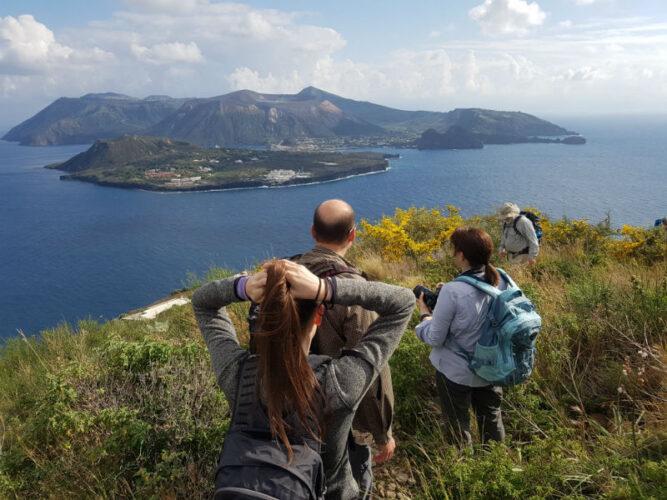 Ride a small boat toward the Island of Salina where we hike for the day.

Relax in the garden and pool of Aktea Resort Hotel in Lipari.

Tour beginning: Siracusa at 4PM of day 1. You can check in at your hotel from 2pm.
Tour End: Transfer and drop off in Catania train station and then Catania airport. Do not plan to fly back earlier than 4pm if you are planning to fly on the same day of the end of tour. Do not book your train from the Catania station before 2.30pm
Day 1 – Meeting in Siracusa and visit of the city (night at hotel in Siracusa)
Today you meet the guide that will present the tour during a quick briefing. Your city guide will take you to explore this beautiful and posh city that was founded by the Greeks.  Ortigia, the old center of Siracusa, is an amazing combination of little streets and alleys and big piazzas. One of the largest squares is the Cathedral square that is the symbol of Siracusa. We visit the Cathedral inside, and you soon realize how it was first a Greek temple than turned into a church. The fountain Arethusa is another symbol that we visit: a huge amount of fresh water available right in the middle of the city.
Dinner tonight is at a delicious restaurant that serves Sicilian specialties.
Walking distance today: 3 kms = 1.8 miles
Day 2 – Vendicari natural reserve and the baroque town of Noto (night at hotel in Siracusa)
After a nice breakfast based on Sicilian specialties, we drive for about 30 minutes to get to the Natural reserve of Vendicari. The reserve was established in 1984 to protect the fauna, flora and the archaeological remains. The algae called Posydonia is an environmental indicator that enriches the sea with a big amount of oxygen. The special condition attracts more than 300 species of animals such as flamingos, herons and sea turtles. We visit the relic of a Tonnara (tuna fish farm) that dates back the seventeenth century and used until last century. Our hike is on a relaxed coastal path for about two hours. We get to a farm restaurant that serves their own production of vegetables, wine and olive oil.
After lunch a 20 minutes van ride take us to Noto. In 2002 Noto was declared a UNESCO World Heritage Site. After 1693 earthquake the former town was re-built in a different location with a baroque style and today this town is considered one of the world's capitals of Baroque art. About 1 hour of free time to enjoy a delicious pistacchio gelato or lemon granita (ice slush) and relax in main street. We drive back to our hotel.
Later we enjoy a great restaurant in the old city that will serve fresh fish and seafood.
Walking distance today: 7.4 kms = 4.59 miles
Day 3 – Pantalica nature/archaeological park. Optional visit of the archaeological park of Siracusa in the afternoon (night at hotel in Siracusa)
Sicilian breakfast is amazingly rich: cannoli, great espresso coffee, all kinds of breads. After breakfast we take one-hour ride to get to Pantalica park. On the way to Pantalica we stop for a coffee break in Ferla, one of the most beautiful towns in Italy. The hike is in a limestone gorge with a spectacular view. The site of Pantalica counts 4000 tombs dating from the 7th to the 13th centuries BC.
We enjoy lunch at a farmhouse with the typical Sicilian appetizers (caponata, artichokes if in season, frittata) and grilled meats.
We drive back to Siracusa. On the way to the hotel you can stop at the Archaeological park of Siracusa that includes the Roman amphitheater, the Greek theater and the Ear of Dionysius (a 23 meter high limestone cave where the people's voices echo up to 16 times!)
Dinner tonight is on your own with lots of restaurants according to your taste.
Walking distance today: 4 kms = 2.5 miles
Day 4 – The southern side of the Island of Lipari (night in Lipari)
After a quite breakfast we say goodbye to Siracusa. On the way to the port of Milazzo (about 2 hour drive) we stop for a coffee on the beach. As we arrive in Milazzo we enjoy arancine and mixed rosticceria lunch. We take 1 hour hydrofoil ride to Lipari. A nice walk in the southern half of the Island awaits for us with amazing views on the Island of Vulcano. The hike will take us to a panoramic point through a path surrounded by beautiful villas and macchia mediterranea (Mediterranean shrub) that produces a pleasant smell.
Later we check in at the new hotel with options explore the town of Lipari on your own or relax by the swimming pool.
Dinner based on many different kinds of pizza will follow at a small pizzeria in main street of Lipari.
Walking distance today: 6 kms = 3.7 miles
Day 5 – The Island of Vulcano (night in Lipari)
Your route today begins with a boat ride to the Island of Vulcano. After an espresso caffè stop at the port of Vulcano we start our hike to the mouth of the volcano. The word "volcano", and its equivalent in several European languages, derives from the name of this island, which in turn derives from Vulcan, the Roman god of fire. It takes one hour to reach the main crater, known as Caldera de La Fossa. The caldera is huge, with a 500 meters diameter. The last eruption here occurred in 1890, but there are plenty of fumaroles that eject steam. If you don't feel like hiking up to the top of the mountain, we will provide an optional program for you, strolling in the village of Vulcano with shops and easy walks in the surroundings.
Lunch is served in a simple but lovely restaurant with seats outside. We will enjoy one of the most well know food of the island: pani cunzato (focaccia seasoned with anchovies, fresh tomatoes, capers, mozzarella). It's delicious!!
In the afternoon we take a boat ride back to Lipari for rest time at hotel or for exploring the town of Lipari (so many things to do and see in Lipari).
Dinner tonight is on your own. Your guide will provide options for restaurants
Walking distance today: 6 kms = 3.7 miles with elevation gain
Day 6 – The Island of Salina (night in Lipari)
After a well-presented breakfast we take a boat and we cruise to the Island of Salina. The name of the island derives from saltern as in the south east of the island there was a salt production plant. 
The boat will drop us off in the small village of Rinella and with a short bus ride we get to the town of Leni. After having explored the town we venture on a hike with amazing view on the archipelago, allowing us to see the islands of Alicudi, Filicudi, Panarea and Stromboli. Today lunch is al-fresco with delicious panini. At the end of the walk we get refreshed at a local snack café in Leni. We take the boat back to Lipari. Some time of rest at your 4 starred hotel before we get ready for the farewell feast to celebrate new friends and Aeolian Islands.
Walking distance today: 8 kms = 5 miles
Day 7 – Transfer to Catania, Departure
A scenic hydrofoil ride delivers you to the port of Milazzo. You arrive in Catania by early afternoon. We stop in Catania train station and then Catania airport. Do not plan to fly back earlier than 4pm if you are planning to fly on the same day of the end of tour. Do not book your train from the Catania station before 2.30pm
Please bear in mind that this is a typical itinerary, and the actual walks and sites may vary due to season, special events, or weather. We reserve the right to alter the itinerary since tour arrangements are made up to a year in advance, and in unforeseen circumstances that mandate changes may arise. Itinerary changes are made to improve the tour and your experience.
– 6 night stay at fine hotels.
– All breakfasts. 5 lunches. 4 dinners. Vegetarian? Vegan? No problem!
– Transportation along the tour
– 1 local guide for groups smaller than 10. Groups larger than 10 people will be guided by 2 local guides
– Entrance tickets for all the special events
– Tourist tax (it's a payment made to the local authority of the area in which a tourist buys accommodation)
– All taxes
Caportigia Boutique Hotel Siracusa
Cleverly realized by skilled workers, the rooms of Caportigia Boutique Hotel are elegantly furnished and enriched by sophisticated details and, despite the central position they guarantee relax and tranquillity by the complete soundproofing. Equipped with new technologies and high-speed WI-FI connection, the rooms of our hotel in Siracusa are designed to guarantee to customers a regenerating sleep and a relaxing stay, thanks to the quality of beds and pillows.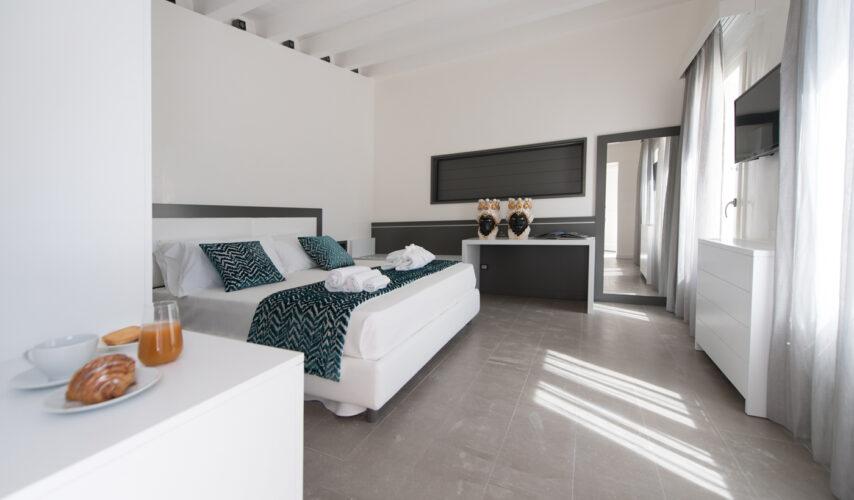 Hotel Aktea – Lipari
Situated in a very convenient location close to the small town center of Lipari the Hotel Aktea offers all the comforts of a newly restyled hotel with swimming pool. This is going to be the base of our excursions during our stay on the Aeolian Islands.
– Guaranteed departure Even if we have just you on tour we are committed to operate the tour. Book soon with us and book your flight to Italy!
– We are locals. We have been born and raised in Italy. We know how to stay away from the crazy crowds. We know the little secrets that will make your stay unforgettable
– It is a small group tour (group is not larger than 18)
– Relaxed pace: 5 to 7 miles (3-4 hours average) walks on each day. WALK RATING: 2+ on a base of 1=easy to 5=strenuous
– Local guides: 1 walking guide for groups of 9 guests or smaller. Groups of 10 guests or larger will be guided by 2 guides
– Every day a special activity: music show, hands-on cooking class, , family-run farms experience and a lot more.
– It's a responsible way of traveling: We employ all local small businesses; small farms, local guides, family run hotels and restaurants. If you buy our tours you will give back a lot to the area, contributing to mantain the economy of this region. Thanks a lot for doing this!

Orietta – a love for travels (with a degree in foreign languages)
Orietta guides our Sicily trip. A native Sicilian, Orietta grew up in Germany. She has got a degree in foreign languages. Because of her love for nature Orietta earned her qualification as licensed guide, tour leader and guide for nature trails.
Orietta loves to travel. You can stop with her and talk about all the destinations you have seen.
She also gives tours to people who are interested in searching their Sicilian roots through  genealogy research first and then inviting guests to meet the family. Awesome, isn't it?
Orietta is associated to Addiopizzo, a group of professionals that work for mafia-free tourism, a new frontier for the ethical tourist.
Ermes – I was born to travel the world (with a degree in International Relations and Human Rights)
Native of Palermo, with degrees in International Relations and Human Rights, Ermes has spent years working in social tourism and as a cultural mediator. Ermes has been travelling the world and now  with an extensive knowledge of history, flora, and fauna, looks forward to sharing his expertise. 
Ermes is is associated to Addiopizzo, a group of professionals that work for mafia-free tourism, a new frontier for the ethical tourist.
SHARING DOUBLE ROOM
WHAT'S INCLUDED

6 night stay at fine hotels. All breakfasts. 5 lunches. 4 dinners.Transportation along the tour. 1 local guide for groups smaller than 10. Groups larger than 10 people will be guided by 2 local guides. Entrance tickets for all the special events. All taxes
SINGLE SUPPLEMENT SURCHARGE
ENCORE DISCOUNT
valid for 2 years from your last 7 day trip with us