Tuscan Splendors 2023 & 2024
Tuscan Splendors 2023 & 2024

SCHEDULED GROUP SIZE with guaranteed departure: min 1 – max 18 guests

PRIVATE GROUP SIZE: min 1 – no limit

DURATION: 7 Days & 6 Nights

  WALK RATING: 2+

  HOTEL STYLE: very comfortable to stylish – ensuite bathroom
CLOSEST AIRPORTS: Florence (FLR) and Rome (FCO)
OPTION TO COMBINE THIS TRIP BACK TO BACK  WITH OTHER WALK ABOUT ITALY TRIPS (Check 2023 or 2024)
Scheduled tours
2023 dates
May 11-17
June 6-12
June 21-27
September 8-14

(full)

September 27 – October 3
October 3-9, 2023
Scheduled tours
2024 dates
NEW!
May 1-7
May 22-28
June 5-11
Sept 11-17
Sept 25-Oct 1
Oct 2-8
Private tours
price p/p: varies according to group size. Check Price below here
Departures: anytime
Overview
Embark on a Journey Through Tuscany
Get ready to explore the enchanting realm of Tuscany with our carefully curated guided walking tour. Immerse yourself in the captivating medieval towns and the breathtaking surrounding countryside, as we traverse through a tapestry of experiences that showcase the essence of this remarkable region. Join a small group and let the magic of Tuscany unfold before you.
Discover the Timeless Charms
Our itinerary is designed to unveil the hidden gems of Tuscany, taking you through iconic destinations such as Siena, the Chianti region, San Gimignano, Montalcino, Pienza, and the Val d'Orcia. Wander ancient streets, soak in the beauty of rolling hills, and soak up the vibrant culture that envelops these landscapes.
A Leisurely Pace, Enriching Stops
Throughout the tour, we'll stroll for approximately 2-3 hours each day, offering you ample opportunities to indulge in guide commentaries, savor freshly brewed coffee, relish delectable pastries, and explore captivating sites. Discover the heartwarming stories of the region, enjoy visits to local attractions, and experience the genuine warmth of the locals.
Family-run small hotels
Indulge in the charm of exquisite family-run hotels, where every stay is a warm embrace. Our handpicked accommodations offer en-suite bathrooms, ensuring your comfort and privacy. Experience the allure of these beautiful havens, where personalized hospitality and a touch of home await.
Culinary Delights and Musical Notes
Indulge your senses with lunches at small, family-run farms, where exceptional wine and regional delicacies await. Dinners will be hosted in cozy trattorias, providing you with an authentic taste of Tuscan cuisine. As a delightful backdrop, the notes of music will occasionally accompany us, adding a touch of harmony to your journey.
A Tapestry of People and Memories
At Walk About Italy, we believe that the true essence of travel lies in the people you encounter along the way. Engaging with the locals is a pivotal part of our tour, as we are convinced that the most cherished memories arise from these authentic interactions. Prepare to create lasting connections and weave a tapestry of stories that you'll carry with you long after the tour concludes.
Your Way to Explore
Tailoring the experience to your preferences, you have the option to journey with a small group or opt for a private excursion. The choice is yours, as we strive to ensure that your adventure in Tuscany is nothing short of exceptional.
Get ready to step into the heart of Tuscany's magic. Stay tuned for more details and be prepared to make memories that will stay with you forever.
Inclusions
  6 night stay at small hotels (3 and 4 stars). Book early and we will try to accommodate you in a room with a view.
  All breakfasts, 5 lunches, 4 dinners. Local wine is always included with lunches and dinners. Vegetarian? Vegan? No problem!
 Transportation along the tour
 We carry your luggage from hotel to hotel
1 local guide for groups smaller than 10. Groups larger than 10 people will be guided by 2 local guides.
Entrance tickets for all the special events
  Chianti wine tasting and winery visit: you will talk to the owner!
 Learn about saffron making or cheese making (according to availability) at a small farmhouse in Pienza
Learn how to tell the quality of extra virgin olive oil
Full cooking class in an ancient building. A lot of fun!
 All taxes
Accommodations with ensuite bathroom
LA VILLA HOTEL – SIENA: Your Tranquil Haven
Day 1, 2 and 3 of our Tuscany guided walking tour welcome you to this inviting haven. Nestled just beyond Siena's ancient city walls, La Villa is an exquisite "art nouveau" abode from the early 20th century. A short stroll from Siena's historic heart, it blends timeless elegance with modern convenience. Adorned with tasteful decor that honors its historical essence, this dwelling offers an ideal base to explore the medieval marvels of Siena. With a warm and welcoming staff, expect to feel right at home.
Explore more at: https://www.lavilladistr.it/en/home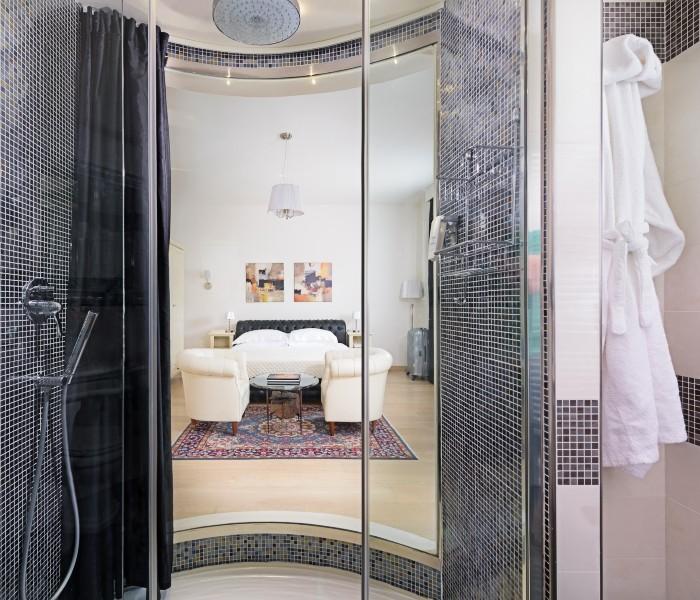 CORSIGNANO HOTEL – PIENZA: Where Beauty Meets Functionality
Discover the allure of Corsignano Hotel in Pienza. Merging beauty with functionality, this newly renovated 4-star gem graces the canvas of Tuscany's most pristine landscape. Immerse yourself in a world of aesthetic charm and modern convenience. With an exceptional staff and a delectable breakfast spread, your experience here is destined to become a cherished memory of Tuscany's essence.
Learn more at: https://www.hotelcorsignano.it/rooms/standard/?lang=en
It's a walking active tour but these are a few examples of what you will eat and drink along the tour!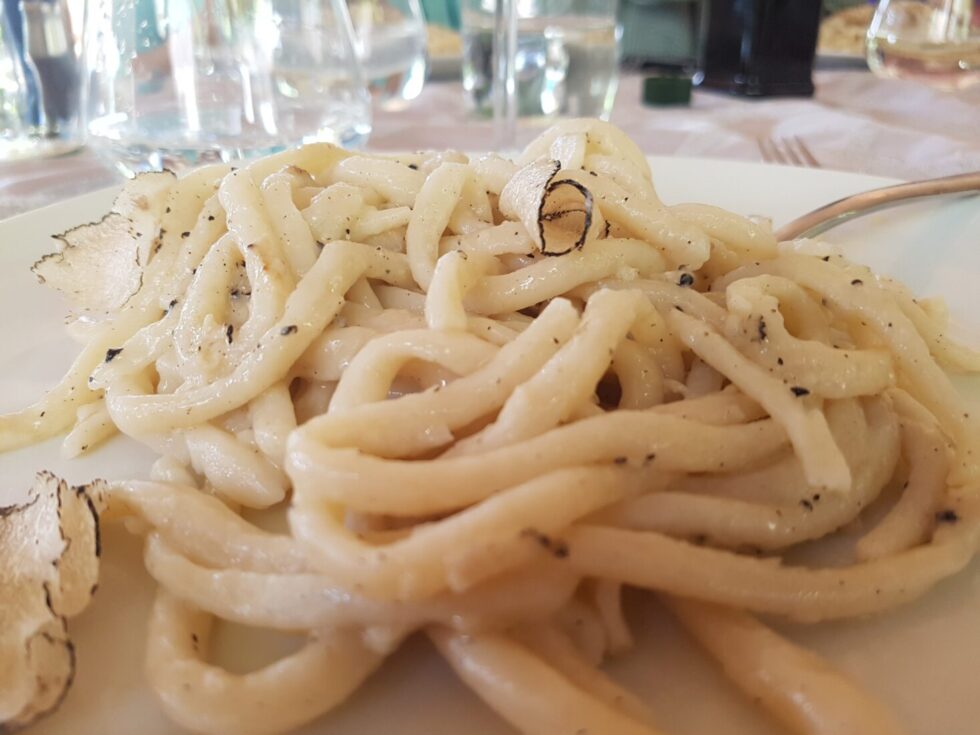 Pici pasta
Pici pasta is a type of traditional Italian pasta that originates from the Tuscany region. It's characterized by its unique shape and rustic appearance. Pici pasta is hand-rolled and typically made from just two simple ingredients: flour and water. The dough is rolled into thick, long strands that resemble rustic spaghetti.
What sets pici pasta apart is its slightly uneven and thick texture, which allows it to hold onto sauces quite effectively. The width of pici can vary, but it's generally wider than standard spaghetti and has a chewy, hearty consistency when cooked. It's often served with various sauces, such as tomato-based sauces, ragù, or simple garlic and olive oil, making it a versatile canvas for different flavor profiles.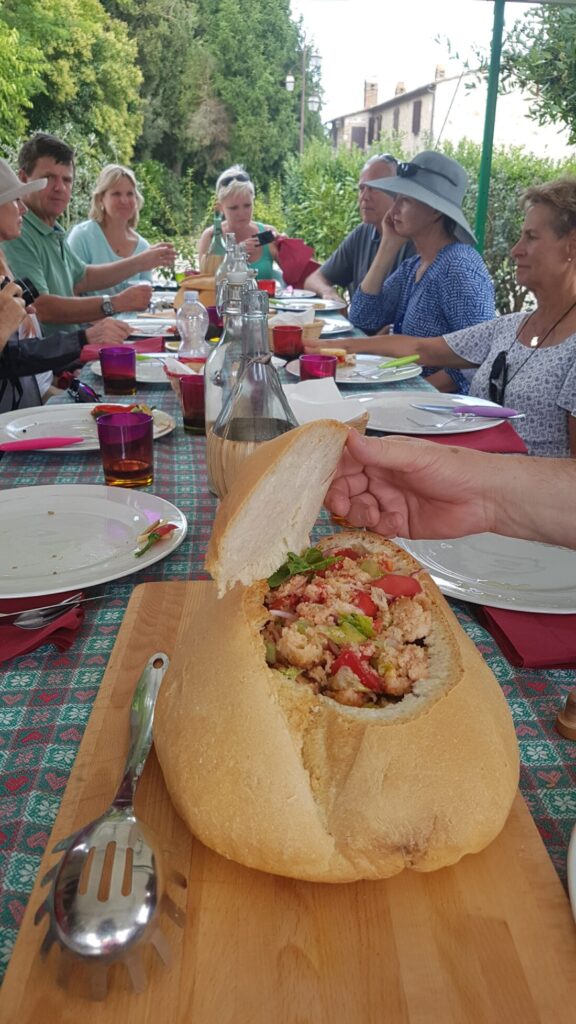 Panzanella
Panzanella is a traditional Italian salad that originates from Tuscany. It is a delightful and rustic dish made primarily from simple ingredients like stale bread, ripe tomatoes, onions, fresh basil, cucumbers, and sometimes bell peppers. The bread is a key component, as it's typically soaked or lightly toasted to bring out its flavors and textures.
The bread absorbs the juices from the tomatoes and any dressing used, making it soft and flavorful. The tomatoes provide a burst of freshness and juiciness, while the onions add a mild bite. Fresh basil contributes a fragrant and aromatic element, enhancing the overall taste. Additional vegetables like cucumbers and bell peppers can be added for extra crunch and color.
Panzanella is often seasoned with olive oil, vinegar (typically red wine vinegar), salt, and pepper. The dressing complements the natural flavors of the ingredients and ties them together into a harmonious and satisfying dish. It's a perfect example of Italian cuisine's knack for turning simple, humble ingredients into a delicious and satisfying meal.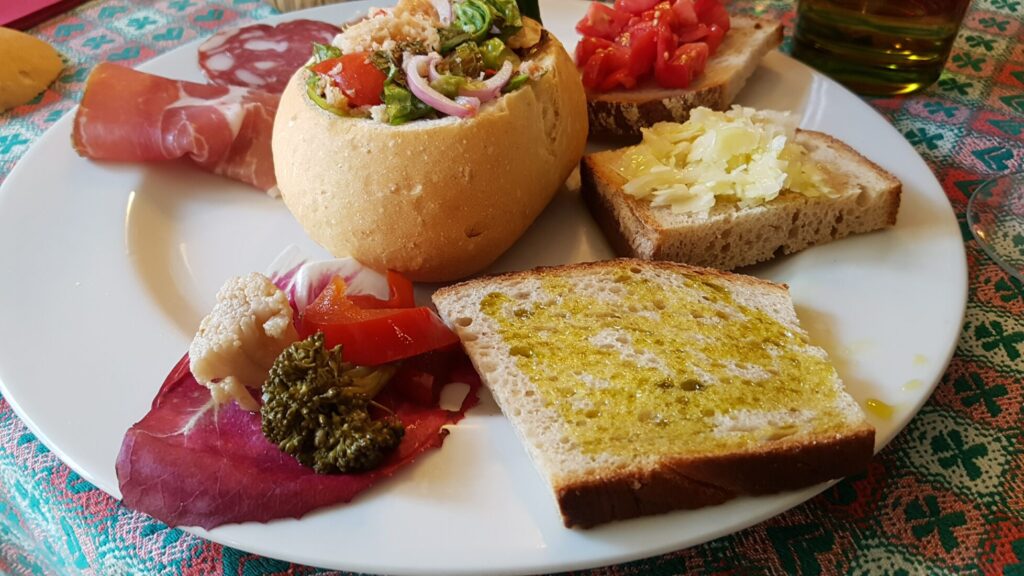 Bruschetta and cold cuts (affettati)
Bruschetta is an Italian appetizer or antipasto dish that consists of toasted slices of crusty bread, typically made from rustic or country-style bread. The bread slices are often rubbed with garlic and drizzled with olive oil before being toasted or grilled until they become crispy and slightly charred. Once the bread is prepared, it's commonly topped with a mixture of fresh ingredients, which can vary but typically includes diced tomatoes, fresh basil, garlic, and sometimes onions. The toppings are seasoned with salt, pepper, and additional olive oil to enhance the flavors. Bruschetta is known for its delightful combination of textures and flavors, offering a satisfying contrast between the crunchy bread and the fresh, aromatic toppings. It's often served as an appetizer at Italian restaurants and is enjoyed for its simplicity, vibrant taste, and the use of high-quality, fresh ingredients.
Affettati is an Italian culinary term that refers to a variety of sliced, cured meats. These meats are typically thinly sliced and are often served as an appetizer or antipasto dish. Common types of affettati include prosciutto (cured ham), salami (cured sausage), bresaola (air-dried beef), and coppa (cured pork shoulder). The term "affettati" comes from the Italian word "affettare," which means "to slice," highlighting the importance of the thin slicing technique used to prepare these meats. These delicacies are enjoyed for their rich flavors and are often accompanied by cheeses, olives, and other accompaniments as part of a charcuterie board or platter.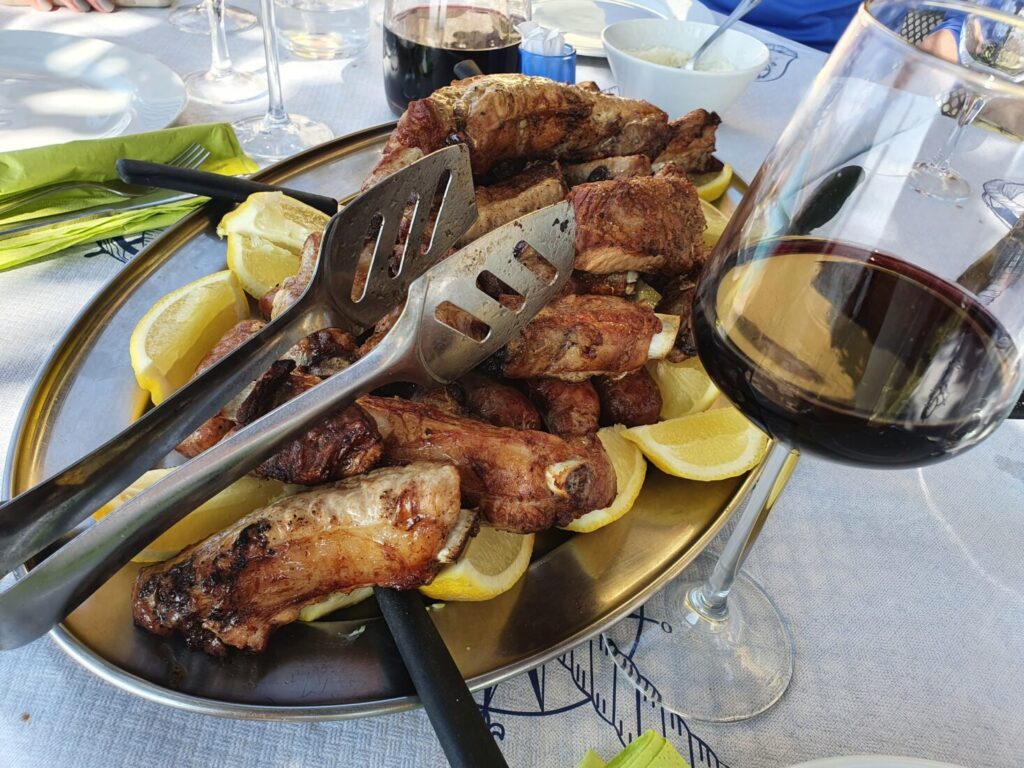 Costoleccio e salsicce Arrosto
"Roasted Ribs and Sausages" in English. It refers to a dish typically made with roasted pork ribs and sausages. The ribs and sausages are seasoned with various herbs, spices, and possibly marinades before being cooked in an oven or over an open flame until they are tender, flavorful, and have a crispy exterior. This dish is popular in Italian cuisine and often served as a hearty and savory main course.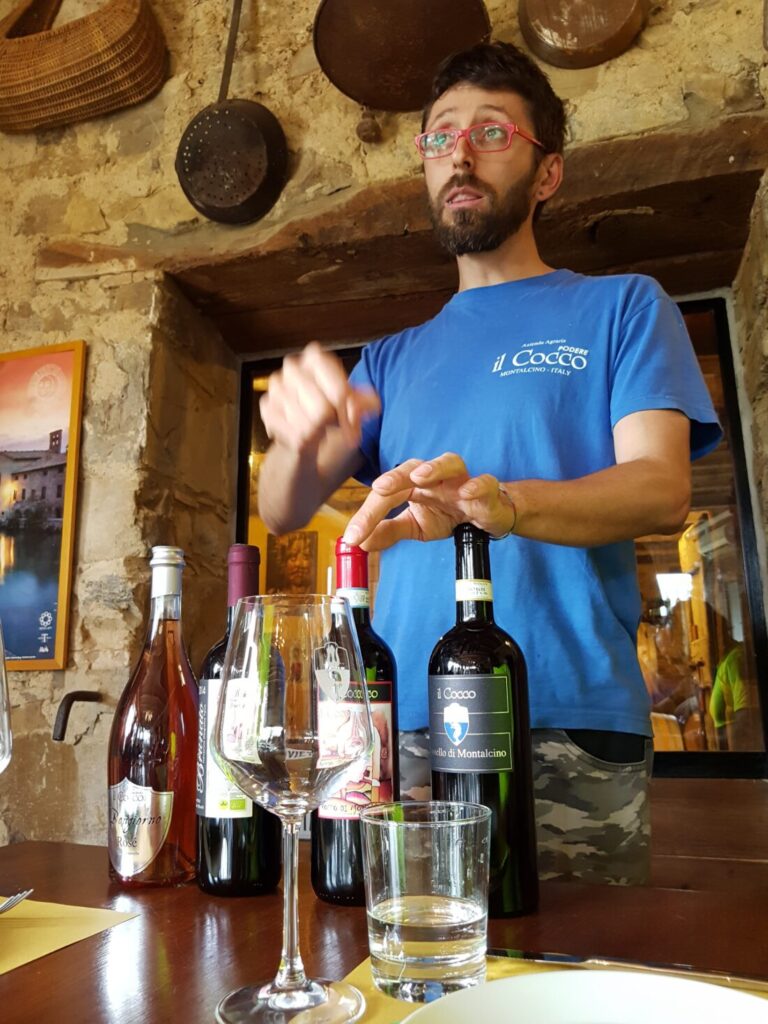 Brunello di Montalcino
Brunello di Montalcino is a type of red wine that comes from the Montalcino region in Tuscany, Italy. It's known for its exceptional quality and is considered one of Italy's finest and most renowned wines.
The wine is made exclusively from Sangiovese grapes, a traditional Italian grape variety known for its rich flavors and ability to reflect the characteristics of the terroir (environmental factors that influence the wine's taste). The name "Brunello" translates to "little dark one" in Italian, referring to the deep, dark color of the wine.
Brunello di Montalcino is highly regarded for its complex aromas and flavors. It often exhibits notes of red and black fruits, like cherry and plum, along with herbal and earthy undertones. The wine typically undergoes a lengthy aging process, spending several years in oak barrels and then additional time in the bottle. This aging contributes to the wine's depth, maturity, and ability to age gracefully over many years.
Due to its premium quality and limited production, Brunello di Montalcino is often associated with special occasions and is considered a collector's item by wine enthusiasts. It pairs well with a variety of Italian dishes, especially those featuring rich flavors like roasted meats, game, and aged cheeses.
Giacomo at the winery "il Cocco" will show his grounds and cellar. You will love tasting Brunello at Il Cocco!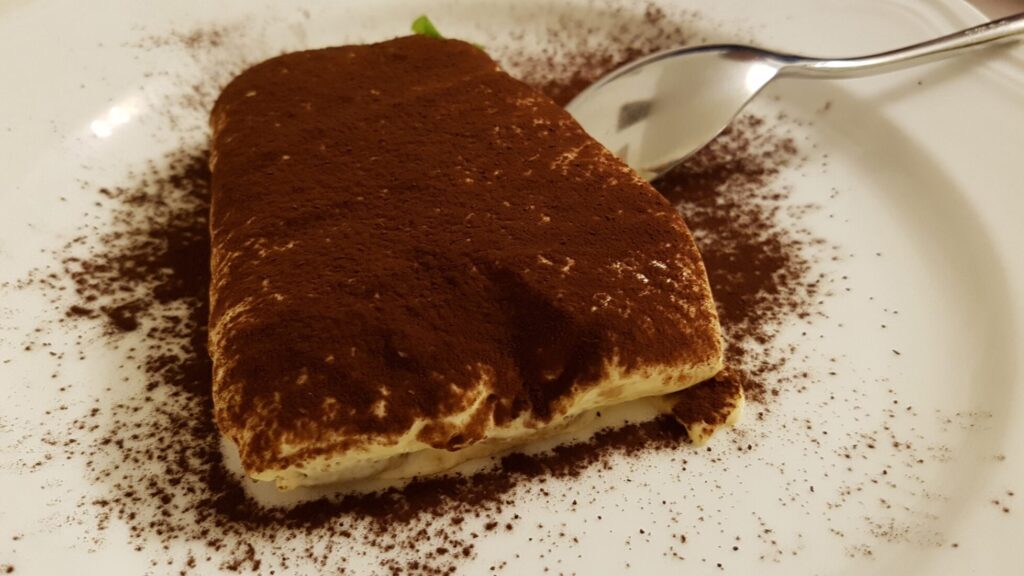 Tiramisù
Tiramisu is a popular Italian dessert that combines layers of rich flavors and textures to create a delectable treat. It typically consists of several key components:
1. **Ladyfinger Biscuits:** These are soft, sponge-like biscuits, also known as Savoiardi, that are dipped in coffee or espresso. They form the base layer of the dessert.
2. **Coffee or Espresso:** Tiramisu gets its distinctive flavor from a soaking of coffee or espresso. The liquid is used to moisten the ladyfinger biscuits, infusing them with a deep coffee taste.
3. **Mascarpone Cream:** This is the creamy and indulgent layer that sits on top of the soaked ladyfingers. It's made from mascarpone cheese, which is a rich and smooth Italian cheese, mixed with eggs, sugar, and sometimes a touch of liquor like Marsala wine or coffee liqueur. The mascarpone cream is spread over the soaked ladyfingers, creating a luscious layer.
4. **Cocoa Powder:** The dessert is often dusted with a layer of unsweetened cocoa powder, adding a touch of bitterness and balancing out the sweetness of the cream and coffee flavors.
The layers are usually assembled in a dish or serving container, and the dessert is chilled for a few hours to allow the flavors to meld together. The result is a delightful combination of soft and creamy textures with a harmonious interplay of coffee and sweetness. Tiramisu is often garnished with chocolate shavings or grated chocolate for an extra touch of elegance.
The name "tiramisu" actually translates to "pick me up" in Italian, likely referencing the espresso's caffeine content. This beloved dessert has gained international popularity for its unique blend of flavors and its satisfying, indulgent qualities.
Day 1 – Rendezvous in Siena: Unveiling the City's Charm (Night at La Villa Hotel, Siena)
Gathering at the hotel's lobby at 4:00 pm, we'll commence our journey with an insightful tour introduction. Joined by an art guide, we'll delve into Siena's treasures – from the enchanting Piazza del Campo to winding alleys and the Palio horse race district's museum. A delightful dining experience awaits at the family-owned Babazuf, where Marco and Chef Giovanni fuse traditional and modern Italian flavors.

6 km = 3,7 miles (town stroll)
***La Villa Hotel – Siena
dinner
Day 2 – Chianti Unveiled: Walk and Winery (Overnight at La Villa Hotel, Siena)
Our adventure unfolds through Chianti's renowned vineyards and olive groves. At the intimate Fattoria Tregole winery, hosted by Dario Castagno, NYTimes Bestselling author, you'll explore this organic haven nestled in Chianti Classico's heart. Dario's vivacious accounts, steeped in history, enhance the experience. A delectable lunch at the winery's restaurant precedes a transfer to Siena. Later, immerse yourself in a captivating cooking class at Dante Alighieri cooking school.

8 km = 5 miles
***La Villa Hotel – Siena
breakfast – lunch – dinner
SHOW DAY 3, 4, 5, 6, 7
Day 3 – San Gimignano Stroll: A Glimpse of Towers (Night at La Villa Hotel, Siena)
Venture to San Gimignano, a 45-minute transfer away. The town boasts 14 towering medieval marvels. Our countryside hike, enriched by olive groves and Vernaccia di Sangimginano vineyards, leads to Ganozzi family's vegetable garden farmhouse. A delightful lunch sourced from their produce awaits. Returning to Siena, dinner is at your leisure.

11 km = 7 miles with shorter options
***La Villa Hotel – Siena
breakfast – lunch
Day 4 – Montalcino and Brunello Experience (Corsignano Hotel in Pienza)
A 50-minute drive takes us to Montalcino, famed for its wines. Wander its charming streets before embarking on a woodland walk. The path, adorned with Monte Amiata views, leads to Giacomo's Il Cocco farm. Delve into wine wisdom with Giacomo as you explore his vineyard, Brunello in hand. A farm-fresh lunch follows. Transition to Pienza's Corsignano Hotel. Tonight, savor dinner at a delectable Pienza eatery.

9 km = 5.5 miles – optional afternoon walk of 4 Km = 2.5 miles
Corsignano Hotel in Pienza
breakfast – lunch, dinner
Day 5 – Bagno Vignoni to San Quirico (Corsignano Hotel in Pienza)
A short 15-minute transfer delivers us to Bagno Vignoni. After visiting, we embark on a 4-mile journey to the less-trodden San Quirico d'Orcia. Lunch at Osenna educates on quality olive oil and treats you to hand-made pici pasta with truffles. Explore San Quirico and its gardens before returning to Pienza. Dinner is yours to choose.

9 km = 5,5 miles
****Corsignano Hotel – Pienza
breakfast, lunch
Day 6   Pienza walk to the farm – saffron farm or cheese making farm
Set forth on foot from the hotel to Monticchiello, walking through wheat fields. Arrive at Santa Maria Farmhouse, specializing in saffron. Savor a sumptuous lunch celebrating local flavors and produce. Choose to return by foot or enjoy a drive back. The grand farewell dinner unfolds at an elegant international/Tuscany fusion restaurant.
* during some tours we instead go to  Il Casale cheese farm, nearby Monticchiello, according to the availability. Sandra will show us how they make pecorino sheep cheese: from the 10 day aged cheese to 20 months old cheese. The sheep are raised in this farm from generations. A nice lunch based on pasta, pecorino (of course!) and local wine will follow. You can decide to be driven back to the hotel or join your guide and walk back to the hotel.

9 km = 5,5 miles – optional afternoon walk of 7 Km = 4,3 miles
 ****Corsignano Hotel – Pienza
breakfast, lunch, dinner
Day 7 – Farewell
At 9:00 am, a 45-minute drive takes you to Chiusi-Chianciano Terme train station. From here, a train journey of about two hours leads you to Florence or Rome.

breakfast
note on the itinerary
Please bear in mind that this is a typical itinerary, and the actual walks and sites may vary due to season, special events, or weather. We reserve the right to alter the itinerary since tour arrangements are made up to a year in advance, and in unforeseen circumstances that mandate changes may arise. Itinerary changes are made to improve the tour and your experience.
2023 scheduled group tour
sharing double room
590 EURO (single supplement only in case you need your double room for single use)

deposit 300 EURO

balance is due 95 days ahead of trip beginning date

you can pay in instalments
2024 scheduled group tour
sharing double room
640 EURO (single supplement only in case you need your double room for single use)

deposit 300 EURO

balance is due 95 days ahead of trip beginning date

you can pay in instalments
Price per person changes depending on the occupancy number of your private group. Valid  2023

| | | |
| --- | --- | --- |
| Number of guests | price in double room (euros) | single supplement (euros) |
| 1 | contact us |   |
| 2 or 3 | 3840  | 590 |
| 4 or 5 | 3070 | 590 |
| 6 or 7 | 2960 | 590 |
| 8 or 9  | 2850 | 590 |
| 10 or 11 | 2800 | 590 |
| 12 or more | 2690 | 590 |
More guests? Please ask us a quote. 
We can also tailor the tour to your needs.
deposit 300 EURO
balance is due 95 days ahead of trip beginning date
you can pay in instalments
if you travel in July or August there is a seasonal surcharge of 200 euro per person
Price per person changes depending on the occupancy number of your private group. Valid 2024

| | | |
| --- | --- | --- |
| Number of guests | price in double room (euros) | single supplement (euros) |
| 1 | contact us |   |
| 2 or 3 | 4220 | 640 |
| 4 or 5 | 3370 | 640 |
| 6 or 7 | 3250 | 640 |
| 8 or 9  | 3130 | 640 |
| 10 or 11 | 3080 | 640 |
| 12 or more | 2960 | 640 |
More guests? Please ask us a quote. 
We can also tailor the tour to your needs.
deposit 300 EURO
balance is due 95 days ahead of trip beginning date
you can pay in instalments
if you travel in July or August there is a seasonal surcharge of 400 euro per person
Reviews
Walk about Tuscany (Monica, South Africa) Loved this tour and would highly encourage others to go. Our guides Gianni and Sara were great, everything ran smoothly from day one. Excellent choices of hotels, restaurants and walking trails. The perfect size group, lots of laughs and good memories. Looking forward to the next one. Grazie, Monica
The Only Way to Experience the Hilltop Towns of Tuscany! (Joe and Mila, USA)
My husband and I spent 7 days in September walking the Tuscan Hills with Gianni and Rudy. Truly one of our best and most memorable travel experiences. If you want to see a beautiful country from off the beaten path with a guide that shares his vast knowledge of the food, wine, history, and geology of the Tuscan Hills – go on this trip! Gianni's love of his country is so strong – that you cannot help leaving this country sharing his love. His choice of lodging, restaurants, and walking trails were just perfect. As I read my journal from our trip almost 3 months ago it brings a smile to my face as I relive those treasured moments of hiking beautiful vineyard hillsides, making pasta at a local restaurant, listening to arias from well known Italian operas, drinking glorious wines with local wine makers, eating fabulous foods, learning about making cheese, doing yoga in a beautiful vineyard and listening to Gianni play his flute. I could go on, however my strong advice is to experience this yourself – it is truly the only way to visit the hills of Tuscany and its beautiful historic towns. Gianni is not only a true professional but also a charismatic, intelligent man who has an incredible understanding of the culture of his country. Gianni's organizational skills and ability to relate to all his guests was a large part in making this trip so memorable and enjoyable.
Under the Tuscan Sun…and a big black cloud but only once (Linda M., Canada)
I have just returned from 8 fabulous days with Walk About Tuscany hosted by Gianni and Rudy and helped by their hard working transportation crew who ensured we were picked up on time, we traveled safely and no luggage was lost. Congrats to them. I was in a group of 16, coming from many parts of the world and put together by chance. We were treated to a Tuscan experience which will, for me, remain a memory for years to come. We saw everything; from the hill top towns to the wheat fields, from the vineyards to the olive groves, from the churches to the abbeys to the quaint shops and cobblestone streets and each day was a different adventure. We got up close and personal with the Tuscan people, sharing their food, their wines, and learning about their way of life. This was also a walking tour and, boy, did we walk (so sturdy shoes are recommended). It is estimated we covered close to 100 miles, some easy trails, some more challenging climbs. If anyone in the group fell behind or needed time to catch a breath, there was always someone available for company. We were never rushed but there were times we had to be gently reminded that we have a date for lunch or for a wine tasting and we should try not to keep our hosts waiting. We learned so much during each walk; Gianni and Rudy switching back and forth to cover the plantlife and the wildlife not to mention the history of each place we visited. I often wondered…how do these guys know all this stuff!! And in case you think it was all serious business, nothing could be farther from the truth. We had many moments of fun and laughter and even a couple of flute recitals just for a change of pace!! In the end, I have Gianni to thank for this experience. His thoughtful organization and attention to detail were key in delivering a superb product, a memorable adventure and a trip of a lifetime. Walk About Tuscany is highly recommended! Grazie, Gianni
The Best Way to See Italy (Paula M., Oregon, USA)
Forget Rick Steves and sign on with Gianni for a wonderful exploration of some of the best Italy has to offer–countryside, history, food, and people. Gianni's deep knowledge of all these adds so much richness to the experience of walking through picturesque medieval towns and gorgeous rolling hillsides of vineyards, fields and orchards. The accommodations were comfortable and centralized, often with wonderful views. Some of the food will absolutely spoil you for ever eating "Italian" food at home again. And the people we met through farm, winery and other small business visits were perhaps the best of all–passionate about the food they grow and so willing to share their experience. Although this was a tour through the areas surrounding Siena, Montalcino and Pienza, Gianni offers tours in other areas and I would expect the same high level of engagement and effort to provide unique experiences. Truly exceeded my expectations!
The unforgetable Tuscany (Paul L., Jakarta, Indonesia)
I am so amazed with Gianni who operated our tour with his in-depth knowledge of every single steps and buildings around Tuscany. Not to mention his creativeness in every moments of our walks. You will have great lunches and dinners with lots of special-2-thumbs-up wines. We also visit Olive Oil producer and given sampler at which is the best (and fresh) olive oil that I had ever tasted ! The scenery view is very awesome, just like the post card. Highly recommended and wouldn't mind to do this tour again.
Simply the Best! (Susan, Oakville, Canada)
What an amazing and unforgettable experience! Our 8 day walk about Tuscany was like a walk through wonderland. Gianni somehow made each day better than the last. The scenery was magical, the food was incredible and the wine beyond words… Gianni's vast knowledge and passion is undeniable. He is truly one of a kind as were the places we had the pleasure to visit (wineries, olive oil producer, cheese farm etc.). This is without a doubt the best way to see Italy. We had so much fun!
Group Tour of Tuscany Hill Towns with Walk About Tuscany Tours (Anne from Evanston, Illinois, USA)
I had a marvelous time on this trip. Our guide, Gianni, provided gorgeous walks and unique experiences with local organic producers of wine, produce, cheese, and olive oil. Definitely experiences I couldn't have had without his guidance and that helped me to appreciate what makes this region unique. Gianni is knowledgeable and expended every effort to ensure that our trip was memorable and unique. We walked, ate very well, drank wonderful wines and learned a great deal about this region of Tuscany and why it is among the most delightful of all Italy.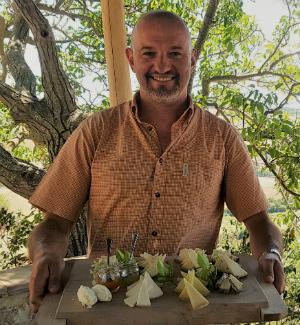 Gianni
Founder, trip organizer and guide at Walk About Italy (with a degree in Geology)
I am 51 years old.  Geology is my background (Ph.D.) but to me life is about more than an academic degree. Music and walking are my passions. I have been a certified guide for nature walks since 1999. After working many years as a guide and also in the back stage of the travel industry for foreign walking tour companies, I earned my Tour Organizer business license, valid in Italy and the rest of the world. Let me organize your vacation to Tuscany and other parts of Italy.
Tours he guides: Tuscany, Amalfi, Sicily, Umbria – Assisi & Le Marche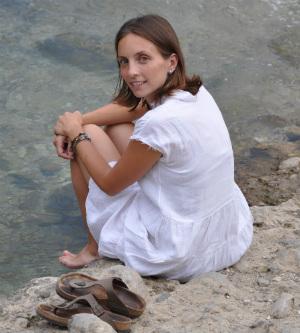 Sara
A true passion for life (with a degree in ethnology)
Sara is a fully licensed guide, both for nature trails and for the city of Siena. Sara was born in a small village in Chianti area. When I first met her few years ago I was struck by her great personality, enthusiasm and kindness. Her background is in Anthropology.
Tours she guides: Tuscany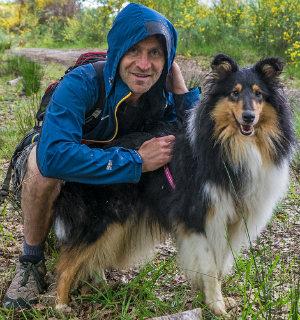 Rudy
Photographing Tuscany (with a degree in yoga teaching)
Rudy was born in Colle Val d'Elsa, a town between Siena and Florence. He began working as a cycling guide and then as a professional nature guide. He is a Yoga teacher and passionate about natural medicine. He studied kinesiology, shiatsu, craniosacral therapy and has completed a master's degree in osteopathy. Now he is studying photojournalism and nature photography because he wants to combine four great passions: photography, travel, people, animals.
Rudy is a vegetarian. "In Tuscany you can eat well without meat too … especially if you like good red wine."
Tours he guides: Tuscany and Amalfi
Chiara
Farming vegetables, olives, chickens, ducks and pigs (with a degree in natural sciences)
Chiara was born in Volterra, a charming Etruscan town nearby Pisa. After graduating in Natural Sciences in 2001 she has become a nature hiking guide, accompanying guests in Tuscany and pleasing them with lovely pic-nics. In 2015 she decided to start her own farm with a vegetable garden, olive trees, aromatic plants, chickens, ducks and pigs. Now she is a tour leader and a farmer. She will take you around with dirty hands for a good reason!
Tours she guides: Tuscany
Daniele
Making pecorino sheep cheese an art (with a degree in natural sciences)
Daniele was born and raised in a farmhouse in the Tuscan countryside. Ever since he helped his dad to make an amazing pecorino sheep cheese.
He's got a Master's Degree in Natural Sciences in 2009 and started working as a nature guide around the Indian Ocean and Africa, before coming back to his beloved homeland.
As a passionate birdwatcher, he always keep an eye on the sky during his walks, sharing the pleasure of exploration and the discovery of new places.
Tours he guides: Tuscany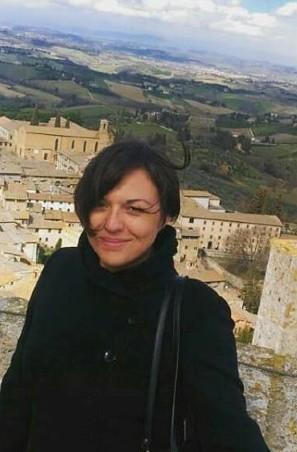 Erica
Walking changed my life!
Erica was born in San Gimignano from Italian dad and Scottish mum.
Her background is as Sales Executive in an export company but after 10 years she decided to leave the office, change her life and make a job out of her passions: walking, nature, art, living outdoor and meeting new people and cultures. Now Erica is a licensed hiking and city guide and her aim is to let you love Tuscany as much as she does!
Tours she guides: Tuscany
group meets here:

Siena – La Villa Hotel
Viale Vittorio Veneto, 11
53100 – Siena
trip ends here:

Chiusi – Chianciano Terme train station
Useful information on the tour
How to prepare for this trip
Walking or jogging for 60 minutes 3 times a week for 5 weeks ahead of trip will make your experience more enjoyable. In case you live in a flat area you might also incorporate some steps in your physical activity.
What to bring:
Walking shoes with good traction (sometimes we might have mud on the trail)
Hat, Swimming suit, sun cream, water bottle to refill with tap water
Dinners at Italian restaurants do not require any special dress code.
Wear shoes with good traction
An average day of the trip
On a typical day you hike/walk with your guide in the morning for 3 hours, then we stop at a restaurant or farmhouse for lunch (lunch can last 1hour and half). We serve local food and wines as we believe that food plays an important role in the enjoyment of Tuscany.
In the afternoon there might be some more walking or town stroll. Around 4.30 or 5pm your guide will take you back to the hotel.
Your guides are available from 9am to 5pm on each day.
Before dinner you will be able to rest a couple of hours.
Dinner will be served in a restaurant in town that you will be able to easily reach on foot. At dinner the guide will not be with you. This is why we planned to have most of the hotels in the town centers and pedestrian areas. And if the hotel is away from the town center we have set up transportation to take you to the next restaurant or activity.
Local wine is always included for lunch or dinner. We serve vino della casa (house wine) as the quality of local house wines is very high. Not by chance this part of Tuscany is one of the most famous wine making area in Italy (Chianti Classico, Brunello, Vino Nobile di Montepulciano).
Weather
In general, the climate in Tuscany is very mild. Usually summers in Tuscany are hot with little or no rain. July and August are the hottest months (but still nice for walking as there is always a breeze blowing up on the hills). Spring (April and May) and Autumn (October and November) are milder. You can have some drops of rain but not too many. Winter is colder but you still can count on many sunny days.
Month   avg. High     avg. Low
Apr   66 °F (19 °C)    46 °F (8 °C)
May  73 °F (23 °C)   54 °F (12 °C)
Jun     81 °F (27 °C)   59 °F (15 °C)
Sep    81 °F (27 °C)   59 °F (15 °C)
Oct     72 °F (22 °C)  52 °F (11 °C)
Nov    61 °F (16 °C)  45 °F (7 °C)
Tipping your guides
Should you wish to tip your guides, the gratuity is entirely at your discretion. The standard in the industry ranges from 5€ to 10€ per person, per guide, per day. Tipping is not due to Gianni Stanghellini as he owns the company.
Tipping your drivers
Should you wish to tip your drivers, the gratuity is entirely at your discretion. The standard in the industry ranges from 1€ to 3€ per person, per driver, per day.
Extra expenses

Plan to have extra cash or money in your credit card enough to buy a couple of coffee or tea every day (5 euros average) . Two nights out of six you are on your own for dinner (20-25 euros per meal per person, average)
Subscribe to our newsletter