discover the undiscovered
Umbria, Assisi & Le Marche Group Walking Tour
Umbria, Assisi & Le Marche
Guided Walking Tour
Umbria & Le Marche are really off-the-beaten-path. Although Assisi is well known because of Saint Francis, the area remains very genuine. Food and wines are superb here. 
The tour starts in the medieval town of Orvieto, one hour train ride from Rome. Continues to the small towns of Trevi, Montefalco and Bevagna and ends up in the Le Marche green countryside of Urbino, on the Adriatic sea.  
Umbria paths are surrounded by thousands of olive trees. The hamlets are breathtaking. The Sagrantino wine is one of the best full-body wines in Italy. Urbino is one of the prettiest renaissance towns in Italy. 
In this tour we cut across Italy, from the western hills to the eastern Adriatic sea. 
2020 Umbria, Assisi & Le Marche trip dates
May 1-7, 2020 (it should get full in 35 days)

September 28 – October 4, 2020 (it should get full in 3 months)

October 10 – 16, 2020 (available places)
Tour beginning: Orvieto (1 hour train ride from Rome train station or 2 hours train ride from Rome airport) at 4.00pm of day 1. You can comfortably check-in at your hotel starting at 2pm. Very convenient if you are travelling from other cities like Florence or Rome.
Tour end: On the last day our drivers will take you to Bologna international airport (BLQ) and Bologna train station. 
Day 1 – Meeting in Orvieto and visit of Orvieto (Night at hotel in Orvieto)
We will meet the group at hotel's lobby at 4.00pm. After a brief introduction about the tour we join an art guide to explore the city jewels (Cathedral, streets and alleys). After the tour we will enjoy a pleasant restaurant that serves truffle. The 4 starred hotel Piccolomini will host us tonight.
Day 2 – Montefalco – Bevagna walk and visit of the Gaite in Bevagna (Overnight in Trevi)
Today transfer to Montefalco, one of the most well known area for wines. After a short visit of this pretty town and a coffee break with hit the trail to Bevagna through vineyards and olive orchards. We stop on the way to Bevagna for lunch and wine tasting. As we arrive in Bevagna we visit the workshops of medieval artisans called Gaite. We then transfer back to Trevi to our next four starred hotel that will host us for dinner.
Day 3 – The Trevi loop walk (Overnight in Trevi)
Today we will explore the amazingly beautiful countryside of Trevi. The loop walk is on a gentle terrain surrounded by thousands olive trees. Dinner tonight is on your own.
Day 4 – Visit of Assisi. Transfer to Le Marche (Overnight in Ca' Virginia)
A short transfer will take us to Assisi. We will walk from the top of the hill down to the basilica of Saint Francis. Free time in Assisi. we then transfer to our new hotel in Le Marche region. A SPA will make this a very relaxing day. Dinner will follow and the mother of the owner that will teach us how to make the "crescia" focaccia.

Day 5 – Coastal walk in Fiorenzuola (Overnight in Ca' Virginia)
We drive to the Adriatic coast (the eastern sea of Italy) and today the walk will get most of time the view on the sea. We start from the little hamlet of Fiorenzuola and we end up at the beach where we will have lunch based on delicious sea food. Later in the afternoon we go back to the country estate for relaxing in the SPA. Before dinner we drive to Urbino and we will explore the renaissance jewel of this part of Italy. Dinner is on your own in Urbino. we then drive back to Ca' Virginia.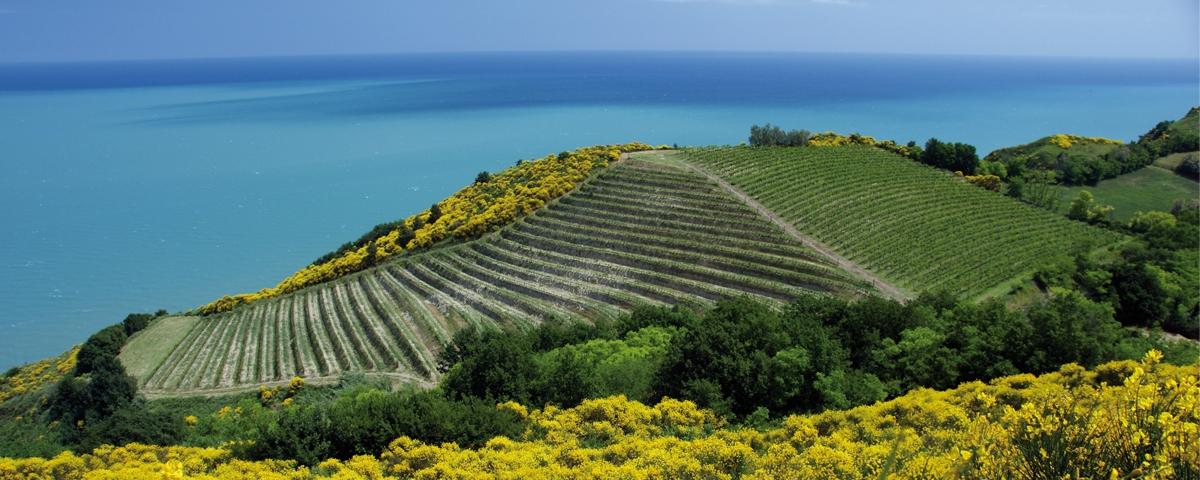 Day 6 – Fratte Rosa walk and wine tasting with delicious food (Overnight in Ca' Virginia)
We drive to the fascinating hamlet of Fratte Rosa, perched up on a hill. The walk today will be surrounded by hilltops and towns on top of a hill. Vineyards all over the places. We then arrive to the beautiful family owned winery Terracruda that will give us a wine tasting and delicious lunch. we transfer back in the afternoon for relax at the hotel before we enjoy the farewell dinner at Ca' Virginia with a quick but fun musical entertainment of traditional Le Marche music.
Day 7 – Departure day
At 9.00am The tour ends at the train station of Bologna and we will also do another stop at the international airport of Bologna (BLQ).
Lots of activities!
In the Umbria, Assisi & Le Marche we explore many medieval towns: Orvieto, Trevi, Montefalco, Bevagna, Assisi, Urbino, Fiorenzuola di Focara, Fratte Rosa.
We taste oil, wine and vegetables and hand made pasta at family-run farms.
We walk from village to village
Music will accompany the tour from time to time.
Guaranteed departure
Even if we have just you on tour we are committed to operate the tour. Book soon with us and book your flight to Italy!
We are locals
We will meet only local people. Guides are born in the area. Drivers belong to here. The tour is from the farm to the table. 
It is a small group tour
The group is not larger than 18
Relaxed pace
5 to 7 miles (3-4 hours average) walks on each day. WALK RATING: 2+ on a base of 1=easy to 5=strenuous
Local guides
1 walking guide for groups of 9 guests or smaller. Groups of 10 guests or larger will be guided by 2 guides
Every day a special activity
Italian Opera show or music happening, hands-on cooking class, olive oil farm visit, wine family-run farms experience and a lot more.
It's a responsible way of traveling
We employ all local small businesses; small farms, local guides, family run hotels and restaurants. If you book our tours you will give back a lot to the area, contributing to maintain the economy of this region. Thanks a lot for doing this!
Umbria, Assisi & Le Marche Guided Walking Tour includes:
– 6 night stay at small hotels (3 and 4 stars). All the hotels are conveniently located in the town historical centers or in the countryside. Book early and we will try to accommodate you in a room with a view.
– All breakfasts, 5 lunches, 4 dinners. Local wine is always included with lunches and dinners. Vegetarian? Vegan? No problem!
– Transportation along the tour
– 1 local guide for groups smaller than 10. Groups larger than 10 people will be guided by 2 local guides
– Entrance tickets for all the special events
– One Sagrantino di Montefalco wine tasting and winery visit: you will talk to the owners!
– Olive oil press visit, introduction from the owner and tasting.
– Crescia cooking class (a tradition bread from Le Marche). A lot of fun!
– Local traditional music event
– All taxes
Hotel Palazzo Piccolomini – Orvieto
The Hotel Palazzo Piccolomini in Orvieto is characterized by the historic-artistic beauty of its building, protected as a listed building by Heritage law, it belonged to the Papal family Piccolomini from the end of the 15th century until the death of the Countess Cristina Piccolomini in 1905.
Antica dimora alla Rocca – Trevi

Antica Dimora Alla Rocca, 4 star Hotel in Trevi, Umbria has rooms with frescoes ceiling are located in both Palazzo Valenti & Palazzo Urighi; all the hotel rooms have private bathrooms with bathtub or shower, air conditioning, mini bar, color tv with satellite, telephone, PC jack and Internet connection. Rooms are no-smoking. Many of these have Jacuzzi hydro massage baths or showers.
Ca' Virginia – Urbino
This rustic Country House Ca'Virginia from 14th century has been renovated sustainable and with attention to detail. Modern architecture and typical materials of the region will make your holiday to something special.
The Ca'Virginia Country House is nestled in the picturesque hills of Montefeltro close to Urbino Unesco World Heritage. The unique historical environment, the culture and the picturesque nature will make your holiday in the Marche to an unforgettable experience.
Environmental protection and sustainability play a major role at the Country House Ca'Virginia. The entire estate is supplied by a solar-thermal and geothermal photovoltaic system. The hotel has a SPA and provides massage on request. 
Roberto – Climbing is my passion  (with a degree in biology)
Roberto was born and raised in a small village on Amiata mountain, 50 miles south of Siena. Although his background is in biology he is very keen on traditions and history of Tuscany.
His passion is climbing. He is a climbing instructor and rescuer. Do not worry! He is happy to walk with you on flat terrain 

Roberto is definitely a people-person. He took several courses at "The Academy of Experiential Education" about "group dynamics".
Federico, botany and entomology are my passion (with a degree in foreign language)
Native of Le Marche, Federico will capture your attention hunting for herbs that you can eat! You can see all his passion in the description of the small villages of Le Marche where he belongs to.
2020 sharing double room
what's included 6 night stay at small hotels (3 and 4 stars) – All breakfasts, 5 lunches, 4 dinners – Transportation along the tour – 1 local guide for groups smaller than 10. Groups larger than 10 people will be guided by 2 local guides – Entrance tickets for all the special events – One Sagrantino di Montefalco wine tasting and winery visit – Natural herbs hunting, lecture and tatsing- All taxes
2020 single supplement surcharge