Take easy walks in the Alps and Dolomites
most delicious northern Italian food
picturesque little hamlets
meet wine and food producers
ITALIAN ALPS & DOLOMITES: THE EASY WAY!
SCHEDULED GROUP SIZE with guaranteed departure: min 1 – max 18 guests
PRIVATE GROUP SIZE: min 1 – no limit
DURATION: 7 Days & 6 Nights
  WALK RATING: 3
  HOTEL STYLE: very comfortable to stylish – ensuite bathroom
CLOSEST AIRPORTS: Bolzano (BZO), Innsbruck (INN), Venice (VCE)
Scheduled tours
2024 dates
Private tours
price p/p: varies according to group size. Check Price below here
Departures: anytime
Overview
Have you always dreamt of walking the Italian Alps and the Dolomites but you didn't feel fit enough for it? We have planned the trip for you. Our hikes are very doable. No big climbs. No fear of heights on our walks. But a lot of fun though.
We stay for 2 nights in the traditional small town of Bressanone with pointed red roofs. We visit a winery in Bressanone that makes fantastic white wines.
We then transfer to the Valle Aurina to absorb the beuaty of the mountains and the green valleys. As an introduction we stop to a museum of farming life and a small workshop that extract scent from flowers and conifer wood. We stay for 4 nights in the town of Campo Tures, a gem at the bottom of 2 valleys: Valle Aurina and Val Pusteria. The hotel is a very nice 4 starred hotel with sauna and SPA.
Each day we visit cheese farms, wool artisanry workshops. Almost every day we eat at the local malga; Malga is a house with shelter for the cows, surrounded by the pristine pastures, rich in wild herbs and flowers with delicate scents, where the cattle roam free. The walk to the malga is very relaxing: not more then a couple of hours of gentle uphills and downhills.
We also visit a mine! We learn about what made this valley rich but life was so hard.
We can't forget the Dolomites! The Tre Cime di Lavaredo (the three peaks of Lavaredo) are one of the most iconic picture of the Dolomites. We hike around the 3 peaks and you will love it!
The whole adventure has been designed, in pure Walk About Italy style, to stay away from the crowds as much as we can and to provide an insight in the real life of this part of Italy that lays only few miles away from the border to Austria.
You can travel with a small group or privately. You choose!
Inclusions
    6 night stay at hotels (two 4 starred hotels with ensuite bathroom). All the hotels are conveniently located in the town historical centers. Hotels have a swimming pool. Book early and we will try to accommodate you in a room with a view.
  All breakfasts, 5 lunches, 5 dinners. Local wine is always included with lunches and dinners. Vegetarian? Vegan? No problem!
  Transportation along the tour
1 local guide for groups smaller than 10. Groups larger than 10 people will be guided by 2 local guides.
Entrance tickets for all the special events
  MuellerThurgau, Pinot Grigio, Riesling and Gewuerztraminer winery visit and tasting
 local sheep whool making laboratory visit
 Learn about  cheese making at a small farmhouse followed by a nice lunch based on cheese.
Visit a Benedectine Abbey, a medieval castle and a museum of rural activity
 Hands-on cooking class: learn how to cook the delicious canederli
 All taxes
Accommodations with ensuite bathroom
GASSER HOTEL – BRESSANONE
DRUMLERHOF HOTEL – CAMPO TURES
The Drumlerhof is located in Campo Tures at the beginning of the Valle Aurina. In this hotel, respect for nature and respect for people go hand in hand. We, Innerhofer-Fauster, are like this: we support local producers with conviction, we buy only fair trade products and we have been managing the hotel for years according to the principle that there must be the right balance between nature, man and well-being. We were gluten-free before fashion exploded, Ruth knows her stuff in the kitchen, and our desire is to leave what we have inherited to our grandchildren.
Hotel Drumlerhof in South Tyrol: for a dream vacation you need the right contact with reality.
https://www.drumlerhof.com/en/hotel-campo-tures/1-0.html
Day 1 – Meeting in Bressanone and guided tour of the town
You meet your guide at the hotel's lobby. After a quick chat about the plan for the week, we explore with a local guide the beauty of this cute little town. We focus on the huge cathedral. The Romanesque-Gothic cloister annexed to Bressanone Cathedral is one of the most important artistic monuments in South Tyrol, above all for its frescoes. Bressanone boasts a very flourishing past, thanks also to its illustrious guests. In fact, various emperors have stopped in this area. This aspect was also due to the fact that the town was a bishopric in the Valle Isarco.
After our nice informative stroll in the town, we will immediately immerse in the delicious food that the area provides: Goulash and strangolapreti (short noodles made with stale bread, flour, eggs, onions)
 3 km = 1,8 miles – town stroll
****Gasser Hotel – Bressanone
dinner 
Day 2 – A walk in the vineyards of the valley of Bressanone. Visit, tasting and lunch at a small winery. Visit of the Novacella Benedictine Abbey.
Breakfast is served with breads, eggs, local ham, and handmade jams.
Just a 5-minute public bus ride and we will get to the trailhead. Today we explore the sides of the valley of Bressanone.
A peaceful walk of 2 hours through vineyards and apple trees leads us to our next destination: the Pacherhof wine farm. The Huber family will show us around the vineyard. We then seat for lunch at their restaurant combining the delicious food with MuellerThurgau, Pinot Grigio, Riesling and Gewuerztraminer wines.
After lunch we shortly arrive at the Abbey of Novacella, founded in 1142 by the Augustinian bishop of Bressanone. This is where regular canons live and work according to the rules of the order of St. Augustine. They are particularly committed to solemn services, pastoral care in the parish, as well as science and culture, and they have always worked to fulfill their educational mandate. We visit the Abbey for about an hour.
A gentle flat walk of 1 hour along the river Isarco will take us back to our hotel in Bressanone.
Dinner tonight is on your own, with lots of possibilities in one of the many restaurants in town.
  9,5 km = 6 miles
****Gasser Hotel – Bressanone
breakfast – lunch
SHOW DAY 3, 4, 5, 6, 7

Day 3 – The Valley of Campo Tures. Visit of distillery of essential oils. Visit of the museum of the rural traditions.
Today we transfer to our next location: Campo Tures. First we stop at Bergila a family run business that specializes in the distillation of essential oils, such as mountain pine oil, and in the preparation of organic herbal products. In fact, since 1994 the Niederkofler family has been cultivating herbs and medicinal plants according to the strict criteria of organic farming. The precious raw material is then transformed by hand with great care and passion into various blends and herbal preparations. The long experience gained, but also the choice to carry out the harvesting and production phases following the lunar calendar, contribute to the creation of excellent quality products. We visit their garden and the distillery.
After a few minutes' drive, our next stop at the museum of the rural traditions, will provide lots of information about the life, history, and economy of the valley where we will stay for the next 5 days.
Lunch today is at an amazing cheese farm. The Hochgruber family will serve us their cheeses and delicious light lunch, including dessert. After lunch we visit the cheese making facility.
We then drive to Campo Tures, our home for the next 4 nights. Our afternoon walk will start at the spectacular Riva waterfall and ends at the Castle of Tures. We then arrive at our beautiful hotel on foot, for a well deserved relaxed time (they have a spa, sauna that you can use at your expenses).
Dinner tonight is a t a delicious local restaurant in town.
 4,5 km = 2,8 miles
****Drumlerhof Hotel – Campo Tures
breakfast, lunch, dinner
Day 4 – The copper mine of Predoi. Hike in the Aurina valley.
After breakfast you drive to the town of Predoi. For the first hour and half we visit the interior of a copper mine. The Predoi mine experienced its period of maximum development 600 years ago, when the copper extracted here was already particularly coveted for its extraordinary malleability. The galleries, at that time dug by hand in the rock using very simple tools, can be defined as real masterpieces of mining skill. In the 20th century, the Predoi mine was still in third place in Italy in terms of importance in the extraction of copper. Today you can enter the heart of the mine on board a little train for guided tours.
After the visit of the mine we start our hike in the surface of the mining area, a very beautiful a beautiful forest of larches and pines.
After the hike we stop for lunch at a nice malga that serves the local dishes.
Dinner tonight, after a well deserved rest at the hotel, is in Rio Bianco at the Malga Schnaidaleachn.
6,5 km = 3,7 miles
****Drumlerhof Hotel – Campo Tures
breakfast, lunch, dinner
Day 5 – The most iconic place in the Dolomites: Tre Cime di Lavaredo.
Today we venture to one of the most well known place in the Dolomites. The three peaks are one of the most photographed place in Italy. We drive for about one hour and then we start our hike around the Tre Cime di Lavaredo. This is the kingdom of geology. 140 million years ago a coral reef formed. Continental drift, with its enormous forces, have bent and raised the old coral reef. Then erosion did the rest. This set of processes has made this mountain one of the most iconic places in all the Alps. And today we are here to admire them from below. There are shorter options for the walk. Lunch today is at a small malga.
After driving back to Campo Tures the rest of afternoon and evening is at your disposal.
 10 km = 6,2 miles
****Drumlerhof Hotel – Campo Tures
breakfast, lunch (dinner on own)
Day 6 – The Rio Bianco valley. Canederli cooking class
We have saved one of the most beautiful and off-the-beaten-track valleys for last. After a short drive to the town of Rio Bianco we start walking gently uphill. The path will take us to the most beautiful green pastures, with lots of cows. The valley opens up to you with an enormous quantity of different flower species. We stop for lunch at a malga nested in this piece of heaven. The afternoon walk is a pleasant mostly downhill path.
After getting some rest at the hotel we are invited by Ruth, the owner of our beautiful hotel, and her family, to join a cooking class to learn how to cook the delicious canederli: bread dumplings only found in the north-east of Italy (Trentino-Alto Adige, Friuli, and part of Veneto), where they are served as a first course or as a main entree. After the hands-on cooking class we taste the delicious canederli together with other delicious food that Ruth and her staff has cooked for us.
 8 km = 5 miles
****Drumlerhof Hotel – Campo Tures
breakfast, lunch, dinner
Day 7 – Transfer to Bolzano
Your driver will take you to Bolzano train station. Easy to continue your trip from this well served train station.
breakfast
note on the itinerary
Please bear in mind that this is a typical itinerary, and the actual walks and sites may vary due to season, special events, or weather. We reserve the right to alter the itinerary since tour arrangements are made up to a year in advance, and in unforeseen circumstances that mandate changes may arise. Itinerary changes are made to improve the tour and your experience.
2024 scheduled group tour
sharing double room
640 EURO (single supplement only in case you need your double room for single use)

deposit 300 EURO

balance is due 95 days ahead of trip beginning date

you can pay in instalments
Price per person changes depending on the occupancy number of your private group. Valid 2024

| | | |
| --- | --- | --- |
| Number of guests | price in double room (euros) | single supplement (euros) |
| 1 | contact us |   |
| 2 or 3 | 5070 | 640 |
| 4 or 5 | 3450 | 640 |
| 6 or 7 | 3340 | 640 |
| 8 or 9  | 3220 | 640 |
| 10 or 11 | 3110 | 640 |
| 12 or more | 2990 | 640 |
More guests? Please ask us a quote. 
We can also tailor the tour to your needs.
deposit 300 EURO
balance is due 95 days ahead of trip beginning date
you can pay in instalments
if you travel in July or August there is a seasonal surcharge of 400 euro per person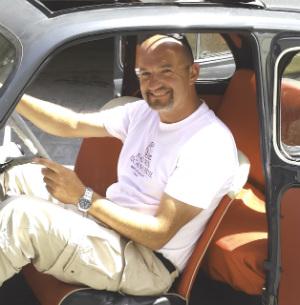 Gianni
Founder, trip organizer and guide at Walk About Italy (with a degree in Geology)
I am 51 years old.  Geology is my background (Ph.D.) but to me life is about more than an academic degree. Music and walking are my passions. I have been a certified guide for nature walks since 1999. After working many years as a guide and also in the back stage of the travel industry for foreign walking tour companies, I earned my Tour Organizer business license, valid in Italy and the rest of the world. Let me organize your vacation to Tuscany and other parts of Italy.
Tours he guides: Tuscany, Amalfi, Sicily, Umbria – Assisi & Le Marche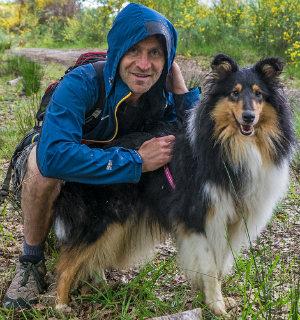 Rudy
Photographing Tuscany (with a degree in yoga teaching)
Rudy was born in Colle Val d'Elsa, a town between Siena and Florence. He began working as a cycling guide and then as a professional nature guide. He is a Yoga teacher and passionate about natural medicine. He studied kinesiology, shiatsu, craniosacral therapy and has completed a master's degree in osteopathy. Now he is studying photojournalism and nature photography because he wants to combine four great passions: photography, travel, people, animals.
Rudy is a vegetarian. "In Tuscany you can eat well without meat too … especially if you like good red wine."
Tours he guides: Tuscany, Amalfi, Italian Alps & Dolomites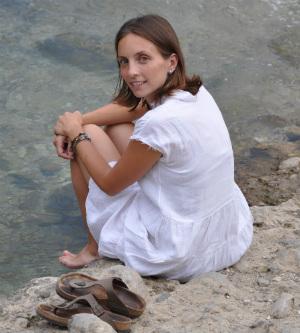 Sara
A true passion for life (with a degree in ethnology)
Sara is a fully licensed guide, both for nature trails and for the city of Siena. Sara was born in a small village in Chianti area. When I first met her few years ago I was struck by her great personality, enthusiasm and kindness. Her background is in Anthropology.
Tours she guides: Tuscany, Italian Alps & Dolomites
group meets here:
Bressanone – Gasser Hotel
Giardini Pubblici Rapp 19, Bressanone
trip ends here:
Bolzano train station
Useful information on the tour
How to prepare for this trip
Walking or jogging for 60 minutes 3 times a week for 5 weeks ahead of trip will make your experience more enjoyable. In case you live in a flat area you might also incorporate some steps in your physical activity.
What to bring:
Walking shoes with good traction (sometimes we might have mud on the trail)
Hat, Swimming suit, sun cream, water bottle to refill with tap water
Dinners at Italian restaurants do not require any special dress code.
Wear shoes with good traction. 
We provide walking sticks.
An average day of the trip
On a typical day you hike/walk with your guide in the morning for 3 hours, then we stop at a restaurant or farmhouse for lunch (lunch can last 1hour and half). We serve local food and wines as we believe that food plays an important role in the enjoyment of the trip.
In the afternoon there might be some more walking or town stroll. Around 4.30 or 5pm your guide will take you back to the hotel.
Before dinner you will be able to rest a couple of hours.
Dinner will be served in a restaurant in town that you will be able to easily reach on foot.
Local wine is always included for lunch or dinner. We serve vino della casa (house wine). You are welcome to buy your own wine from the list.
Weather
In general, the climate in the Alps in summer is very mild. Usually summers are hot with rain showers in the afternoon. July and August are the hottest months (but still nice for walking as there is always a breeze blowing up).
Month   avg. High     avg. Low
Jun      71°F (22 °C)   59°F (15 °C)
Jul       75 °F (24 °C)   55 °F (13 °C)
Aug      75 °F (24 °C)    54 °F (12 °C)
Sep       66°F (19 °C)    48°F (9 °C)
Oct      57 °F (14 °C)   41°F (5 °C)
Tipping your guides & drivers
Should you wish to tip your guides, the gratuity is entirely at your discretion. Minimum tip that runs in the industry is 10€ per person, per guide, per day. Tipping is not due to Gianni Stanghellini as he owns the company.
Should you wish to tip your drivers, the gratuity is entirely at your discretion. Minimum tip that runs in the industry is 5€ per person per driver, per day.
Extra expenses

Plan to have extra cash or money in your credit card enough to buy a couple of coffee or tea every day (5 euros average) . One night out of six you are on your own for dinner (20-25 euros per meal per person, average)
Subscribe to our newsletter