2022 & 2023 guided walking trips in Italy. Join us!
Walk About Italy: walking tour specialists
My name is Gianni Stanghellini. I am a Ph.D. geologist. I have been working on Italy guided walking tour business for 22 years. I was born and raised in Siena, a medieval town in Tuscany, Italy. I live and work in Siena still as I have never found a good reason to leave this beautiful place.
Tuscany and much more
We focus on very few areas to provide the best Italy guided walking tour: Tuscany, Amalfi Coast, Sicily, Umbria, Assisi & Le Marche, Cinque Terre. We believe that these 5 areas well represent the Italian beauty. All different from each other. All amazing to visit.
Walk About Italy is a small business that hires only locals
First of all we hire only local guides and drivers. Secondly we go to small family-owned restaurants. Furthermore we visit small farms where you can talk to the farmers. Finally we provide contact with the locals as much as we can.
"The traveler sees what he sees; the tourist sees what he has come to see". G.K. Chesterton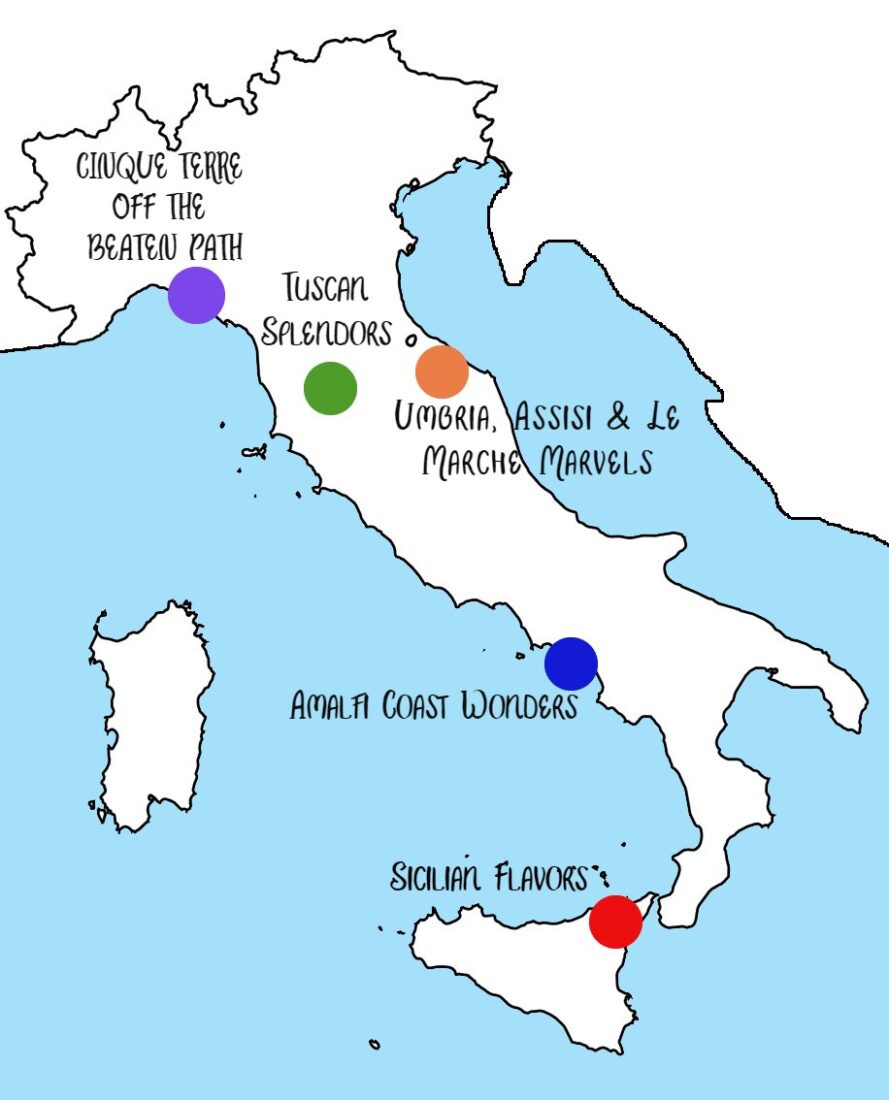 Amazing medieval towns and stunning surrounding countryside: Siena, Chianti region, San Gimignano, Montalcino, Pienza, Val d'Orcia. You will travel with a small group.
Walk the paths of the Amalfi Coast including Naples, the Vesuvius and Pompeii, with stunning views and amazing food. You will stay at charming hotels. Walk from village to village between, Amalfi, Vietri, Ravello.
From the charming islet of Ortigia to the Vendicari natural reserve. From the baroque pearl of Noto to the Byzantine of Pantalica. Then we transfer to the Aeolian Island of Lipari with its stunning panoramas on the archipelagos. 
Umbria, Assisi & Le Marche Marvels
Umbria & Le Marche are really off-the-beaten-path. Although Assisi is well known because of Saint Francis, the area remains very genuine. Food and wines are superb here.
The tour starts in the medieval town of Orvieto, one hour train ride from Rome. Continues to the small towns of Trevi, Montefalco and Bevagna and ends up in the Le Marche green countryside of Urbino, on the Adriatic sea.
CINQUE TERRE off-the-beaten-path experience
Cinque Terre is one of the most well known, picturesque places in Italy. At the same time it can be one of the busiest place in Italy as well.
We have designed the tour in order to provide the best experience of the area without being overwhelmed by crowds.  We have chosen secret trails where you won't see almost anybody. Vineyards of Manarola, monastery of Monterosso, Valle Sturla special cheeses, Camogli, Santa Margherita, Portofino, San Fruttuoso, Levanto, Chiavari and Sestri Levante.
Along with my mother and two sisters, we joined a group of 11 in total for an amazing walking tour of Amalfi Coast. The organization of this tour was superb, and we learned a lot (especially geology) and had a lot of fun. The food and drink was first class, and the hotels were lovely. Highly recommended.
This was a great walk and our guide Orietta was extremely informative. Scenery was great and visiting the islands of Lipari, Vulcano and Salina was a awesome experience as was swimming in the Mediterranean Sea of the boat on our way there!
Subscribe to our newsletter