2023 guided walking trips in Italy and New tours 2024!
Welcome to Walk About Italy: Experts in Walking Tours
I'm Gianni Stanghellini, a Ph.D. geologist with over two decades of experience in the realm of guided walking tours in Italy. For the past 22 years, I've dedicated myself to crafting remarkable journeys through this enchanting country. Hailing from Siena, a captivating medieval town nestled in the heart of Tuscany, Italy, I remain firmly rooted here. The allure of this exquisite place has held me steadfast, and it's from here that I continue to operate and shape unforgettable experiences.
Exploring Tuscany and Beyond
At Walk About Italy, our focus is on select regions, ensuring the pinnacle of Italy's guided walking tours: Tuscany, the Amalfi Coast, Sicily, Umbria, Assisi & Le Marche, the Cinque Terre and Italian Alps & Dolomites. These five destinations embody the rich tapestry of Italian beauty, each unique and awe-inspiring in its own right, beckoning to be explored.
A Boutique Enterprise Embracing Local Essence
Central to our ethos, we exclusively enlist local guides and drivers. Moreover, we gravitate toward intimate, family-owned restaurants and venture to small farms, offering you the opportunity to engage with the very heart of Italy's agrarian heritage. Our commitment to fostering authentic connections means we facilitate interactions with locals at every turn.
In the words of G.K. Chesterton, "The traveler sees what he sees; the tourist sees what he has come to see." Here at Walk About Italy, we invite you to transcend the role of a mere tourist, and instead, become an astute traveler, delving into the true essence of Italy.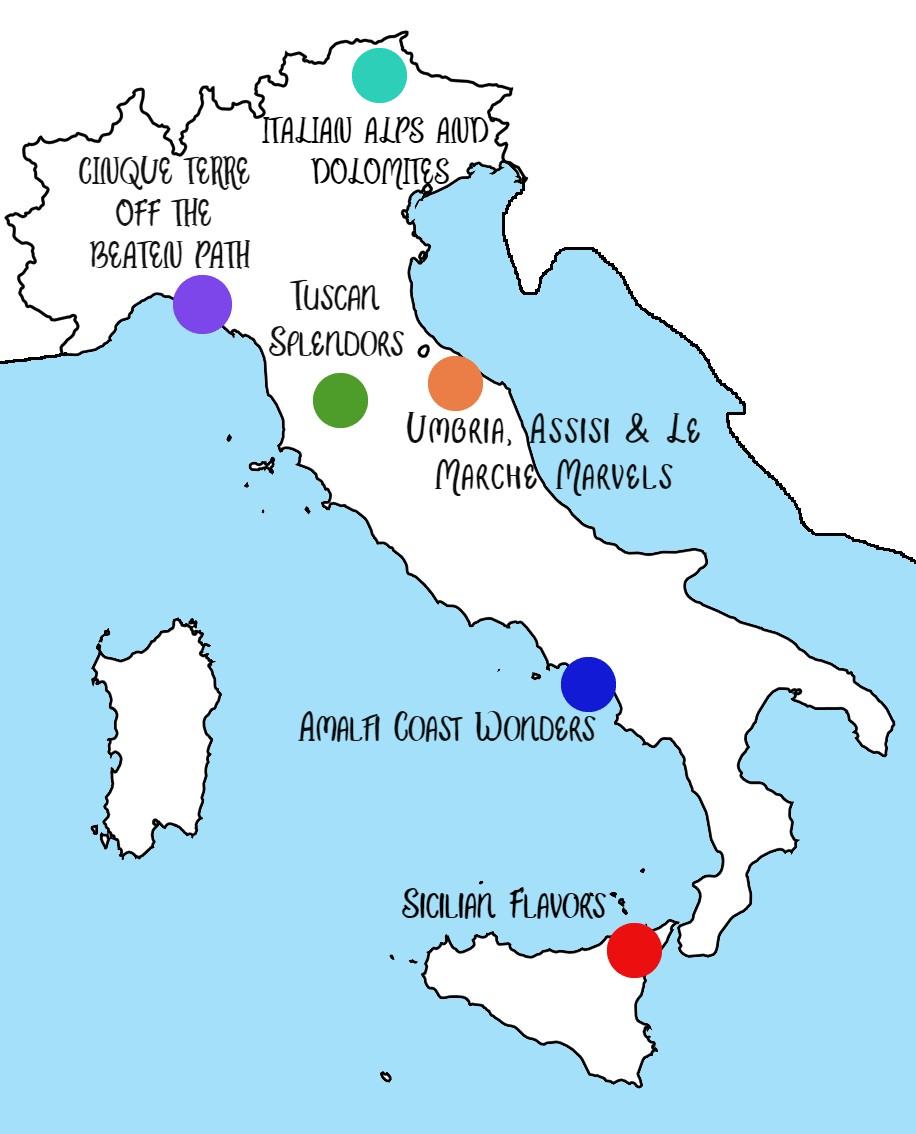 Amazing medieval towns and stunning surrounding countryside: Siena, Chianti region, San Gimignano, Montalcino, Pienza, Val d'Orcia. You will travel with a small group.
Walk the paths of the Amalfi Coast including Naples, the Vesuvius and Pompeii, with stunning views and amazing food. You will stay at charming hotels. Walk from village to village between, Amalfi, Vietri, Ravello.
From the charming islet of Ortigia to the Vendicari natural reserve. From the baroque pearl of Noto to the Byzantine of Pantalica. Then we transfer to the Aeolian Island of Lipari with its stunning panoramas on the archipelagos. 
Umbria, Assisi & Le Marche Marvels
Umbria & Le Marche are really off-the-beaten-path. Although Assisi is well known because of Saint Francis, the area remains very genuine. Food and wines are superb here.
The tour starts in the medieval town of Orvieto, one hour train ride from Rome. Continues to the small towns of Trevi, Montefalco and Bevagna and ends up in the Le Marche green countryside of Urbino, on the Adriatic sea.
CINQUE TERRE off-the-beaten-path experience
ITALIAN ALPS & DOLOMITES: THE EASY WAY!
Have you always dreamt of walking the Italian Alps and the Dolomites but you didn't feel fit enough for it? We have planned the trip for you. Our hikes are very doable. No big climbs. No fear of heights on our walks. But a lot of fun though.
Along with my mother and two sisters, we joined a group of 11 in total for an amazing walking tour of Amalfi Coast. The organization of this tour was superb, and we learned a lot (especially geology) and had a lot of fun. The food and drink was first class, and the hotels were lovely. Highly recommended.
This was a great walk and our guide Orietta was extremely informative. Scenery was great and visiting the islands of Lipari, Vulcano and Salina was a awesome experience as was swimming in the Mediterranean Sea of the boat on our way there!
Subscribe to our newsletter