Take a Walk-About in Tuscany
walks, views, food, wine and Italian authentic fun delivered by local guides.
Food and wine are our signature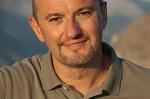 Ciao from a sunny Italy! My name is Gianni Stanghellini. I am a Ph.D. geologist. I have been working in the guided tour business for 18 years. I was born and raised in Siena, a medieval town in Tuscany, Italy. I live and work in Siena still as I have never found a good reason to leave this beautiful place.
Walk About Italy
is my small business. Multiple day tours and single day tours in 
Tuscany
,
Amalfi Coast
and
Sicily
. We hire
only local guides
and drivers. We go to small family-owned restaurants. We visit
small farms
where you can talk to the farmers. We provide
contact with the locals
as much as we can. To make a long story short we will show you around the places where we would take our family and friends. We strongly believe this is the best way to deliver a
true Italian experience
.
"The traveler sees what he sees; the tourist sees what he has come to see". G.K. Chesterton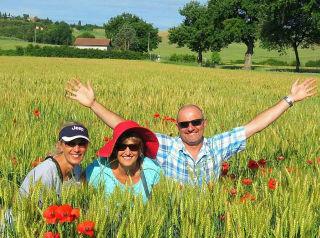 Walk from hamlet to hamlet. You will fall in love with architecture, history,  wines and food. Breath the enchanted atmosphere of Siena, San Gimignano, Pienza. If you have never been to Italy you cannot miss this trip.
Trails with sea view, local food and wines, off-the-beaten-track places, traditional dance and music show, 4 starred hotels, ceramic hands-on lesson, the ruins of Pompeii and much more!
Food, wine, traditions, walks, history of this amazing region of Italy. Stroll through the Greek Temples of Selinunte, eat street-food in Palermo, hike in le Madonie Mountains, breath the posh atmosphere in Cefalù.
Walking, eating, drinking, laughing …
I cannot recommend Gianni's guided walk enough. He has a talent for guiding a group at the perfect pace, with excellent local knowledge. From the splendour of the Tuscan landscape to the glorious food, wine and history we had an incredible week. The second guide, Sara, was just as gracious, patient and knowledgeable. A real treat of an experience which we wish we could repeat every year!
Katherine C. (KwaZulu-Natal, South Africa)
Superb walking tour experience

This tour was extraordinary and exceeded all my expectations. The guides, Gianni Stanghellini and Sara, were kind, thoughtful, extremely well-organized, very knowledgeable about the region, and sensitive to members' particular needs. The hotels were wonderful; the food delicious; and the activities/stops all interesting, welcoming and informative. All practical arrangements were virtually flawless. A lovely mixtures of guided time and activities and time to explore on our own. And an overall atmosphere of humor and good-fellowship.
Mark K., Northampton (MA) USA