ITALIAN GUIDED WALKING TOURS OPERATED BY LOCALS
Welcome to Walk About Italy: Experts in Walking Tours
I'm Gianni Stanghellini, a Ph.D. geologist with over two decades of experience in the realm of guided walking tours in Italy. For the past 22 years, I've dedicated myself to crafting remarkable journeys through this enchanting country. Hailing from Siena, a captivating medieval town nestled in the heart of Tuscany, Italy, I remain firmly rooted here. The allure of this exquisite place has held me steadfast, and it's from here that I continue to operate and shape unforgettable experiences.
Exploring Tuscany and Beyond
At Walk About Italy, our focus is on select regions, ensuring the pinnacle of Italy's guided walking tours: Tuscany, the Amalfi Coast, Sicily, Umbria, Assisi & Le Marche, the Cinque Terre, Italian Alps & Dolomites and The Italian Lakes These seven destinations embody the rich tapestry of Italian beauty, each unique and awe-inspiring in its own right, beckoning to be explored.
A Boutique Enterprise Embracing Local Essence
Central to our ethos, we exclusively enlist local guides and drivers. Moreover, we gravitate toward intimate, family-owned restaurants and venture to small farms, offering you the opportunity to engage with the very heart of Italy's agrarian heritage. Our commitment to fostering authentic connections means we facilitate interactions with locals at every turn.
In the words of G.K. Chesterton, "The traveler sees what he sees; the tourist sees what he has come to see." Here at Walk About Italy, we invite you to transcend the role of a mere tourist, and instead, become an astute traveler, delving into the true essence of Italy.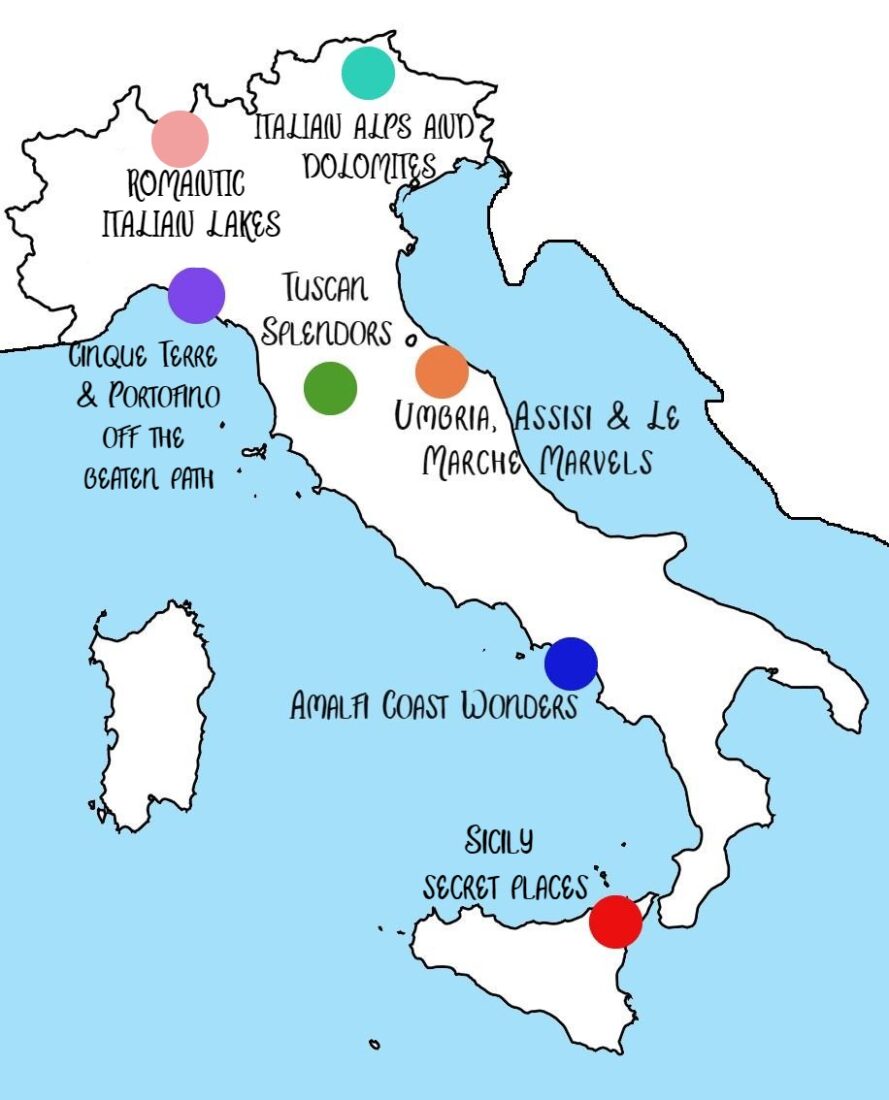 Amazing medieval towns and stunning surrounding countryside: Siena, Chianti region, San Gimignano, Montalcino, Pienza, Val d'Orcia. You will travel with a small group.
Walk the paths of the Amalfi Coast including Naples, the Vesuvius and Pompeii, with stunning views and amazing food. You will stay at charming hotels. Walk from village to village between, Amalfi, Vietri, Ravello.
The Secret Side of Sicily
From the charming islet of Ortigia to the Vendicari natural reserve. From the baroque pearl of Noto to the Byzantine of Pantalica. Then we transfer to the Aeolian Island of Lipari with its stunning panoramas on the archipelagos. 
Umbria, Assisi & Le Marche Marvels
Umbria & Le Marche are really off-the-beaten-path. Although Assisi is well known because of Saint Francis, the area remains very genuine. Food and wines are superb here.
The tour starts in the medieval town of Orvieto, one hour train ride from Rome. Continues to the small towns of Trevi, Montefalco and Bevagna and ends up in the Le Marche green countryside of Urbino, on the Adriatic sea.
CINQUE TERRE & PORTOFINO off-the-beaten-path
ITALIAN ALPS & DOLOMITES: THE EASY WAY!
Have you always dreamt of walking the Italian Alps and the Dolomites but you didn't feel fit enough for it? We have planned the trip for you. Our hikes are very doable. No big climbs. No fear of heights on our walks. But a lot of fun though.
Step into romance, wander through enchanting landscapes, and embrace the allure of our Romantic Italian Lakes Walking Tour – where every step is a dance and every view a love letter to the heart of Italy
Cinque Terre September 2023
This Cinque Terre 7 day walking tour was absolutely amazing! It's worth every cent. Amazing walks, breathtaking scenery, scrumptious Italian food and wine. So well organized! This was my 5th trip with Walk About Italy.

Tuscany has my heart!
This was a trip dreams are made of. I have always wanted to see Tuscany but I am not into touristy type trips. I was a little skeptical of this tour but booked it anyway. I was blown away….It exceeded my expectations. Our guides Daniele and Chiara were a JOY to be with. They shared their countryside with us and they shared themselves. Beautiful souls. For me the hiking was wonderful and I would have done more…but beware this is definitely more of a hiking than walking tour. The food was wonderful and the wine amazing! I highly recommend. I can't wait to try another tour.

An Unforgettable Italian Alpine Journey
I recently went on a fantastic walking tour in the Italian Alps and Dolomites, exploring charming Bressanone, as well as the breathtaking Tre Cime di Lavaredo and all the South Tyrol region. Rudy and Sara, our guides, were both incredibly knowledgeable and fun to be around. Sandra, the admin assistant, was always helpful and accommodating. Gianni, the owner, made sure everything ran smoothly. The stunning landscapes and the warmth of the team made this trip unforgettable. Highly recommended!
My wife and I recently completed our third Walk About Italy and we loved it. Gianni organizes walks that are off the beaten path and uses fantastic local guides so we feel like we really experience Italy instead of just seeing heavily touristed areas. All of the food is plentiful and delicious! On this trip we visited a farm for lunch that was truly farm to table – fresh and amazing. A big bonus of these walks is the people we meet and share such wonderful experiences with. Thank you to our fellow walkers and our guides Erica, Gianni, and Matteo for providing more great memories of Italy.
A fantastic, boutique walking tour. Ermes and Gianni were great guides who were very accommodating and supportive; Hotels were in great location, clean and friendly staff. Breakfast was great. Great food. The ability to accommodate for individuals food requirements was great.
Ermes and Gianni were fantastic guides. They complemented each other with their guiding and jokes etc. We would recommend this tour to others.
Exploring Umbria and the Marche: A Remarkable Journey
I recently embarked on a captivating tour through the picturesque regions of Umbria and the Marche in Italy. Our itinerary included enchanting stops in Montefalco, Assisi, Spello, Urbino, and the stunning Adriatic coastline. Our experienced guides, Federico and Roberto, made the journey even more engaging. Gianni, the owner of Walk About Italy, joined our group for three days, infusing a personal touch into the experience. This adventure was genuinely extraordinary, and I can't recommend it enough!
Subscribe to our newsletter