Romantic Italian Lakes
SCHEDULED GROUP SIZE with guaranteed departure: min 1 – max 18 guests
PRIVATE GROUP SIZE: min 1 – no limit
DURATION: 7 Days & 6 Nights
  WALK RATING: 2+
  HOTEL STYLE: very comfortable to stylish – ensuite bathroom
CLOSEST AIRPORTS: Milan (MXP)
OPTION TO COMBINE THIS TRIP BACK TO BACK WITH OTHER WALK ABOUT ITALY TRIPS. Click here 2024
Scheduled Tours
2024 dates
June 12-18, 2024
Sept 24-30, 2024
Early Bird discount (valid before November 28)
Private tours
price p/p: varies according to group size. Check Price below here
Departures: anytime
Overview
Introducing the Italian Lakes
Embark on a captivating Italian Lakes adventure with a meticulously crafted 7-day walking tour. 
So easy to reach: 1 hours by train from the Milan airport!
Each day we walk an average 3 km (1,8 miles).
Begin in Como with a charming walking tour and delectable dinner. Traverse Lake Como by boat, exploring Bellagio and visiting Villa Melzi. Discover the picturesque villages of Varenna and Lenno, marveling at historic sites and enjoying scenic hikes. On Lake Maggiore, In Stresa, explore the Borromean Islands, with visits to Isola Madre, Isola dei Pescatori, and Isola Bella. Experience the natural beauty of Lake Orta, hiking its shores and exploring Isola di San Giulio. Indulge in wine tasting at Rovellotti Winery, a scenic hike to Molino del Sabbione, and gelato tasting at L'Agrifoglio Farm. Conclude the journey with an aperitivo at La Palma. This immersive itinerary promises a blend of history, nature, and culinary delights, creating unforgettable memories along the stunning Italian Lakeshores.
Whether you prefer joining a small group or opting for a private experience, the decision is yours to make. Tailor your adventure to suit your preferences and explore the beauty of the Italian Lakes in a manner that truly speaks to you.
Inclusions
    6 night stay at 4 starred hotels, with ensuite bathroom. All the hotels are conveniently located in the town historical centers. Two out of three hotels have a swimming pool. Book early and we will try to accommodate you in a room with a view.
  All breakfasts, 4 lunches, 4 dinners. Local wine is always included with lunches and dinners. Vegetarian? Vegan? No problem!
 Transportation along the tour
We carry your luggage from hotel to hotel
 Group tours: 1 local guide for groups smaller than 10. Groups larger than 10 people will be guided by 2 local guides. Private tours will be guided by 1 local guide
Entrance tickets for all the special events and museum-villas
  wine tasting at Cantina Rovellotti
 All taxes
Day 1: Arrival Extravaganza! Let the adventure begin! We'll kick off our Italian Lakes walking tour with a charming meeting at 4:00 PM in the Hotel Como, followed by an enchanting stroll through the picturesque streets of Como. Cap off the day with a scrumptious dinner in Como before a restful night at Hotel Como.

  3 km = 1,8 miles
****Centrale Hotel in Cernobbio (June 12-18, 2024 tour) or ****Como Hotel in Como (Sept 24-30, 2024 tour)
dinner
---
Day 2: Bellagio Bliss On the second day it's all about embracing the beauty of Bellagio! After a quick taxi transfer and a scenic boat ride from Como, we'll explore Bellagio's charm. Enjoy a leisurely lunch before diving into the elegance of Villa Melzi. Choose between a tranquil transfer to Varenna or an adventurous hike to the stunning Castle of Vezio. The day concludes with a boat journey back to Como, where a delightful dinner awaits at the hotel.

  3,7 km = 2,3 miles
****Centrale Hotel in Cernobbio (June 12-18, 2024 tour) or ****Como Hotel in Como (Sept 24-30, 2024 tour)
breakfast – dinner
---
SHOW DAY 3, 4, 5, 6, 7
Day 3: Tremezzo Treasures
This day promises a day of grandeur. Glide from Como to Tremezzo by boat, where Villa Carlotta beckons with its mesmerizing gardens. A picnic lunch amidst the splendor is in order. Continue your journey along the greenway to Lenno, where the exquisite Villa Balbianello awaits. After a picturesque bus transfer to Stresa, savor a delectable dinner at Hotel Regina.
  6,2 km = 3,8 miles
****Regina Hotel in Stresa
breakfast – lunch – dinner
---
Day 4: Island Escapade On the 4th day we invite you to explore the wonders of Lake Maggiore's islands. Embark on a boat trip to the 3 Isole and discover the enchanting Isola Madre and Isola dei Pescatori. With a free evening, indulge in the culinary delights Stresa has to offer.
  3 km = 1,8 miles
****Regina Hotel in Stresa
breakfast – lunch
---
Day 5: Orta Odyssey The day unfolds with a scenic bus transfer to Orta San Giulio. Embark on a captivating hike around Lake Orta, followed by a boat journey to the picturesque Isola di San Giulio. Delight in a sumptuous lunch at Ristorante San Giulio before more lakeside hiking. Return to Stresa by bus and enjoy a relaxed evening with dinner at your leisure.
  3,5 km = 2,2 miles
****Regina Hotel in Stresa
breakfast – lunch
---
Day 6: Wine and Wanderlust Sunday, September 29th is a day of indulgence! Traverse the scenic landscapes from Stresa to Ghemme, where a wine-tasting extravaganza at Cantina Rovellotti awaits. Continue to Montrigiasco for a charming hike and a delectable lunch at Molino del Sabbione. Conclude the day with a visit to Azienda agricola L'Agrifoglio for a delightful gelato tasting. The evening wraps up with an apericena at La Palma.
  3 km = 1,8 miles
****Regina Hotel in Stresa
breakfast – lunch – dinner
---
Day 7: Fond Farewell On this departing day bid farewell to the enchanting Italian Lakes. Depart with cherished memories of breathtaking landscapes, charming villages, and the warmth of the Italian hospitality. Arrivederci!
breakfast
---
note on the itinerary
Please bear in mind that this is a typical itinerary, and the actual walks and sites may vary due to season, special events, or weather. We reserve the right to alter the itinerary since tour arrangements are made up to a year in advance, and in unforeseen circumstances that mandate changes may arise. Itinerary changes are made to improve the tour and your experience.
Savor the flavors of the Lakes region (Como, Maggiore, Orta) with delectable dishes. Enjoy Lake Como's Risotto with Perch Fish & Lemon, Lake Maggiore's Lavarello Fish, and Lake Orta's Miascia cake and Polenta. Indulge in local cheeses, like Formaggella di Tremosine. Complete your culinary journey with Panettone and a sip of locally produced wines. Taste the essence of these lakes through their distinctive and delicious cuisine.
Accommodations (all with en-suite bathrooms)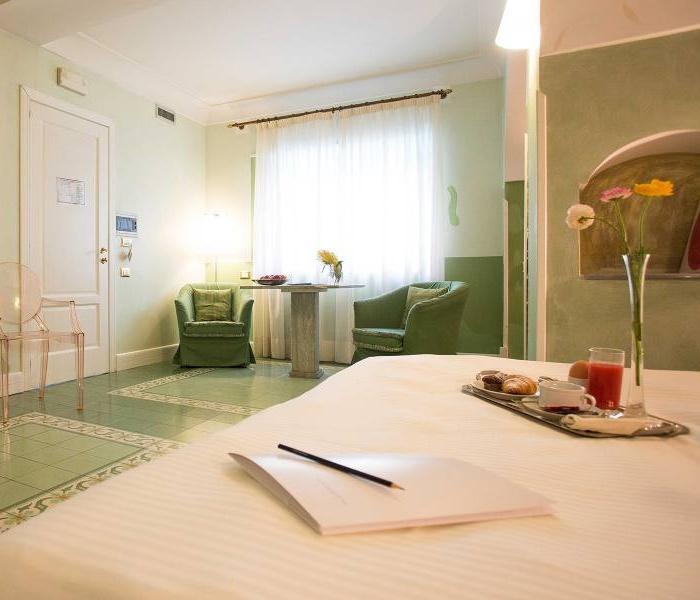 Timeless Charm by the Lake: Centrale Hotel Cernobbio
Nestled in the heart of Cernobbio, Centrale Hotel exudes timeless charm and offers a perfect blend of modern comfort and historic allure. With picturesque views of the lake, our hotel is a delightful haven for those seeking tranquility and elegance on the shores of Lake Como.
Refined Lakeside Retreat: Hotel Como, the Perfect Place to Explore the City and its Enchanting Lake
Hotel Como, situated in the heart of Como, offers a sophisticated retreat. With a panoramic pool on the 5th-floor terrace, it provides stunning views of the picturesque Como hills. The hotel combines modern comfort with timeless elegance, creating an ideal base for exploring the charming city and its enchanting lake.
Elegance on the Lake: Regina Hotel Stresa, a Luxury Retreat with Panoramic Views
The Regina Hotel in Stresa captivates with its refined elegance on the shores of Lake Maggiore. Luxurious rooms offer breathtaking views of the lake or surrounding mountains. The classic atmosphere blends with modern comfort, while well-manicured gardens add a touch of tranquility to the experience.
2024 scheduled group tour
sharing double room
640 EURO (single supplement only in case you need your double room for single use)

deposit 300 EURO

balance is due 95 days ahead of trip beginning date

you can pay in instalments
Price per person changes depending on the occupancy number of your private group. Valid 2024

| | | |
| --- | --- | --- |
| Number of guests | price in double room (euros) | single supplement (euros) |
| 1 | contact us |   |
| 2 or 3 | 5700 | 640 |
| 4 or 5 | 4500 | 640 |
| 6 or 7 | 4000 | 640 |
| 8 or 9  | 3500 | 640 |
| 10 or 11 | 3360 | 640 |
| 12 or more | 3270 | 640 |
More guests? Please ask us a quote. 
We can also tailor the tour to your needs.
deposit 300 EURO
balance is due 95 days ahead of trip beginning date
you can pay in instalments
if you travel in July or August there is a seasonal surcharge of 400 euro per person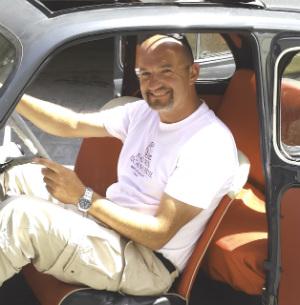 Gianni
Founder, trip organizer and guide at Walk About Italy (with a degree in Geology)
I am 51 years old.  Geology is my background (Ph.D.) but to me life is about more than an academic degree. Music and walking are my passions. I have been a certified guide for nature walks since 1999. After working many years as a guide and also in the back stage of the travel industry for foreign walking tour companies, I earned my Tour Organizer business license, valid in Italy and the rest of the world. Let me organize your vacation to Tuscany and other parts of Italy.
Tours he guides: all Walk About Italy tours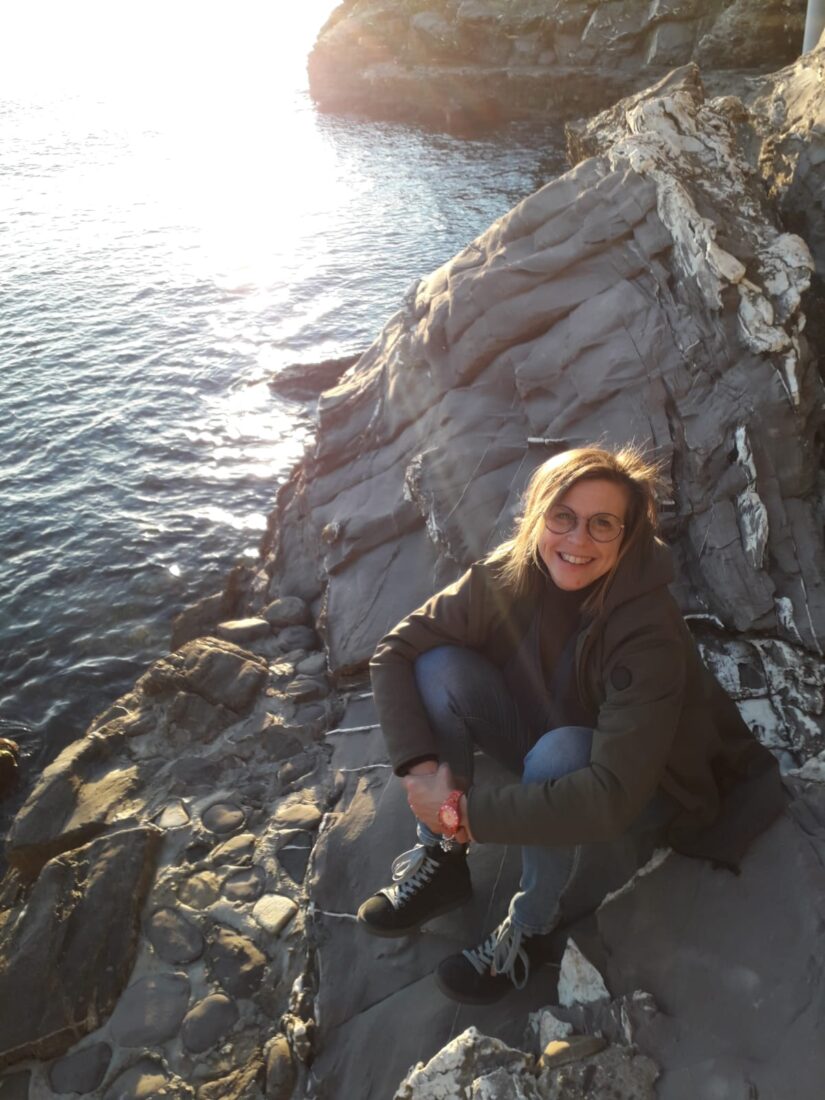 Francesca
Born in Genoa with a passion for researching niche places (with a degree in Geology)
Native of Genova, the ancient Maritime Republic, Francesca has a degree in Geology and a big passion for the territory where she works: Liguria,  Piemonte and the Italian Lakes. She's been working as an hiking guide since 1998 and as a city guide since 2014. People, Food, Wine and Olive oil are the highlights of her interests!
Tours she guides: Cinque Terre and Italian Lakes
group meets here:
(June 12-18, 2024 tour) Centrale Hotel in Cernobbio  Via Regina, 39, Cernobbio
(Sept 24-30, 2024 tour) Como Hotel in Como  Via Mentana, 28, Como
trip ends here:

Stresa train station
Useful information on the tour
How to prepare for this trip
Walking or jogging for 60 minutes 3 times a week for 5 weeks ahead of trip will make your experience more enjoyable. In case you live in a flat area you might also incorporate some steps in your physical activity.
What to bring:
Walking shoes with good traction (sometimes we might have mud on the trail)
Hat, Swimming suit, sun cream, water bottle to refill with tap water
Dinners at Italian restaurants do not require any special dress code.
Wear shoes with good traction. 
We provide walking sticks.
An average day of the trip
On a typical day you hike/walk with your guide in the morning for 3 hours, then we stop at a restaurant or farmhouse for lunch (lunch can last 1hour and half). We serve local food and wines.
In the afternoon there might be some more walking or town stroll. Around 4.30 or 5pm your guide will take you back to the hotel.
Before dinner you will be able to rest a couple of hours.
Dinner will be served in a restaurant in town that you will be able to easily reach on foot.
Local wine is always included for lunch or dinner. We serve vino della casa (house wine). You are welcome to buy your own wine from the list.
Weather
In general, the climate in the Italian Lakes is very mild. Usually summers on the coast are hot with little or no rain. July and August are the hottest months (but still nice for walking as there is always a breeze blowing up on the hills). Spring (April and May) and Autumn (October and November) are milder. You can have some drops of rain but not too many. Winter is colder but you still can count on many sunny days.
Month   avg. High     avg. Low
Apr   66 °F (19 °C)    46 °F (8 °C)
May  73 °F (23 °C)   54 °F (12 °C)
Jun     81 °F (27 °C)   59 °F (15 °C)
Sep    81 °F (27 °C)   59 °F (15 °C)
Oct     72 °F (22 °C)  52 °F (11 °C)
Nov    61 °F (16 °C)  45 °F (7 °C)
Tipping your guides
Single Guide Tour: If your tour is led by a single guide, it is customary to provide a minimum tip of 20 euros per day, per customer. Your guide will be your primary source of information and assistance throughout the tour, and this gesture will reflect your gratitude for their personalized service.
Dual Guide Tour: In cases where your tour is led by two guides, we recommend a minimum tip of 10 euros per day, per customer, for each guide. This ensures that both guides are acknowledged for their contributions to your tour experience.
Tipping your drivers
If you wish to tip your drivers each of you might want to tip them 5 euro per day per driver.
Extra expenses

Plan to have extra cash or money in your credit card enough to buy a couple of coffee or tea every day (5 euros average) . One night out of six you are on your own for dinner (20-25 euros per meal per person, average)
Subscribe to our newsletter