Umbria, Assisi & Le Marche Marvels 2023
Umbria, Assisi & Le Marche Marvels 2023


SCHEDULED GROUP SIZE: min 1 – max 18 guests
PRIVATE GROUP SIZE: min 1 – no limit
DURATION: 7 Days & 6 Nights
  WALK RATING: 2+
  HOTEL STYLE: very comfortable to stylish
CLOSEST AIRPORTS: Rome (FCO) for the start. Bologna (BLQ) at the end of the tour.
OPTION TO COMBINE THIS TRIP WITH OTHER TRIPS
Scheduled tours
2023 dates
May 7-13, 2023
June 12-18, 2023
September 24-30, 2023
Private tours
price p/p: varies according to group size. Check Price below here
Departures: anytime
Overview
Umbria & Le Marche are really off-the-beaten-path. Although Assisi is well known because of Saint Francis, the area remains very genuine. Food and wines are superb here.
The tour starts in the medieval town of Orvieto, one hour train ride from Rome. Continues to the small towns of Trevi, Montefalco and Bevagna and ends up in the Le Marche green countryside of Urbino, on the Adriatic sea.
Umbria paths are surrounded by thousands of olive trees. The hamlets are breathtaking. The Sagrantino wine is one of the best full-body wines in Italy. Urbino is one of the prettiest renaissance towns in Italy.
In this tour we cut across Italy, from the western hills to the eastern Adriatic sea.
Inclusions
  6 night stay at hotels (two 4 starred hotels and one very nice country inn). Book early and we will try to accommodate you in a room with a view.
  All breakfasts, 5 lunches, 5 dinners. Local wine is always included with lunches and dinners. Vegetarian? Vegan? No problem!
  Transportation along the tour
1 local guide for groups smaller than 10. Groups larger than 10 people will be guided by 2 local guides.
  Reenactment of medieval workshops of artisans called "Gaite"
  Fine wines of Le Marche region wine tasting and lunch at the farm
Hands-on pottery making lesson in Fratte Rosa
 Learn about crescia focaccia making at Ca' Virginia country inn
 Olive oil press visit, introduction from the owner and tasting
access to SPA at Ca' Virginia country inn
 All taxes
Hotel Palazzo Piccolomini – Orvieto
The Hotel Palazzo Piccolomini in Orvieto is characterized by the historic-artistic beauty of its building, protected as a listed building by Heritage law, it belonged to the Papal family Piccolomini from the end of the 15th century until the death of the Countess Cristina Piccolomini in 1905.
Boutique Hotel La Bastiglia  – Spello
The 34 rooms of the hotel are divided into four different types, all with breathtaking views of the rolling Umbrian hills, characterized by the black green of the cypresses and the gray green of the olive trees.
All rooms offer maximum relaxation, with particular attention to the quality of sleep through the use of hypoallergenic mattresses with memory toppers, duvets and various types of pillows of your choice.
Ca' Virginia – Urbino
This rustic Country House Ca' Virginia from 14th century has been renovated with attention to details. Modern architecture and typical materials of the region will make your holiday a perfect one.
It is nestled in the picturesque hills of Montefeltro close to Urbino Unesco World Heritage.
The hotel has a SPA and provides massage on request.
http://www.cavirginia.it/rooms-and-booking-ca-virginia-country-house-marche-italy/single-room-p90.html
Day 1 – Meeting in Orvieto and visit of Orvieto (Night at hotel in Orvieto)
The tour starts in Orvieto, the Umbrian town standing above a tuff cliff with an important historical and artistic heritage in particular from the Etruscan and medieval times. We meet the group at hotel's lobby. After a brief introduction about the tour, we join an art guide to explore the city jewels: the Cathedral, a marvel of European Gothic architecture, the streets and alleys. After the tour we enjoy a small local restaurant called the Antico Bucchero.

2 km = 1,2 miles
Palazzo Piccolomini – Orvieto
dinner
Day 2 – Montefalco – Bevagna walk and visit of the "Gaite" medieval guild reenactment in Bevagna (Overnight in Spello)
Today we set off to the Umbrian Valley. The drive is about 1 hour. We stop to get refreshed at Napolini's, a farm run by a family that produces Montefalco's most famous wines for generations. We take a loop walk through vineyards in one of the most well-known area for wines. Lunch at the farm will follow and we will taste Sagrantino wine, one of the best full-body wines in Italy. We then transfer to Bevagna, a village suspended in the Middle Ages. It is surrounded by an ancient city wall with six doors. Inside the defensive walls, cobbled streets connect stone houses, monuments and Roman remains. Here we visit the re-enactment of medieval workshops of artisans called "Gaite": the wax and the silk twisting workshop. We then transfer back to Spello to our next hotel. Dinner tonight is at the hotel's restaurant.

6 km = 3,7 miles
La Bastiglia – Spello
breakfast, lunch, dinner
SHOW DAY 3, 4, 5, 6, 7
Day 3 – The Trevi loop walk (Overnight in Spello)
The charming village of Trevi is a small architectural gem perched on a hill: thanks to its remarkable environmental, cultural and artistic heritage, it is part of the of club of the "Most Beautiful Villages in Italy". We explore its amazingly beautiful countryside. The loop walk is on a gentle terrain surrounded by thousands olive trees. Along the way we also meet a thousand-year-old olive tree. It already existed in the time of Diocletian! It is truly a beautiful monumental tree: its trunk at the base has a circumference of 9 meters, while its height is 5 meters. We arrive at a farmhouse for a lunch with typical Umbrian cuisine. We end the walk returning to Trevi. Dinner tonight is on your own in Spello, with lots of options. 
8 km = 5 miles
La Bastiglia – Spello
breakfast, lunch
Day 4 – Visit of Assisi. Transfer to Le Marche (Overnight in Ca' Virginia)
This morning we drive to Assisi. In the year 2000, Assisi, together with its historic center, the Franciscan sites and almost the entire municipal territory, was declared part of the World Heritage of mankind by UNESCO. It is the birthplace of St. Francis and St. Clare, and it has become famous throughout the world as a universal center for the Franciscan message. The many monuments represent a set of masterpieces of the human creative genius and a fundamental reference for the history of art in Europe and in the world. The majestic Basilica of St. Francis will amaze and excite you. We will visit Assisi with a local art guide. The walk begins at the "Rocca Maggiore" fortress, a fortified structure which stands out on the hill overlooking Assisi: from here you can enjoy a wonderful view of the city and the Umbrian Valley. We walk from the top of the hill down to the center of Assisi. For lunch you can choose one of the many restaurants that serve truffle, local delicious cold cuts and all kinds of pasta. We then transfer to our new hotel in Le Marche region. Dinner will follow and the mother of the owner that will teach us how to make the crescia focaccia.
town stroll in Assisi
Ca' Virginia – Urbino
breakfast, dinner
Day 5 – Coastal walk in Fiorenzuola and guided tour of the Duke's Palace in Urbino (Overnight in Ca' Virginia)
We drive to the Adriatic coast (the eastern sea of Italy) and today the walk get most of time the view on the sea. We start from Colombarone. The view today is, for most of time, on the Italian Eastern sea, the Adriatic sea. Lunch based on delicious sea food will be held in Casteldimezzo in a fantastic location, overlooking the sea. After lunch we walk to the town of Fiorenzuola di Focara. This characteristic village rises in a suggestive position, on a promontory overlooking the sea, about 200 meters high. Walking through the pretty alleys you can find evidence of its history such as the remains of the walls that surrounded the village and the medieval doors. We then drive back to our country inn. After some rest we drive to Urbino, Raphael's birthplace…but not only! Immersed in the rolling hills of the Marche region, it's a city of immense historical and artistic wealth. A local art guide will give us a tour of the Duke's Palace of Urbino, a masterpiece of renaissance.  We then have a simple dinner together, based on local truffle. We then drive back to Ca' Virginia.

8 km = 5 miles
Ca' Virginia – Urbino
breakfast, lunch, dinner
Day 6 – Walk from Candelara to Novilara. SPA in the afternoon. (Overnight in Ca' Virginia)
This morning we drive to Candelara. Literally the word candela means candle. This small town has attracted a lot of interest in the last 20 years for a festival of candles that is held in November and December. Our walk today takes us through agricultural grounds with lots of fruit trees and wonderful views. We arrive directly on foot at Maria's restaurant that serves a wonderful piadina (a local bread similar to the crescia but without eggs, served with all sorts of local cold cuts…delicious!). The other specialty that they serve is pasta with bean sauce. We finish our meal with a special coffee mixed with rum! After lunch we make our way back to the property. In the afternoon we will relax at the SPA. We enjoy the farewell dinner at Ca' Virginia.
8 km = 5 miles
Ca' Virginia – Urbino
breakfast, lunch, dinner
Day 7 – Departure day
This morning we drive to Pesaro train station (1 hour and 50 minutes average by train away from Bologna Centrale train station and 2 hours and 15 minutes to the airport of Bologna – BLQ)      
breakfast
note on the itinerary
Please bear in mind that this is a typical itinerary, and the actual walks and sites may vary due to season, special events, or weather. We reserve the right to alter the itinerary since tour arrangements are made up to a year in advance, and in unforeseen circumstances that mandate changes may arise. Itinerary changes are made to improve the tour and your experience.
2640 EURO (sharing double room)
590 EURO (single supplement only in case you need your double room for single use)
deposit 300 EURO
balance is due 95 days ahead of trip beginning date
you can pay in instalments
Price per person changes depending on the occupancy number of your private group. Valid  2023

| | | |
| --- | --- | --- |
| Number of guests | price in double room (euros) | single supplement (euros) |
| 1 | contact us |   |
| 2 or 3 | 4840 | 590 |
| 4 or 5 | 2240 | 590 |
| 6 or 7 | 3020 | 590 |
| 8 or 9  | 2910 | 590 |
| 10 or 11 | 2840 | 590 |
| 12 or more | 2740 | 590 |
More guests? Please ask us a quote. 
We can also tailor the tour to your needs.
deposit 300 EURO
balance is due 95 days ahead of trip beginning date
you can pay in instalments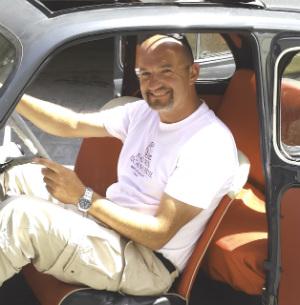 Gianni
Founder, trip organizer and guide at Walk About Italy (with a degree in Geology)
I am 51 years old.  Geology is my background (Ph.D.) but to me life is about more than an academic degree. Music and walking are my passions. I have been a certified guide for nature walks since 1999. After working many years as a guide and also in the back stage of the travel industry for foreign walking tour companies, I earned my Tour Organizer business license, valid in Italy and the rest of the world. Let me organize your vacation to Tuscany and other parts of Italy.
Tours he guides: Tuscany, Amalfi, Sicily, Umbria – Assisi & Le Marche
Roberto
Roberto - Climbing is my passion (with a degree in biology)
Roberto was born and raised in a small village on Amiata mountain, 50 miles south of Siena. Although his background is in biology he is very keen on traditions and history of Tuscany.
His passion is climbing. He is a climbing instructor and rescuer. Do not worry! He is happy to walk with you on flat terrain 🙂
Roberto is definitely a people-person. He took several courses at "The Academy of Experiential Education" about "group dynamics".
Tours he guides: Tuscany, Umbria & Le Marche
Federico
Federico, botany and entomology are my passions (with a degree in foreign language)
Native of Le Marche, Federico will capture your attention hunting for herbs that you can eat! Music and foreign languages ​​were the protagonists of his university studies, but for passion he has always devoted himself to animals, plants and landscape. You can see all his passion in the description of the small villages of Le Marche where he belongs to.
Tours he guides: Umbria, Assisi & Le Marche
group meets here:

Orvieto – Hotel Palazzo Piccolomini
Piazza de' Ranieri, 36
05018 Orvieto
Pesaro train station (1 hour and 50 minutes average by train away from Bologna Centrale train station and 2 hours and 15 minutes to the airport of Bologna – BLQ)      
Useful information on the tour
How to prepare for this trip
Walking or jogging for 60 minutes 3 times a week for 5 weeks ahead of trip will make your experience more enjoyable. In case you live in a flat area you might also incorporate some steps in your physical activity.
What to bring:
Walking shoes with good traction (sometimes we might have mud on the trail)
Hat, Swimming suit, sun cream, water bottle to refill with tap water
Dinners at Italian restaurants do not require any special dress code.
Wear shoes with good traction
An average day of the trip
On a typical day you hike/walk with your guide in the morning for 3 hours, then we stop at a restaurant or farmhouse for lunch (lunch can last 1hour and half). We serve local food and wines as we believe that food plays an important role in the enjoyment of Italy.
In the afternoon there might be some more walking or town stroll. Around 4.30 or 5pm your guide will take you back to the hotel.
Your guides are available from 9am to 5pm on each day.
Before dinner you will be able to rest a couple of hours.
Dinner will be served in a restaurant in town that you will be able to easily reach on foot. At dinner the guide will not be with you. This is why we planned to have most of the hotels in the town centers and pedestrian areas. And if the hotel is away from the town center we have set up transportation to take you to the next restaurant or activity.
Local wine is always included for lunch or dinner. We serve vino della casa (house wine) as the quality of local house wines is very high. Not by chance this part of Tuscany is one of the most famous wine making area in Italy (Chianti Classico, Brunello, Vino Nobile di Montepulciano).
Weather
In general, the climate in Umbria & Le Marche is very mild. Usually summers in Tuscany are hot with little or no rain. July and August are the hottest months (but still nice for walking as there is always a breeze blowing up on the hills). Spring (April and May) and Autumn (October and November) are milder. You can have some drops of rain but not too many. Winter is colder but you still can count on many sunny days.
Month   avg. High     avg. Low
Apr   66 °F (19 °C)    46 °F (8 °C)
May  73 °F (23 °C)   54 °F (12 °C)
Jun     81 °F (27 °C)   59 °F (15 °C)
Sep    81 °F (27 °C)   59 °F (15 °C)
Oct     72 °F (22 °C)  52 °F (11 °C)
Nov    61 °F (16 °C)  45 °F (7 °C)
Tipping your guides
Should you wish to tip your guides, the gratuity is entirely at your discretion. The standard in the industry ranges from 5€ to 10€ per person, per guide, per day. Tipping is not due to Gianni Stanghellini as he owns the company.
Tipping your drivers
Should you wish to tip your drivers, the gratuity is entirely at your discretion. The standard in the industry ranges from 1€ to 3€ per person, per driver, per day.
Extra expenses

Plan to have extra cash or money in your credit card enough to buy a couple of coffee or tea every day (5 euros average) . Two nights out of seven you are on your own for dinner (20-25 euros per meal per person, average)
Subscribe to our newsletter